.
I would like to report that we had a good night's rest, but it was COLD. We also had a few drops of rain over night which is bad news if you're camping here. This whole area gets
very
slippery when wet. I have experience of this... Luckily it was only a few drops.
The next morning we decided to ride the short "Rondekoppie" route before we pack our bikes. This was at the start of the route, just before my camera's batteries died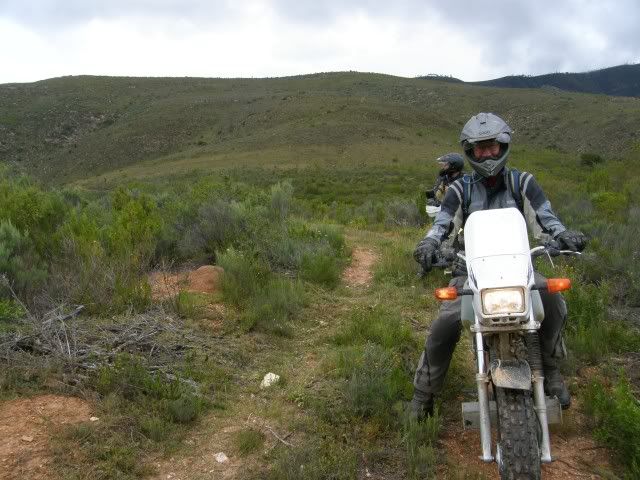 This is a short (2km) scenic route that starts and stops in the camp. Very steep gradients were the order of the day.
This is a short video at the end of the route. You can see our camp in the distance and a steep descent towards it:
By the time we got back in camp it was well and truly raining.
This photo looks back to the spot where I shot the video clip from. You can see the downhill along the side of the hill.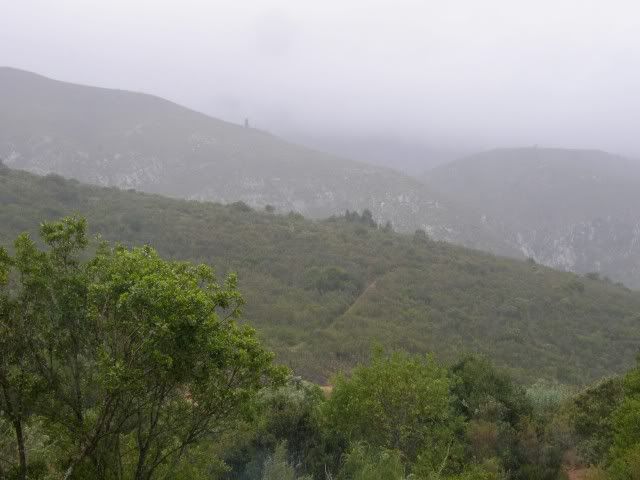 Breaking up camp a.s.a.p. before it gets too wet.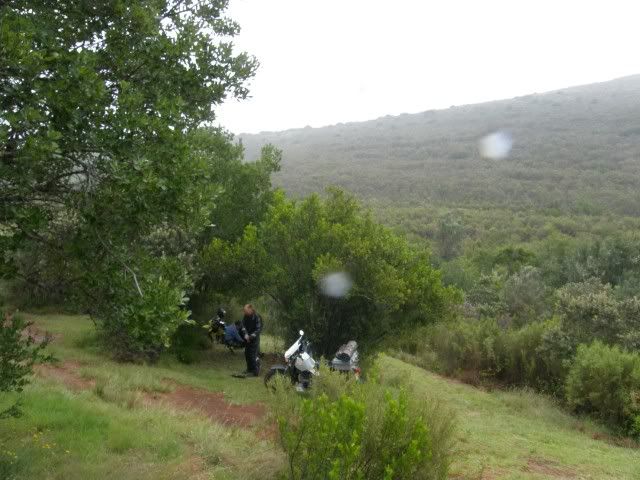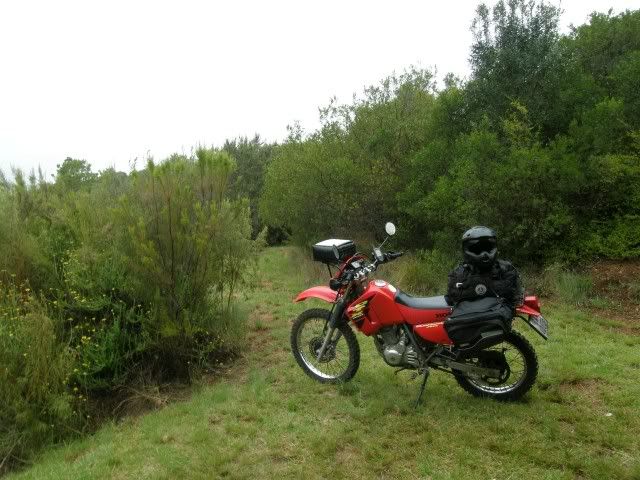 Why the fuss over the rain you wonder? Well, this whole area is covered in clay. When wet it's doesn't turn into mud, but into snot! It's slippery as hell. So much so that you cannot walk on it without holding onto the plants and stuff. I am not exaggerating.
LGF pulled off and was down within 2 meters. He got up and when he wanted to pick up his bike his feet slipped again! (no pics sorry)
To give you an idea - the next two pictures were taken when I was here last in April 2006. At the time we were here with 2 bikes and a 2x4 vehicle. The morning we had to leave the 2x4 could not get out. Even the Katot's 4x4 could not assist as it only spun in place. We ended up leaving the vehicle there for a week until it dried out enough for us to be able to recover it.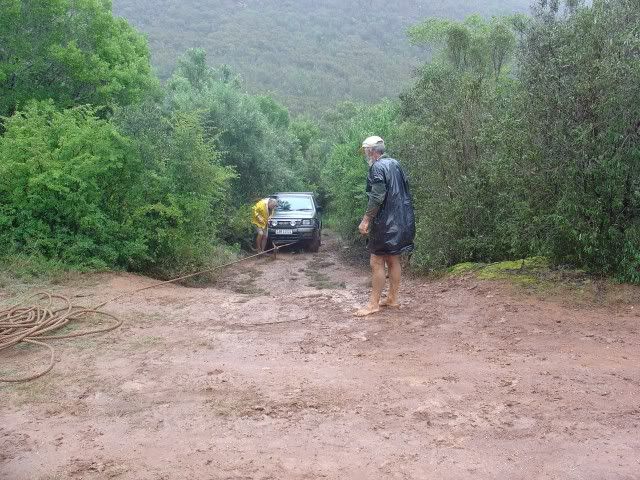 We were going to ride another historic ox-wagon pass but soon realized that that was not feasible today.
That ride would have to wait for another day. So we said our goodbyes and each headed in our own directions - Tok-tokkie towards Plett, LGF towards Sedgefield and myself along the Langkloof towards George.
I took it slowly on these extremely slippery roads.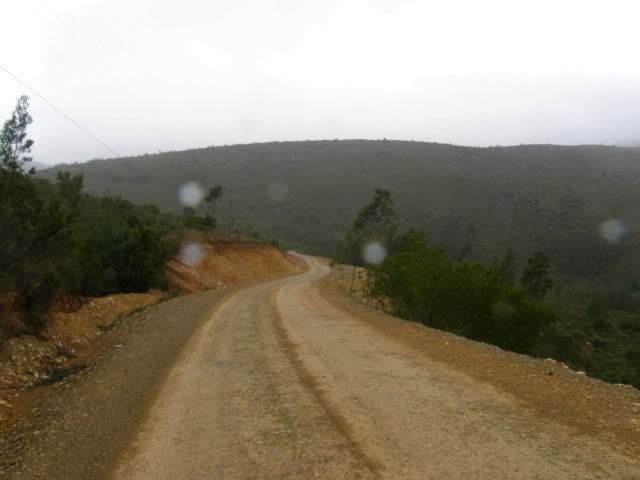 Scenery along the way: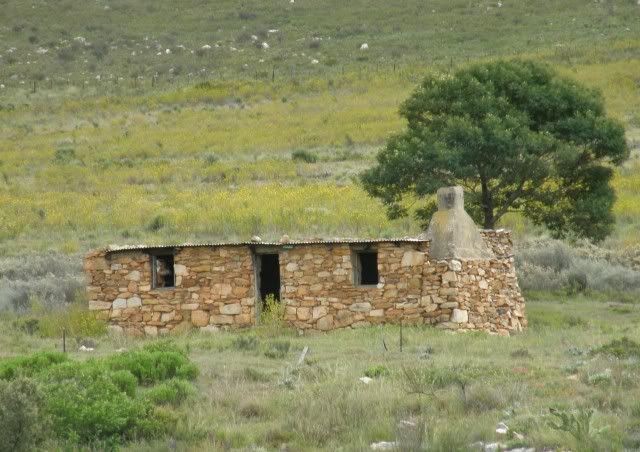 The long straight tarred Langkloof road was pretty boring and cold, but not slippery. Closer to George the rain also let up. Funny how the place that needs the rain the most doesn't get any.
I rode through Herold to take Montagu pass over the mountain towards George.
Scenery just outside Herold: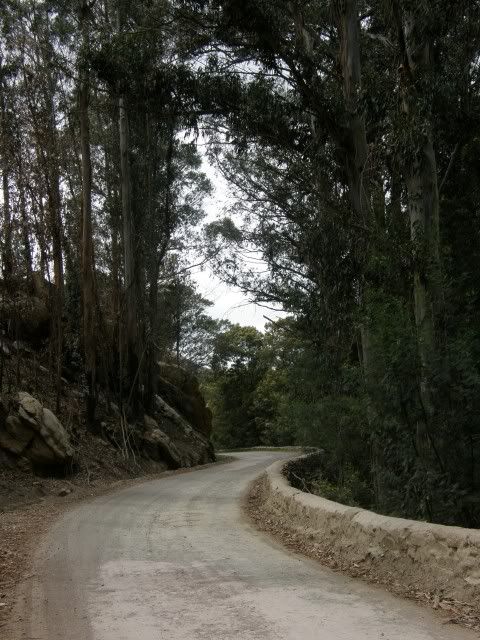 Montagu Pass - most of my rides start or end with Montagu Pass. One of my favourite places in the world.
The bike that started it all: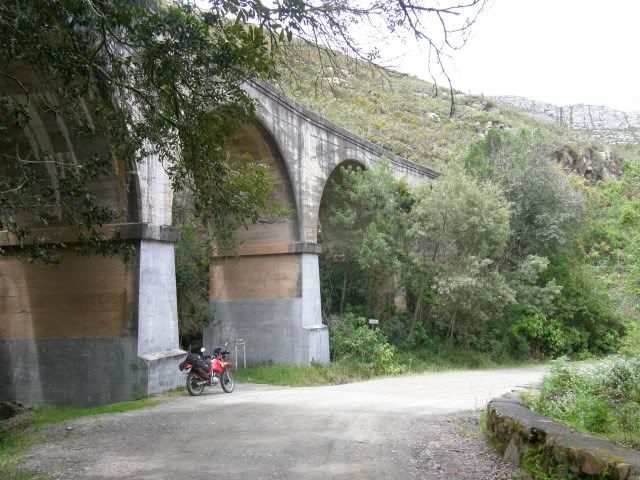 Thanks guys. Hopefully we can ride the rest of our planned ride soon!

.