.
I needed to speak to some-one who has first hand experience. Some-one who can answer questions out of experience, not hearsay. And so our adventure led us to Amalienstein: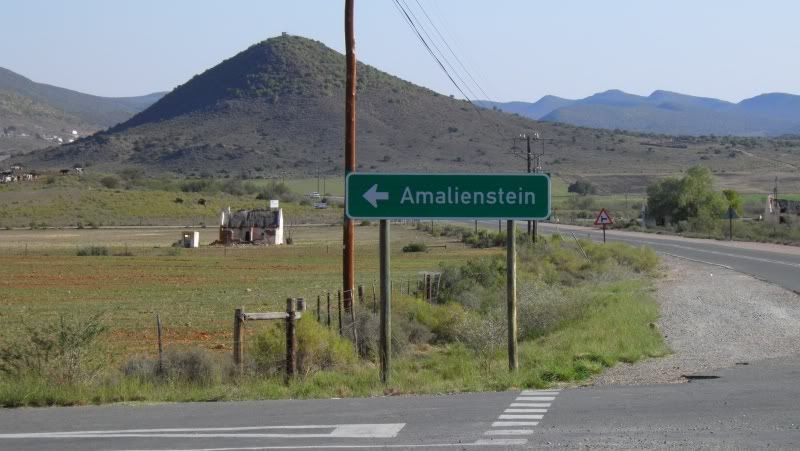 Amalienstein is a small town and Lutheran mission station right next to Zoar situated on the R62 between Calitzdorp and Ladismith.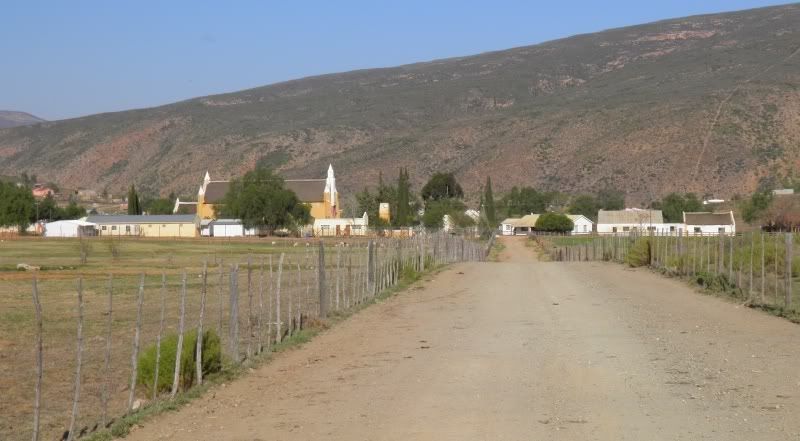 Amalienstein is a mission station with a strong link to its past. It derives its name from Frau Amalie Von Stein, who provided the funds to Berlin missionaries who bought it in 1850 to accommodate the people who were involved with the Zoar Mission community.
A church was completed in Amalienstein in 1853 and was recently restored to its full glory. The historic graveyard was also restored.
The Lutheran Church: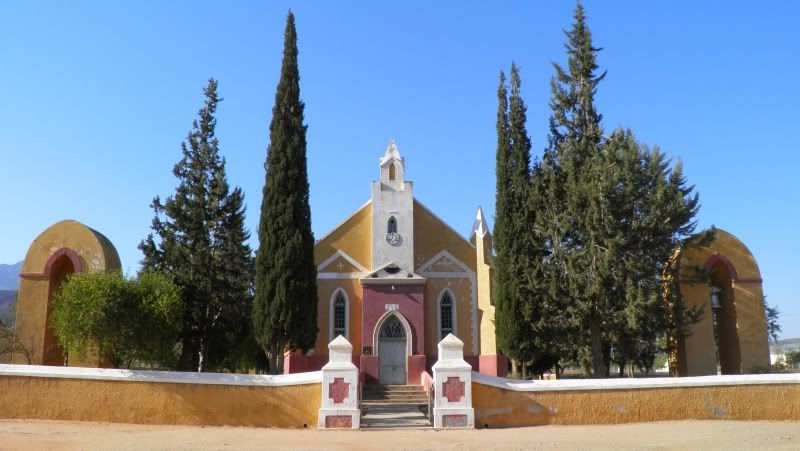 In 1990, LANOK, a Land Development Company, was requested to develop and manage Amalienstein to the advantage of the community of Zoar.
On this occasion LGF, Dusty and Pad also joined me and I am not sure it they knew what to expect.

We came to Amalienstein to meet this man - Maans Fourie: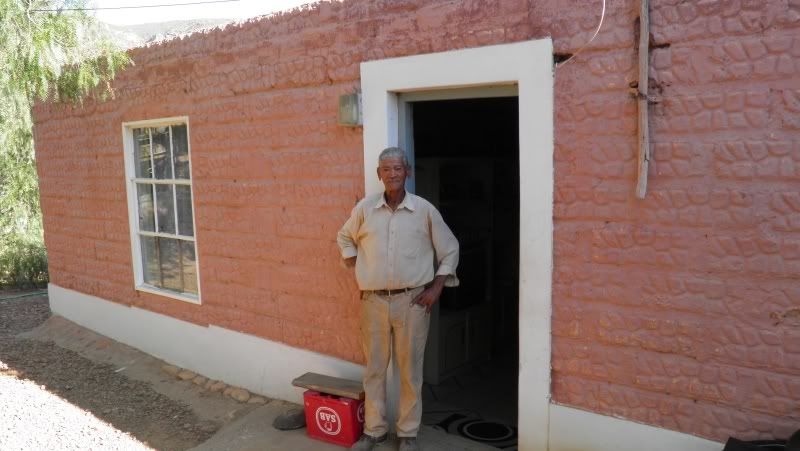 We were blown away by this man's humble friendliness. He invited four bikers into his home and had such a willingness to share.
He told us the most incredible story of how, when he was a young boy he'd been to collect wood for his parents in the nearby kloof, and had caught sight of a beautiful woman sitting on a rock at the foot of a waterfall. She had beautiful long black hair, blue eyes and a white skin, with the upper body of a woman, but the lower body of a fish! We asked him what she looked like? Like a white woman? He pointed at Dusty and said: "She looked like her, only prettier!"
He was trying to describe how this being was like the most beautiful woman in the world and Dusty took the comparison well. We did tease her a little about it later though - all in good fun.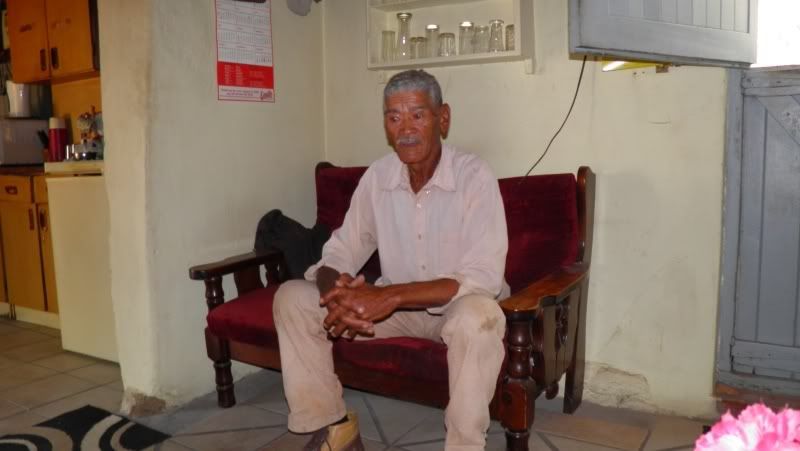 Maans Fourie saw the
Watermeid
twice. The first time he was her while collecting wood he stopped and started to back up. His grandparents had told him about these
Watermeide
before and he knew not to go closer. As he backed up she waved at him and disappeared into the water.
He saw her again a couple of years later, again at the same spot.
I asked him if there are more of these
Watermeide
in the area and in fact there was one in the river right next to Amlienstein as well (he has not seen that one himself though) but she moved away because of the washing being done in the river.
Watermeide
don't like to be disturbed.
Look at all the reeds in that river: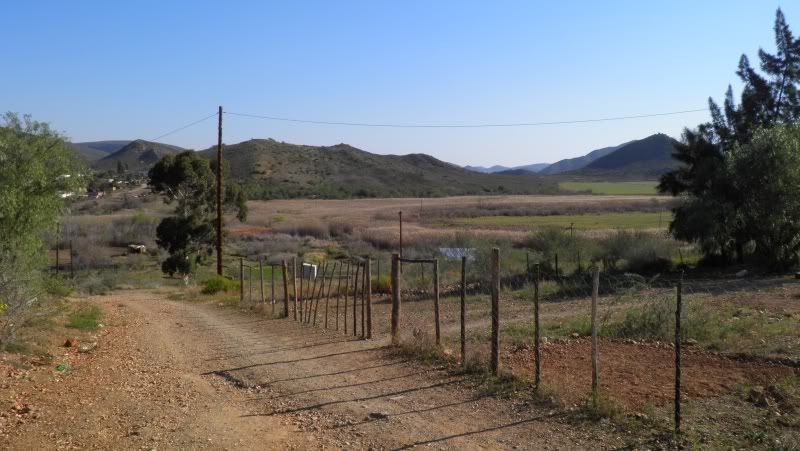 She lived in the deep hole where the brown reeds are in the middle of this photo:
I asked Mr. Fourie why the
Watermeid
drowns people? He said that that is a misconception. She does not drown people, she takes them to her world under the water. That is why no bodies are found when some-one gets caught. I asked him whether there is a
Watermeid
in Seweweekspoort, but no, Seweweekspoort does not have one (I felt stupid later, riding through Seweweekspoort, for asking that question. Of course there would not be one. There are no really deep pools there). He said that
Watermeide
still exist today, but they seem to be few and far between. You'll find them in areas where there are few people.
The four of us there had several questions and he answered them patiently. He also showed us the booklet that Wendy Hardie sent him after her DVD was produced (he was interviewed in that program) and showed us a lamp some-one else had sent him as a present. He has become quite famous since that TV program and he sometimes acts as a tour guide in the immediate area.
Maans and "almost as pretty as the
Watermeid
" Dusty: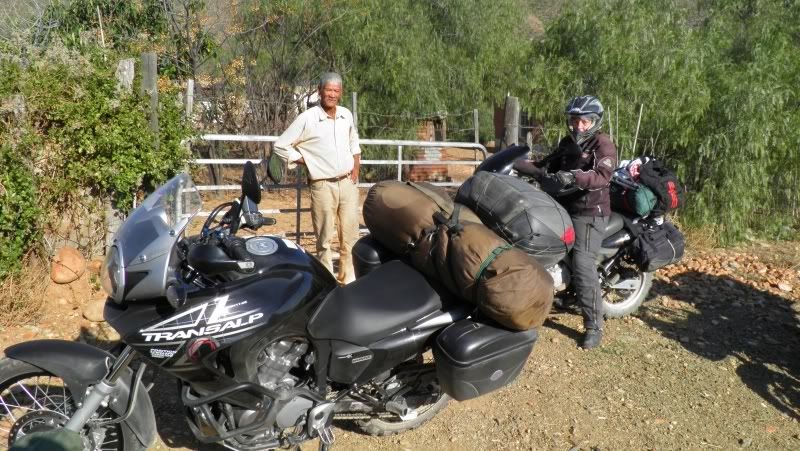 Eventually we had to leave, but this was an amazing experience. This is one of the most sincere people I have met in my entire life. These events are as real to him as you are seeing your computer screen right now.
He was quite willing to go show us the spot where he sighted her first just over 7 decades ago, but we were all on bikes and he does not own a car. I promised to return with my sons so he can show us the actual spot. I'll update this post when that has happened.
We left here enriched, having peeked into a much different world than our own. I started this project looking for the
Watermeid
, but I am finding so much more. The people of the Klein Karoo truly are special.

Source: Amalienstein
.