.
Earlier this year the Honda VT1300CX Fury hit South African shores and it made and immediate impression. As part of Honda's "Custom category" it really stands out and when this bike was launched in the Southern Cape recently we just had to go and have a look. The Fury did not disappoint! This is not something you see on South African roads every day...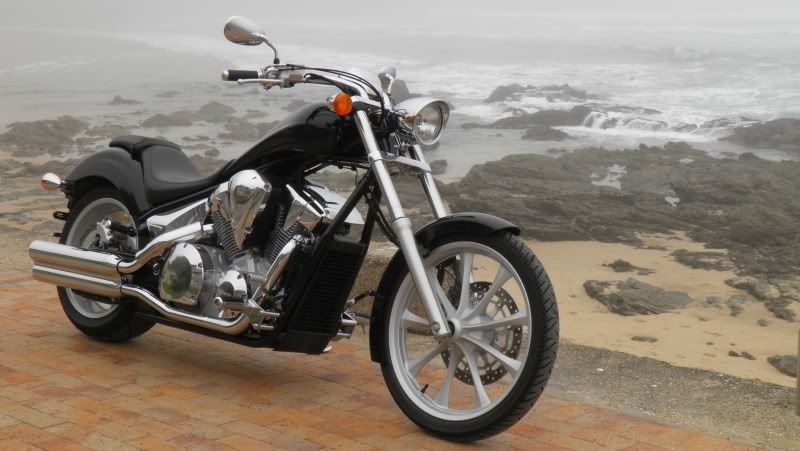 The Fury is unmistakeably chopper. It has the stretched wheelbase, low chassis and extended steering rake. It has that "old school" minimalistic look, appearing almost hand built. Just as striking as the elongated look is the big V-twin engine with it's nice looking finned cylinders like the huge air cooled engines of yesteryear. The two silencers come together without any radical styling like slash cut ends, almost discreet, but classy. See how the lines flow from the tank into the seat & out to the back. Opinions on looks are always subjective, but everybody has to concede that this is something different for a change and on a bike like this it's all about the "look" and being different.
When you have a look at the impressive list of features on this bike you realize that this is an engineering work of art. A lot of work have gone into making this bike look like an "Old School" chopper without sacrificing any of the technology we've come to expect in today's bikes. The Fury is a shaft driven bike sporting a liquid cooled 1312cc engine, yet the cooling system is discreet, blending in with the frame behind the front wheel preserving the "air cooled" look. The V-twin also boasts a new programmable EFI system and produces 42.5kW and more importantly on a bike like this 107Nm of torque. Further features include a combined ABS system specially tailored to fit the minimalistic styling. This is the first time that Honda has added ABS to it's custom category and the Fury is the only chopper in its class to feature this.
So far the look and specs are all very impressive, but what does it ride like? I myself have never been a chopper fan and I went through a range of emotions with this bike. When I first saw it announced on the internet I was indifferent. When I first saw it in real life I was surprised! This is one beautiful bike. Even in a showroom filled with other new models it draws attention, everybody wants a second look. It's something different that's for sure.
The Fury fires up easily and it definitely has that distinctive chopper sound, but I was surprised at how quietly it actually runs. Usually one expects these kind of bikes to be quite noisy. That is certainly not the case here. Because of the size of the bike you also expect it to be quite heavy, but it feels light. So much so that I checked the weight of the bike on the spec sheet afterward only to find it has a very modest kerb weight of 160kg.
As far as instrumentation go you only seem to have a speedometer in front of you until you find that here too Honda has preserved the old school look, but still provided you with the necessary you've come to expect on a modern bike when various lights and indicators light up from behind black paneling below the speedometer.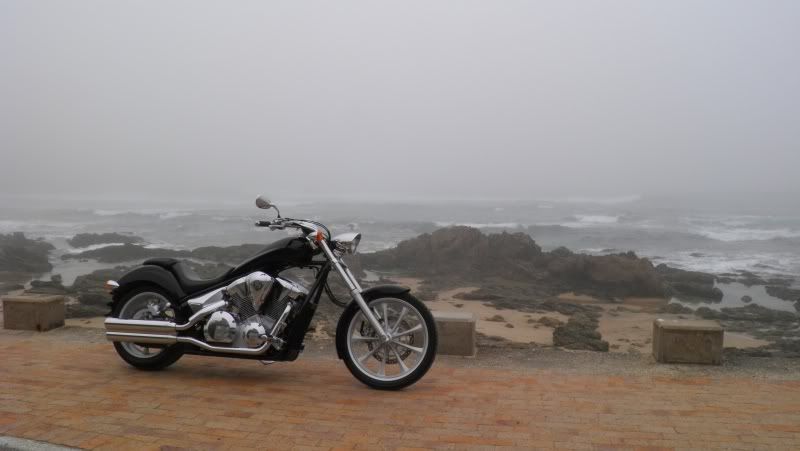 Pulling off into the traffic the steering feels different because of the rake of the front forks, but you soon get used to it and you cant help but smile when you ride down the street with this low rider. You sit low, but upright with your feet way forward and the bike handles remarkably well considering it's long wheelbase and huge back wheel. The ride feels stable and the brakes are great. I had no difficulty maneuvering the bike through traffic and when you hit the highway you get that feeling of freedom with the wind in your hair. The seat is comfortable and once you're riding you just don't want to stop. The bike has no wind protection, but I didn't find it a problem. On a bike like this it's not about speed, it's about cruising. It's a really enjoyable ride and I have to admit I thought about hitting the R62 more than once. It was difficult to take this bike back in the end, I just wanted to keep going. It's really is that nice to ride.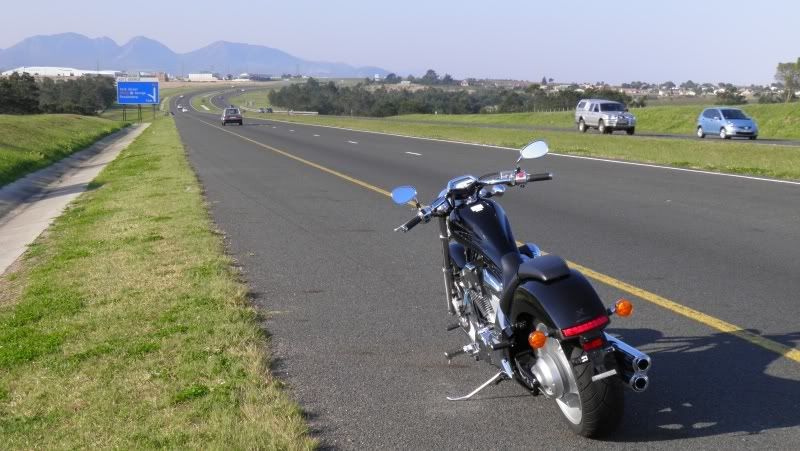 This bike is different and you certainly feel different riding it. It's difficult to describe, but you instantly feel "Bad to the Bone". Funnily enough I could not get that song out of my head the whole time I rode it. It's difficult to think of something on this bike I did not like. The tank is on the small side (just 12.8L) and I'm sure a lot of riders will prefer louder pipes, but all in all this is a very nice package. As someone who has never even considered a chopper I have to admit that this bike has widened my horizons. If you ever have an opportunity to test ride a Fury jump at it. People notice when you ride past. Men stare and women swoon! Is that really true? Does it matter? That is what this bike makes you feel like. Be honest, when last have you ridden a bike that made you feel like that?
This article appeared in the Tuinroete Burger on 2 Sept 2010.

.
.