.
This ride was initiated and organized by Leftless. He would also lead the Western Cape riders to Moordenaarskloof. Watty and I got involved in that I would lead the Southern Cape riders and Watty would bring the riders from Port Elizabeth. In the end few Western Cape riders joined (700km for a one night camp is quite a distance!) So Leftless (Cape Town), Horsepower (Worcester) and Rooipoot (Hermanus) left a day early to join up with us Southern Cape Guys on the morning of 15 January.
7am in Groot Brak river the first guys met at the first rendezvous point:
Leftless - BMW HP2
Horsepower - Harley Davidson XR1200X
Trailrider - Honda TransAlp 700
Dirtcopper - BMW GS1150
McSpanner - BMW GS800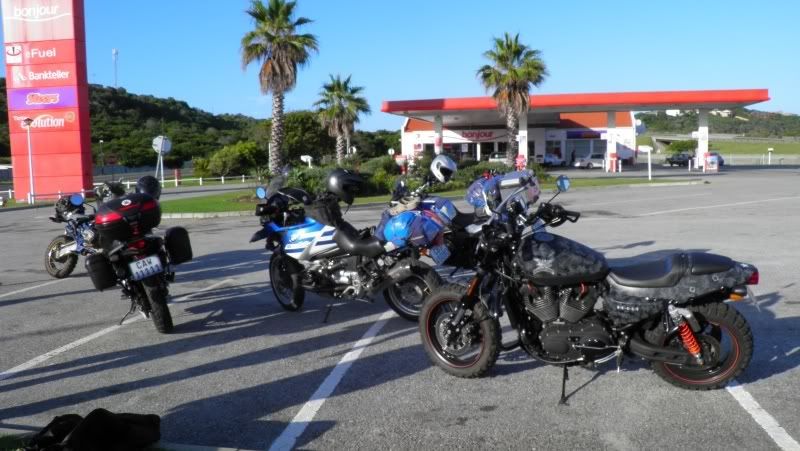 Just east of George we stopped at the second rendezvous point to hook up with
Dr. Dirt - KTM 990 Adventure
GrypH - Honda Africa Twin
Oom Pad - BMW 1200 GS
In Sedgefield we picked up LGF on his Honda TransAlp 650. It was here that we realized that the group has grown to 9 people, all on different bikes.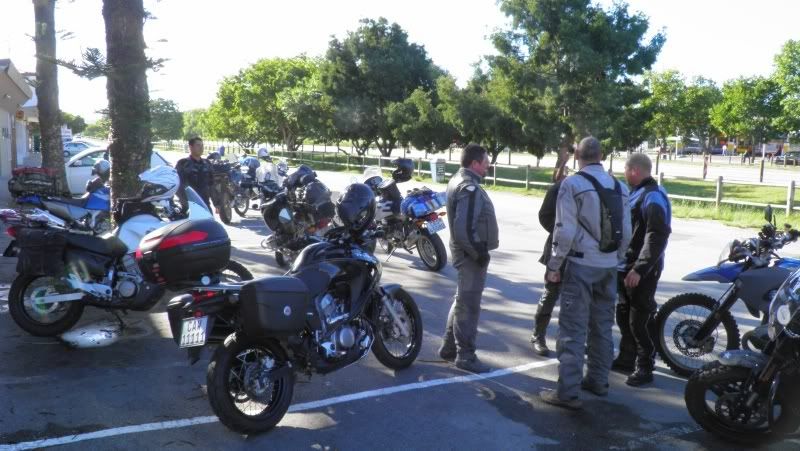 We ride to Knysna where we turn North and head to Kom-se-Pad, a favourite road of ours through the indigenous forest. It is here, at the first gravel for the day, where we meet up with ChrisL and his BMW 1150 Adventure.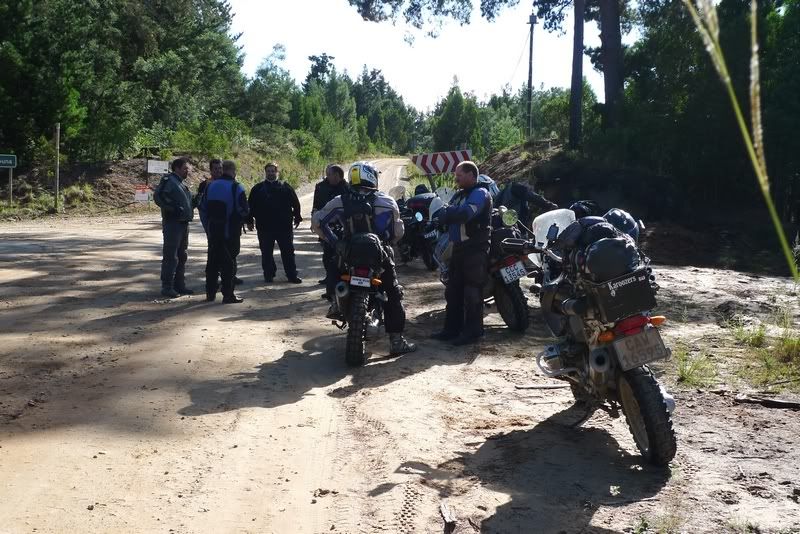 (Photo by LGF)
Gravel at last and it now feels as if this ride has really begun. Just look at this: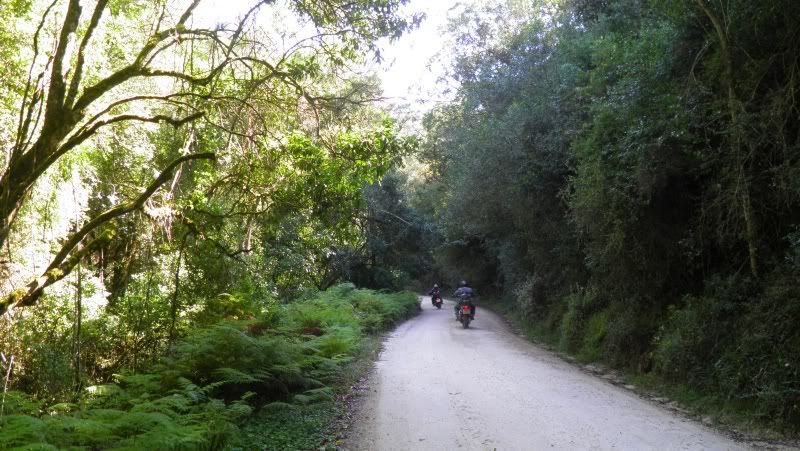 (Photo by Gryph)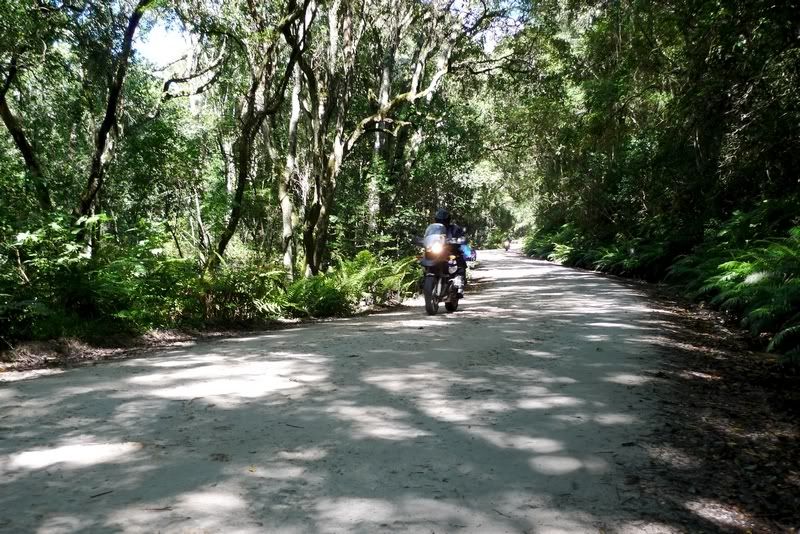 (Photo by LGF)
A new rider in our group, McSpanner, stopped at one stage and when no-one approached he decided to turn around in case someone had trouble. The road had an incline and when he wanted to put his foot down there was nothing there... He went down lake a sack of potatoes.
Luckily there was no damage to the bike.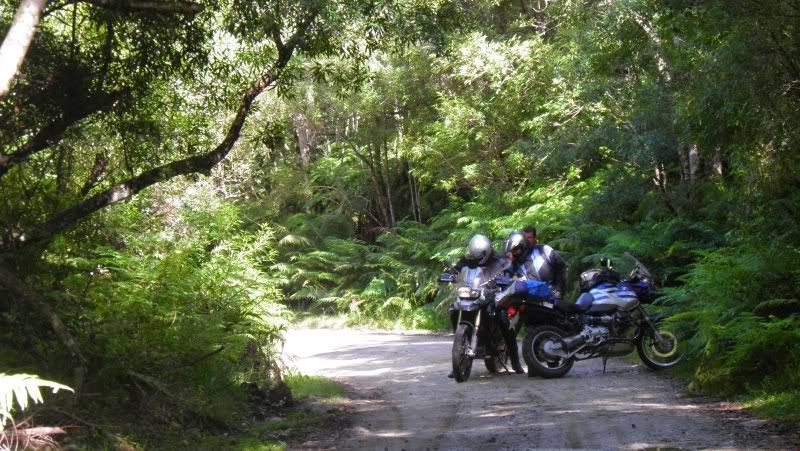 A few kilometers down the road it was LGF's turn to stop. He's fender was rattling loose. That too was quickly remedied.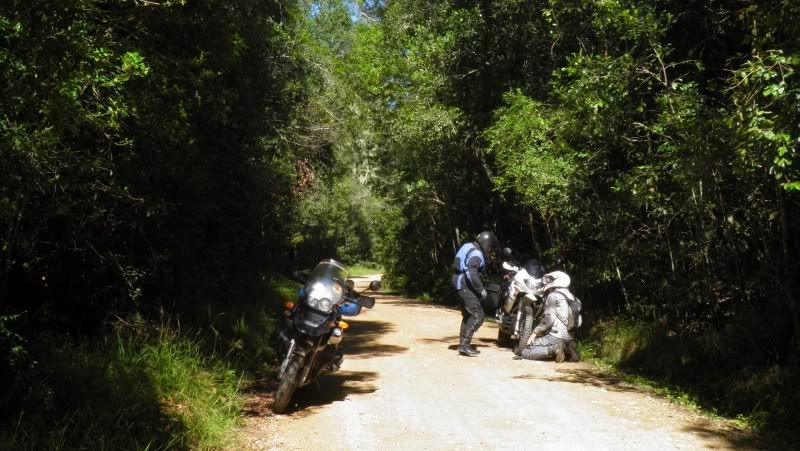 Kom-se-Pad links into Prins Alfred's Pass. With the recent holidays and coupled with the rain this road really took a beating. In fact, this is the worst condition I've seen it in. While riding along I suddenly hit a series of muddy potholes.
The bike was all over the road and I had my hands full keeping it upright and on the road. I had barely recovered when I hit the second series of potholes around a corner...
On the other side of the second set I sighed a sigh of relief and checked my mirrors to see if Gryph behind me was OK. Nothing...
I stopped and waited. Nothing...
I turned around to go looking for him hoping he didn't come off.
I found him standing next to his bike at the first series of potholes. He was OK. His bike too. He stopped because my Topbox wasn't.
I hit the first set of potholes with such ferocity that my Topbox flew off.
At least Gryph was OK. He recovered my Topbox 30 meters into forest. Had he not seen it fly off we would never have found it.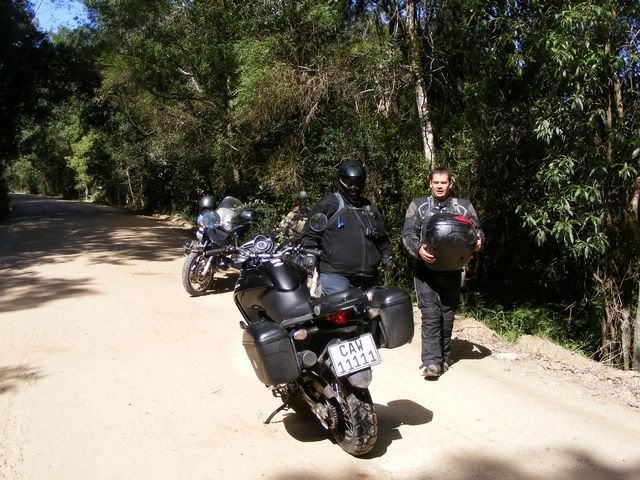 (Photo by Dirtcopper)
(Photo by Dirtcopper)
With everything fixed we proceeded to the next gathering point.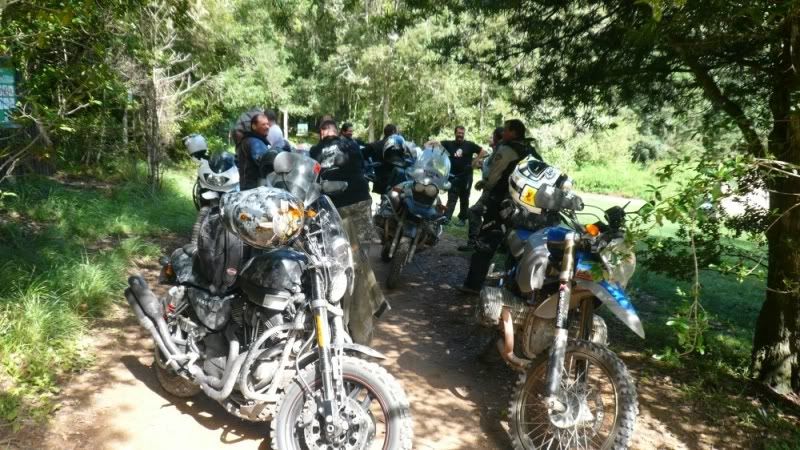 (Photo by Gryph)
It was a beautiful day. We tackled the next bit of Prince Alfreds Pass to De Vlugt: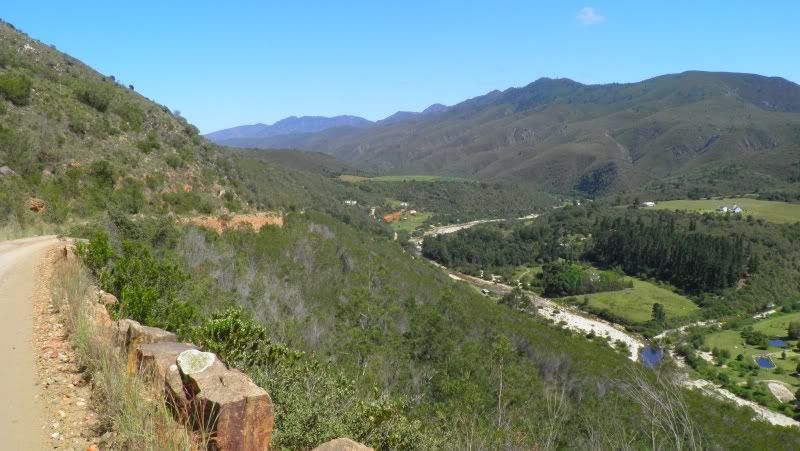 Here we stop at the biker's pub Angie's G-spot.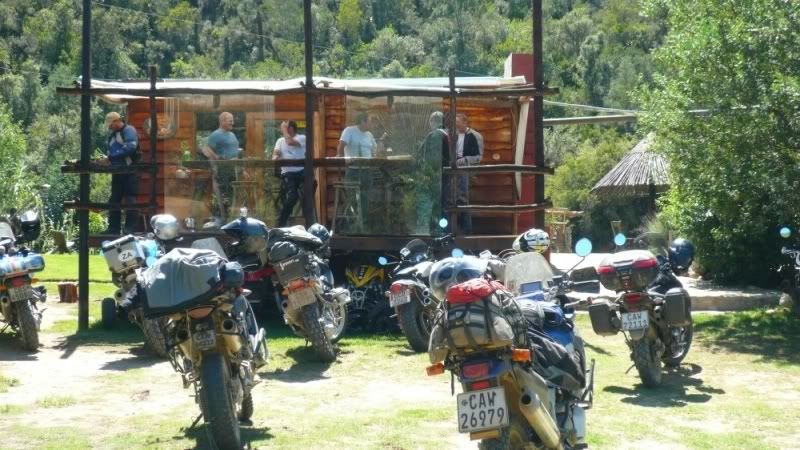 (Photo by Gryph)
(Photo by Dirtcopper)
The owner, Harold, confirmed that this was the first Harley to visit Angie's.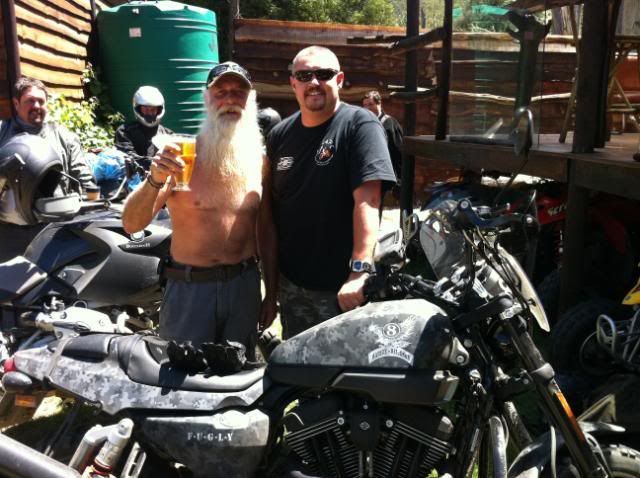 (Photo by Horsepower)
Prince Alfred's Pass: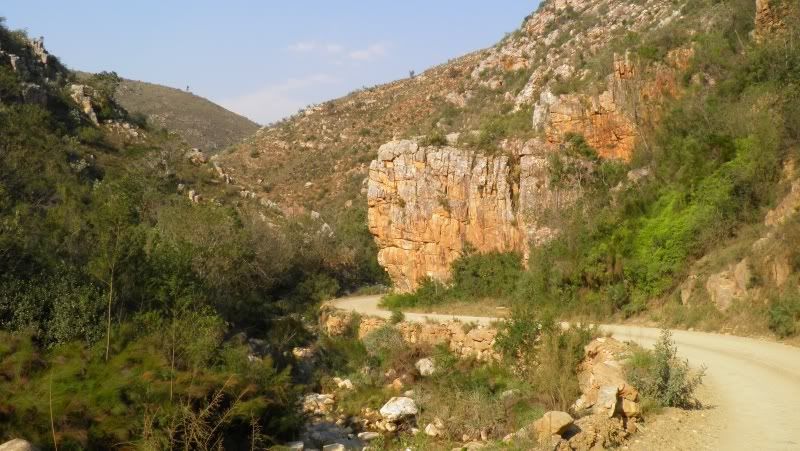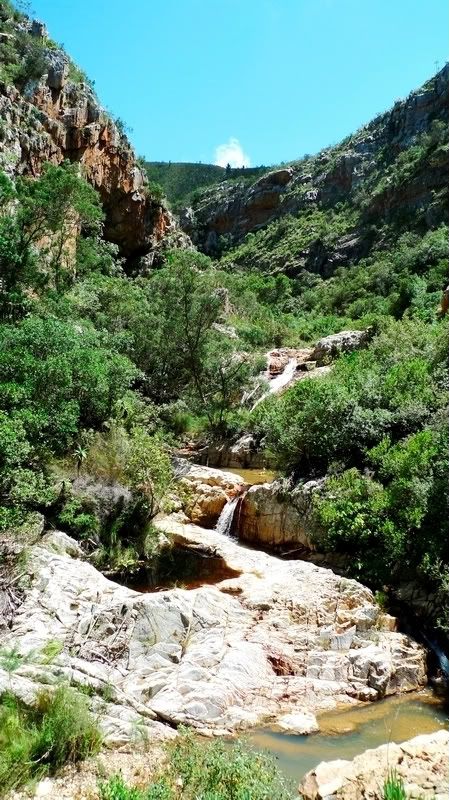 (Photo by LGF)
In Avontuur we meet up with Rooipoot on his Kawasaki KLE500. By now we had 10 different bikes!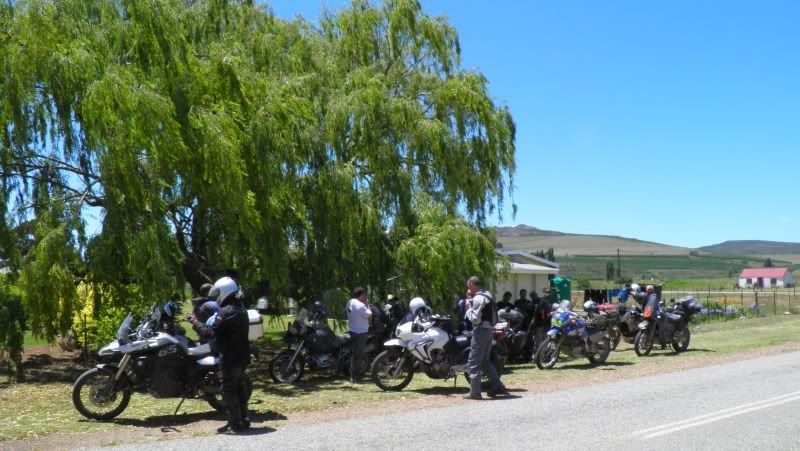 From Avontuur we had a long boring stretch of tar to Kareedouw. We were going to ride some gravel loops along the way but unfortunately time was not on our side.
In Joubertina we stop at a restaurant called Die Ark (The Ark) for lunch.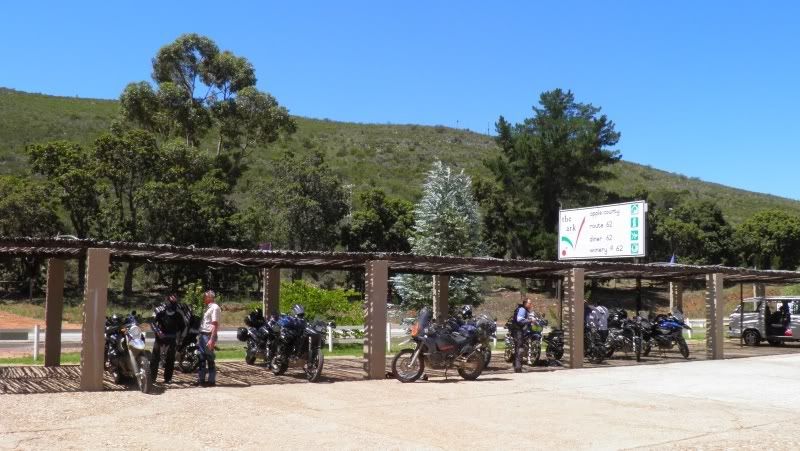 What a find this was! Good food, BIG portions and very cheap prices.
(Photo by Horsepower)
From here it was a short hop on tar to
Assegaaibosch
near Kareedouw where we meet up with the guys from Port Elizabeth:
Watty - Suzuki Djebel 250
TerrorSA - Yamaha XT660
Drazil (and daughter) - BMW 1200 GS Adventure
Crab - Kawasaki KLR650
and UncleAl on a Honda TransAlp 650 - the first and only bike matching another in the group.
Here we were met by Anton Gerber, the owner of the farm where we were going to stay. He and his family would escort us to the farm as they stay on the adjacent farm around 2km further down the road.


.