.
At last time for another quick ride. I know there have been less Ride Reports in recent weeks, but my work schedule has been pretty hectic. I hope to rectify the situation soon though. Priorities!
I have to admit also that this was not just another quick outride... I had ulterior motives.
My brother-in-law sold his bike a while ago. He's been talking about buying another and I thought a bike ride might just be the thing to spur him into action, so I organized him a demo TransAlp form Honda Wing George for the long weekend.
We decided take a quick ride on the Monday - the route was up to me. We have so much scenery around here that we're spoiled for choice, but knowing he's never been over Prince Alfreds Pass that was the obvious choice - just a quick circle route of about 300km. So with the bikes fueled we hit the road.
Quick stop for a nice "Start-of-the-Ride" pic: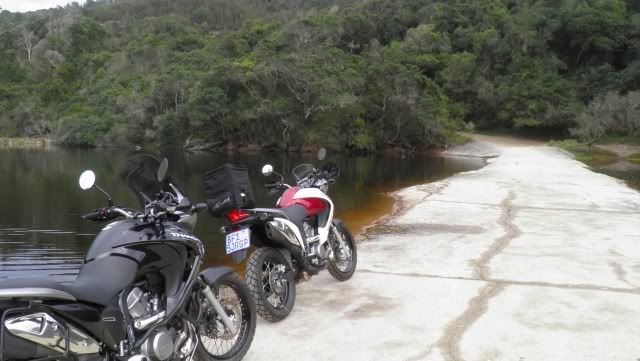 Between George and Knysna we have lake upon lake and we meandered along, taking it easy and taking in the scenery: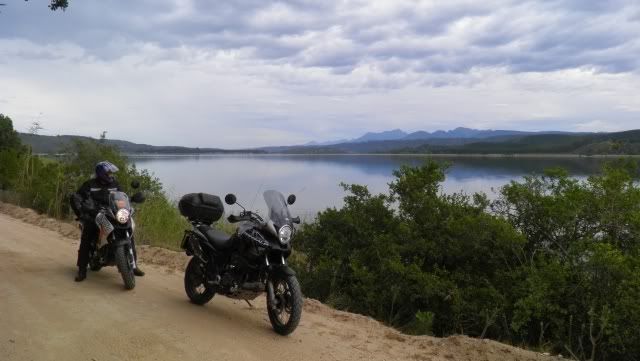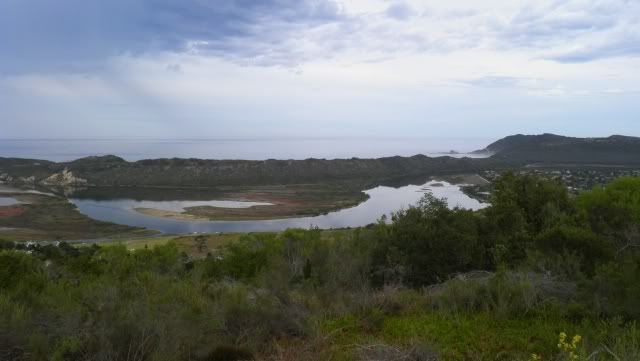 Near Knysna we turned North into the forest area and Kom-se-Pad. I have ridden here many a time but it remains special.
One day I hope to spot one of the endangered Knysna Elephants around here!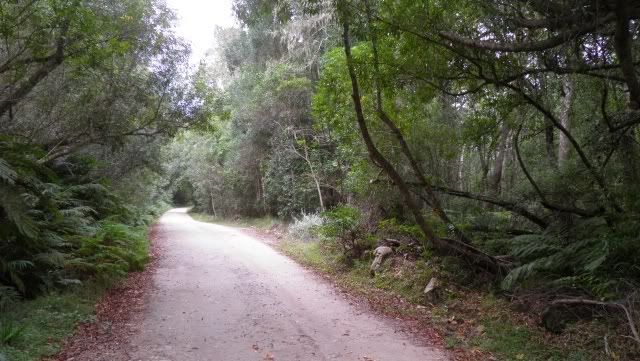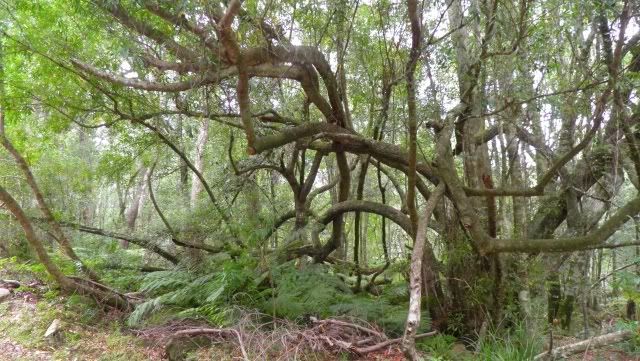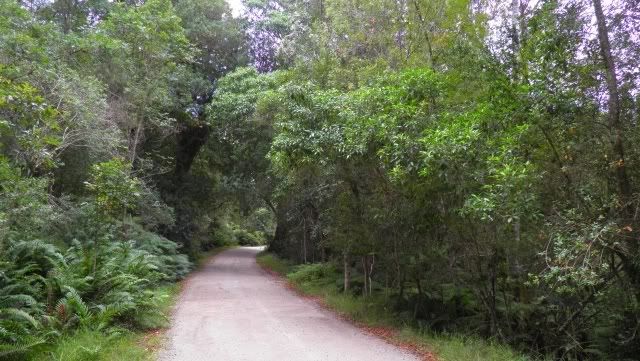 Prins Alfreds Pass was named after Prince Alfred who visited the area while the pass was being built. While here he went on an Elephant hunt. Those were different times. Imagine today naming a pass after someone who shoots elephants for fun.
At the top of Prince Alfreds Pass there's a high view point called Spitskop. It's only about 1km off the road and the views are well worth it. You can see all the way to the ocean!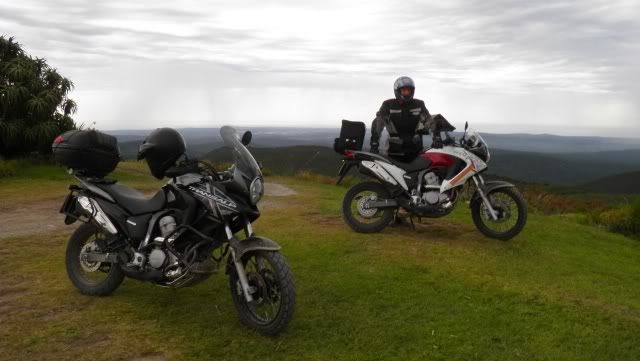 More worrying though was the water we saw... a fast approaching thunder storm!
I have not even packed away the camera after that pic was taken when it started bucketing down! Thunder and lightning, very very frighting!

Well, we were the highest objects on the highest point so with lightning all around we decided to hightail it out of there!
Heading for De Vlugt in the rain and mud no pics were taken. The rain stopped for a while here though - this is just before you ride into De Vlugt.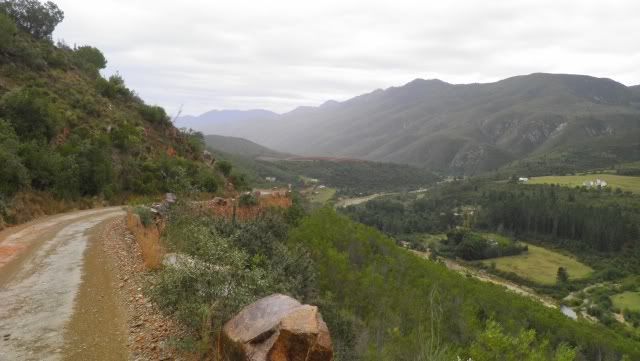 Like I said my brother-in-law has not been here before. When we stopped here (soaked) he asked how far we had to ride still before we reach De Vlugt? I told him De Vlugt is just over those furthest mountains and rode off...


He was very relieved those see this a couple kilometers later!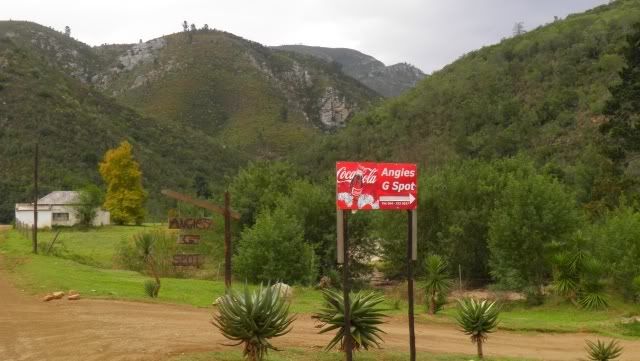 What a welcome sight!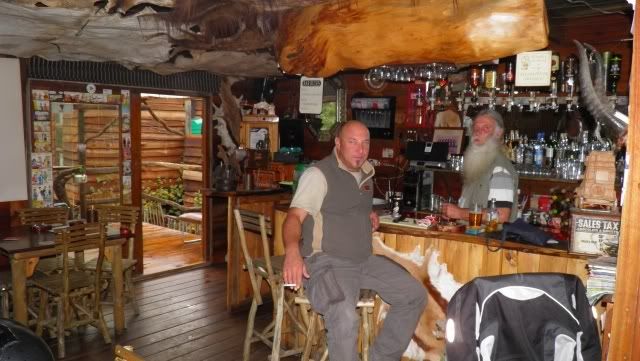 Of course Harold had a fire going and we could dry out while having some refreshments.
Even Tequila, Angie's pet pig, got some treats.
The only pig I know that does tricks for treats!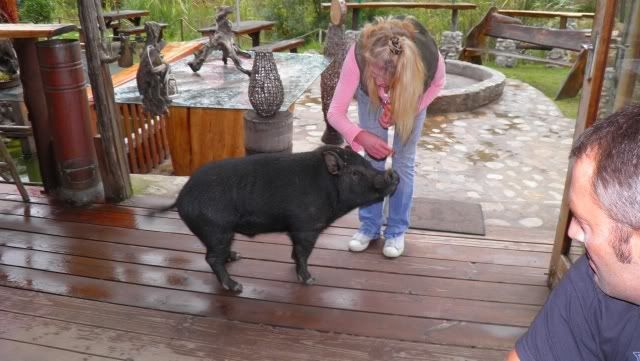 Suitably dried we hit the road again and of course as soon as we set off the rain started again.
Few pics were taken in the rain, but there are one or two: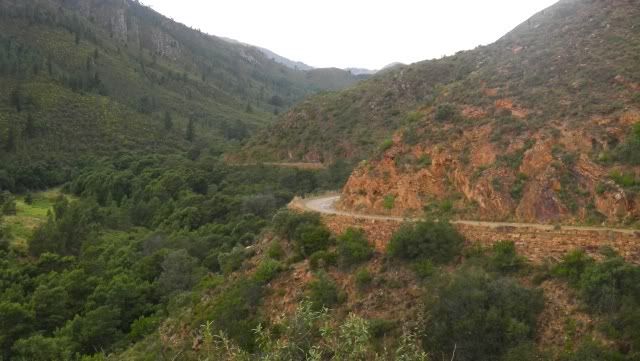 By now I was drenched! So I accepted that fact and continued enjoying the ride.
So I'm wet - so what?
Dual Sport bikers like it dirty!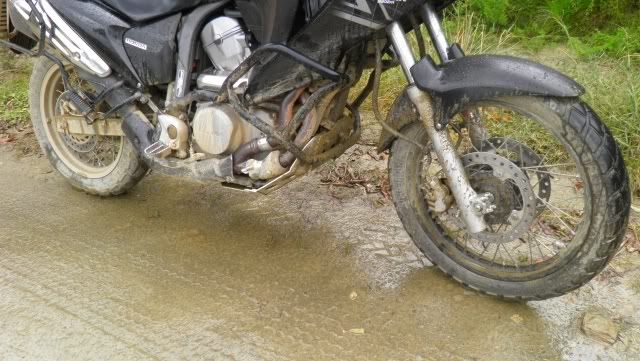 The white TransAlp is an ABS unit and my bike is not, so I wanted to do some comparisons between the two. The fact that it was raining did not stop me. I have always been an ABS skeptic, but I got some surprising results.
More about that here
.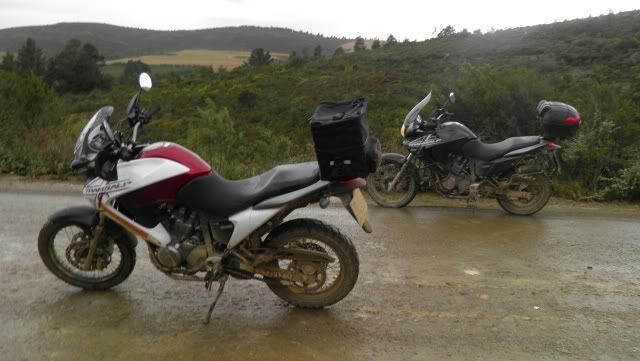 And finally the road home: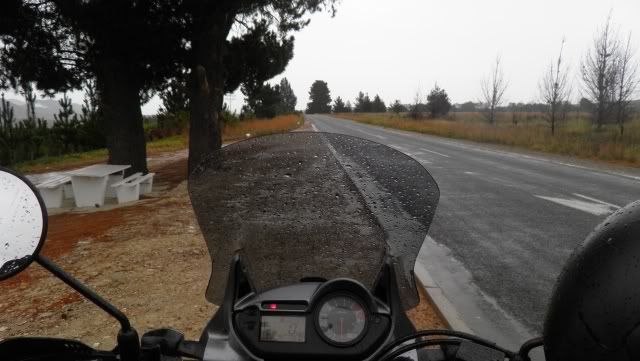 But not before we hit some last gravel over Montagu Pass!
It was cold, wet and slippery. What a great day! Good to be out riding again.

.