From Prince Albert we head into the Great Karoo. It's fast gravel to Leeu Gamka, but you have to keep your wits about you as some sections can be very loose.
Big Sky Country.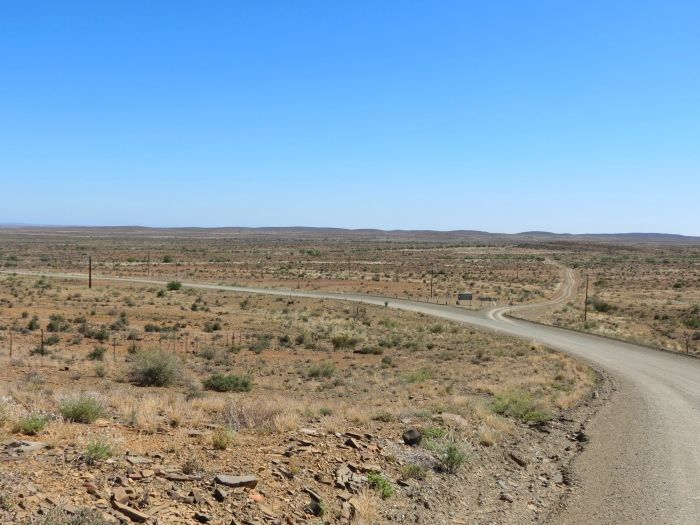 While the Karoo is an arid area unseasonal rain during December turned it green in an instant. It's amazing how quickly nature can respond to an injection like that. The veld is returning to it's more usual state now, but you can still see some green in the veld and especially near the rivers.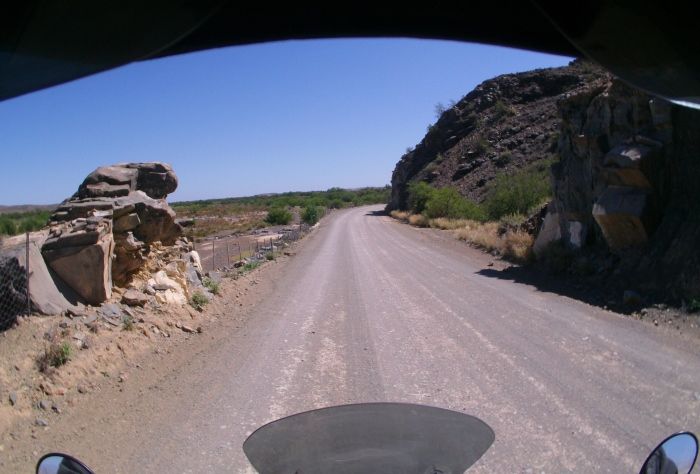 Another regroup next to a derelict building. Someone lived here, made a living, raised a family and had dreams for his future. I wish places like these could talk.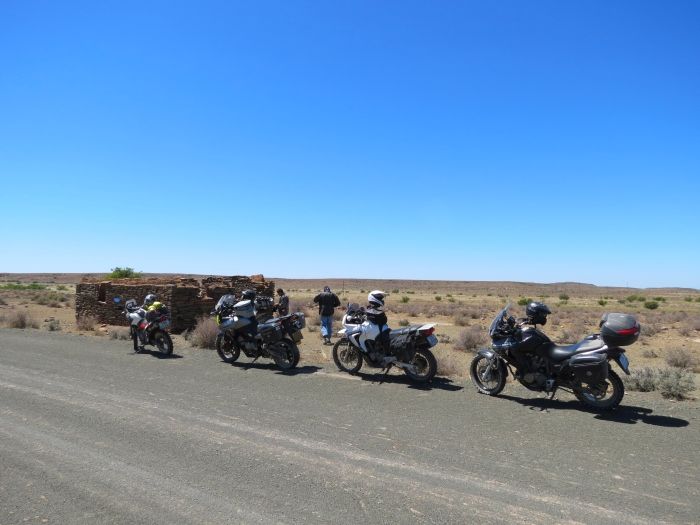 This could have been a nice pic had the other bikes not been in the way.

Where were we going again?
Oudekloof Pass!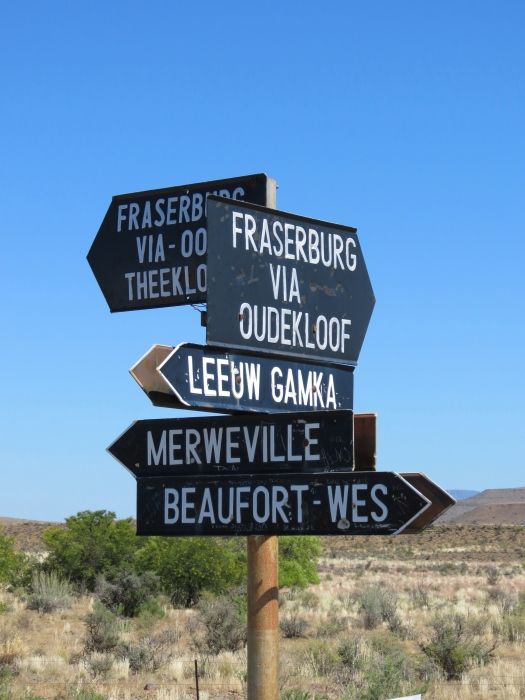 A helmet-cam mirror-shot. I wasn't sure if it would work, but it came out OK I think.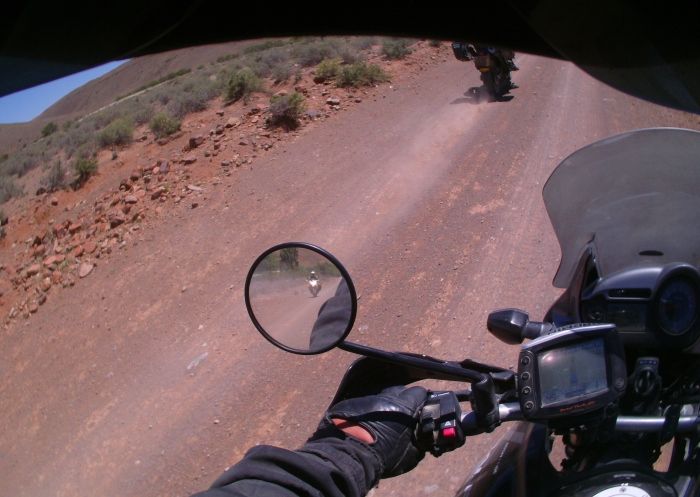 The last stretch: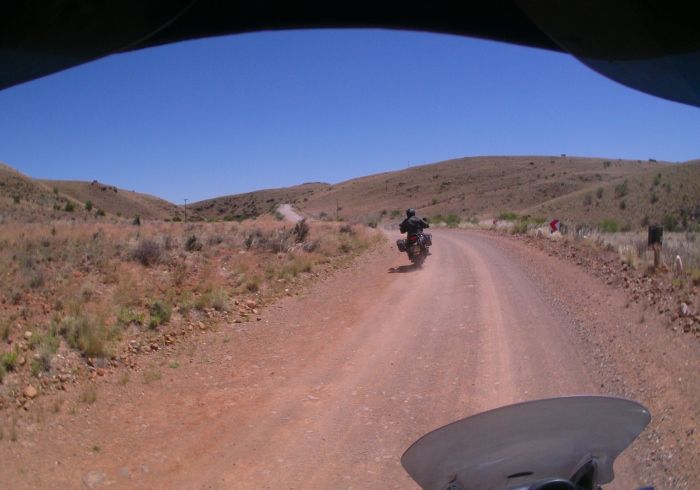 2-spoor, my kind of road.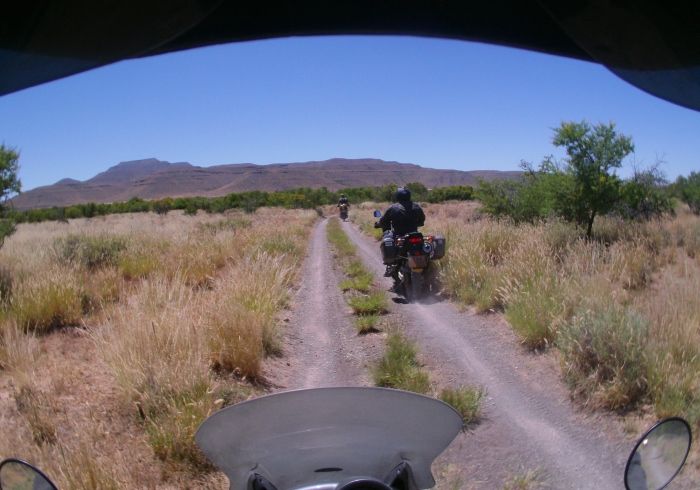 And before we reach our destination, some river sand and a nice water-crossing just to keep things interesting.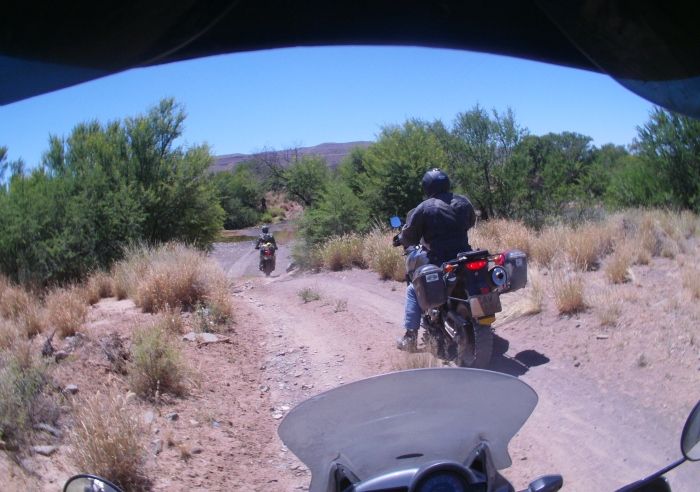 Oom Pad (on the bank on the other side of the river in the photo) got some nice video footage of this section.
We arrived at
Rooiheuwel
at about midday, so the first point of order was cooling down in the dam!
Rooiheuwel is a selfcatering Karoo Guest Farm, situated in the escarpment of the Nuweveld mountains. It's not your typical flat Karoo farm. This farm boasts mountains, valleys, kloofs, plains and rivers with perennial pools and fountains. The silence, tranquility, peace and open skies is something to behold – and that specifically is why we chose this venue for our first Wolf Moon ride.
Some random pics around the farm: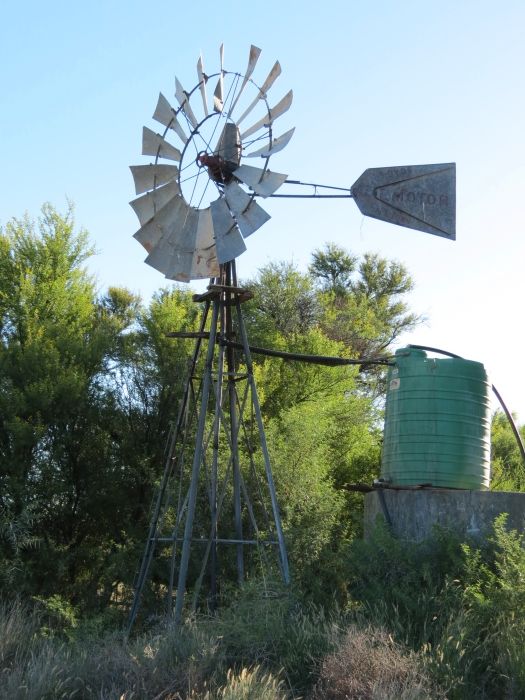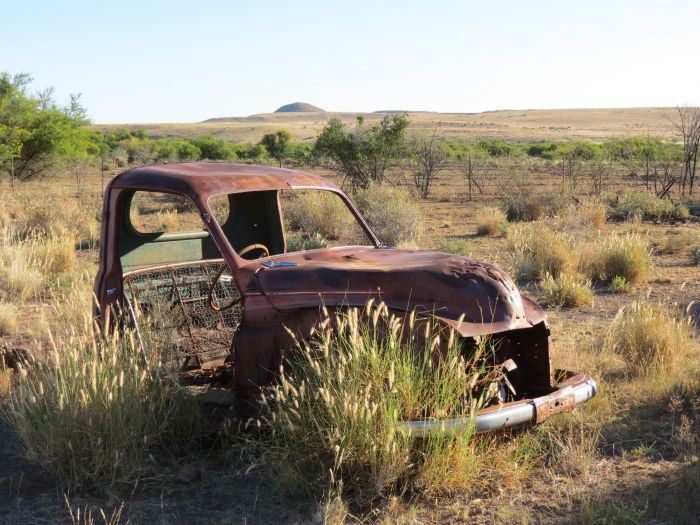 "Rooiheuwel" is the name of the "koppie" behind the car in the picture above.
Braai area next to the house:
(or should I say one of the braai areas)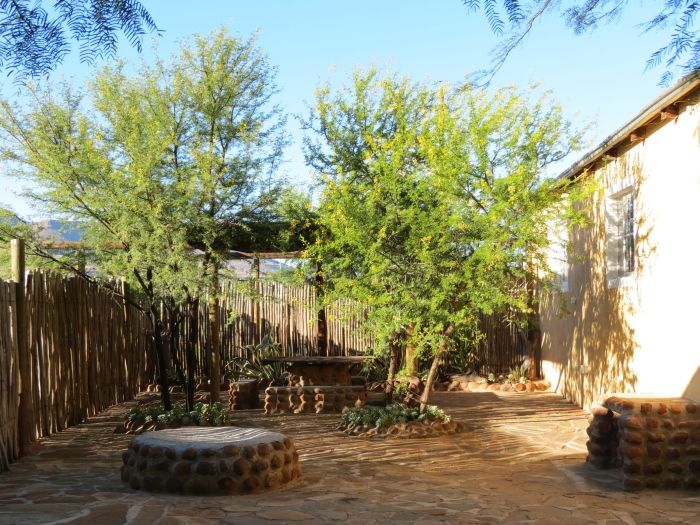 We inhabited the stoep as it was cooler there.
Dusty adjusting her chain tension. This is one spunky girl.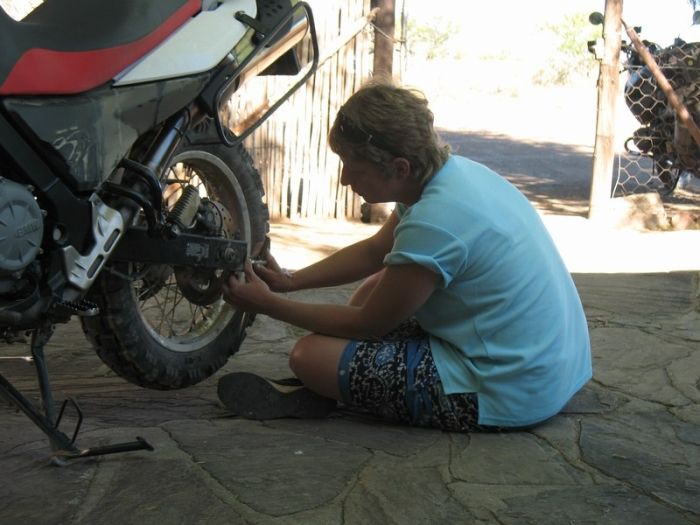 (Photo by Smidty)
It seems like nothing worries her and she easily holds her own on the bike and on any road condition. River crossing? Chain adjustment? Whatever. She just gets on with it. Not one of those needy / attention seekers at all. Just one of the adventure riders in the group. Game for anything and great sense of humour as well.
The sun setting on our humble abode: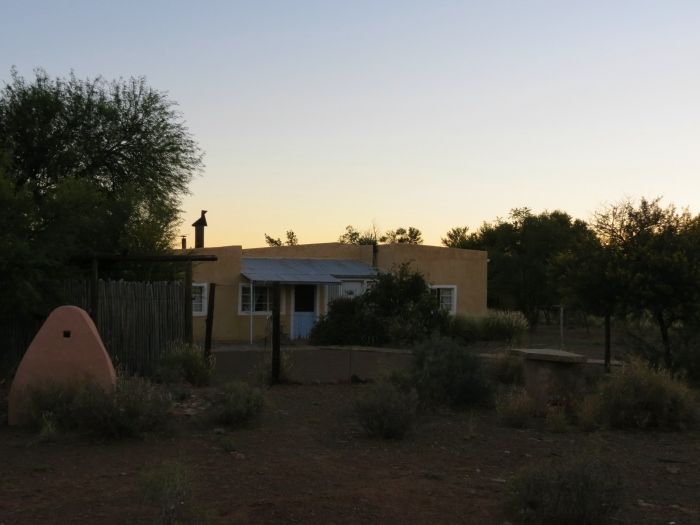 And there it was! The Wolf moon...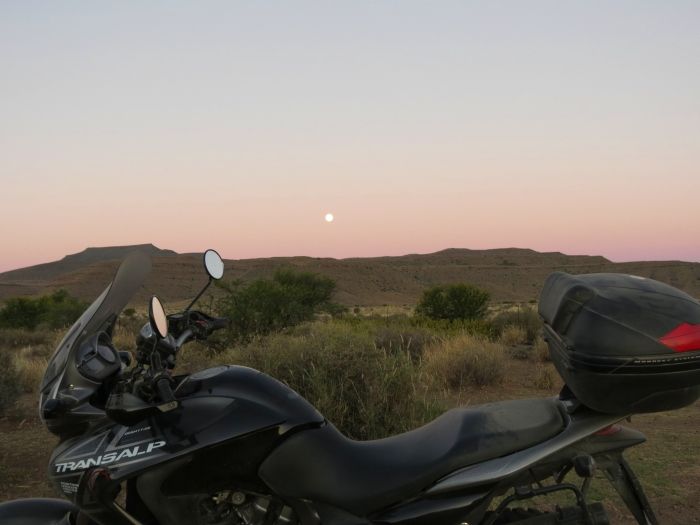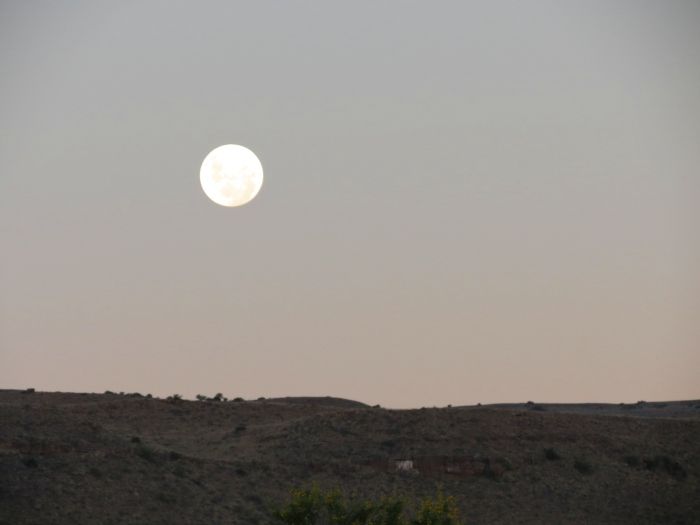 (photos by Dusty)
And this is where the trouble started...
The Lunar Effect: Does a Full Moon Make Us Crazy? Werewolves, lunatics, and crazies are all purported to come out under the light of a full moon. Even "normal" people have been known to act a little wild when the moon rises high. We were totally unaffected though.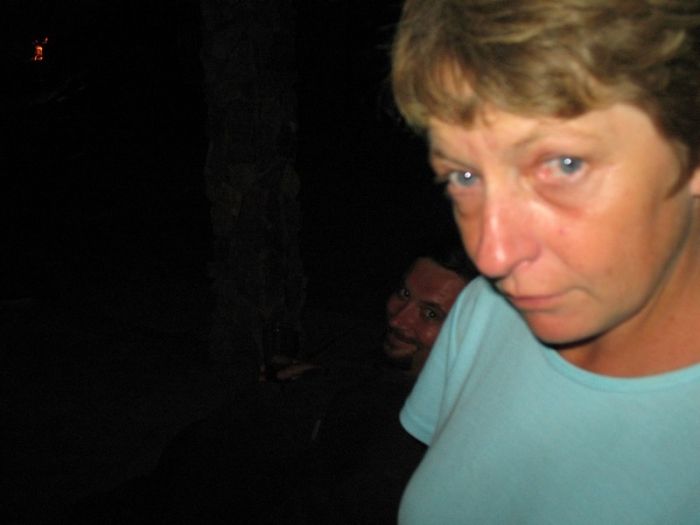 (Photo by Smidty)
(photos by Dusty)
There were reports of howling, non-comprehensible discussions, subjects and debates, as well as wild crazy laughter, but we know nothing about that...