.
After a night of heavy rain I woke to this view: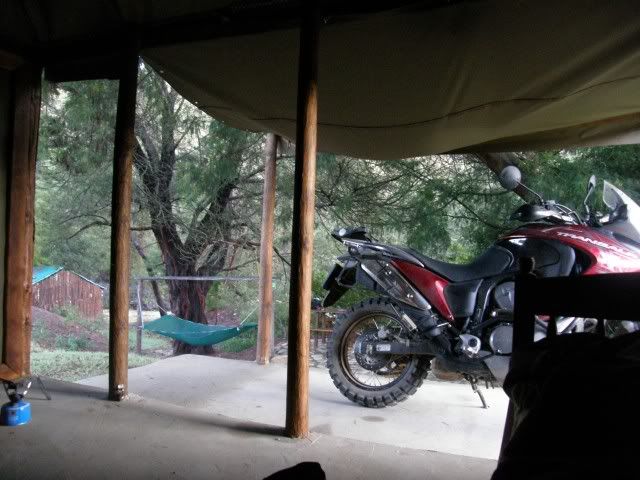 I love sleeping in the "open". Very liberating!
On the menu today: Attakwas Kloof, Gysmanshoek Pass, Tradouw's Pass and Warmwaterberg. Rural roads most of the way!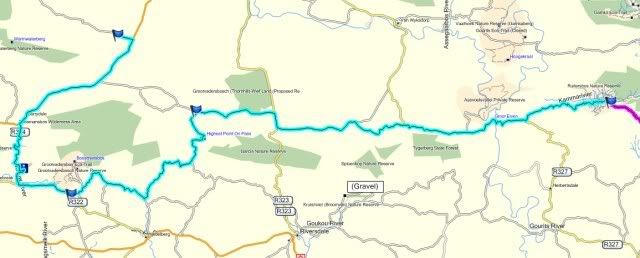 (You guessed it - clickable map. Just like all the others!
)
We hit the road around 7 am. After the rains everything were fresh. You could smell the recent rain, the plants, the fresh air. I rode with the sun on my back and a song in my heart.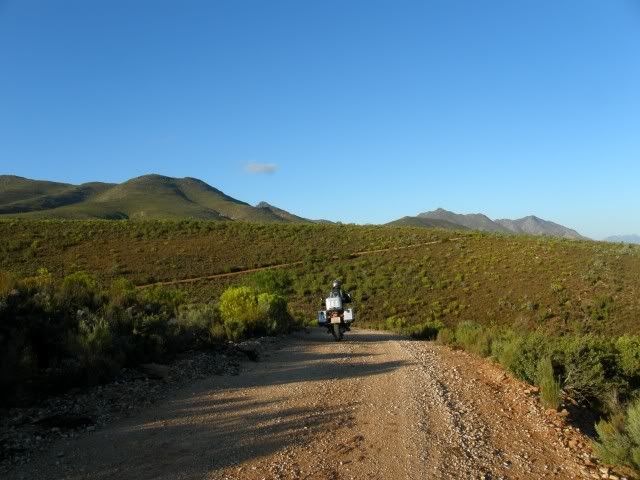 Just look at this: Wednesday morning and riding into a scene like that!
We shared the route with this Paw x Paw. He engaged low rage to negotiate this downhill. Obviously an experienced traveller.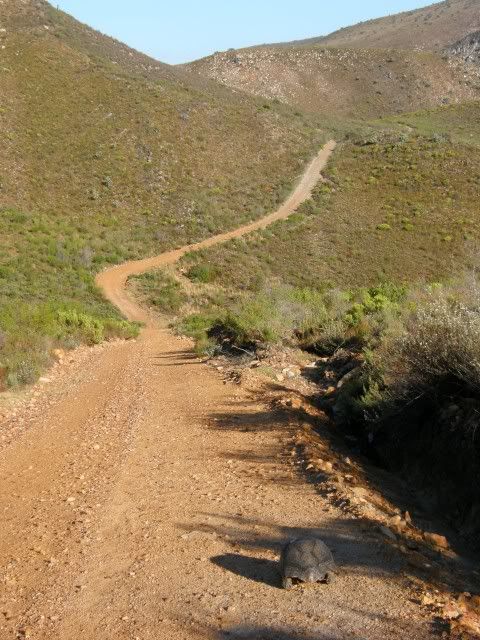 Nice to meet you mate! Safe travels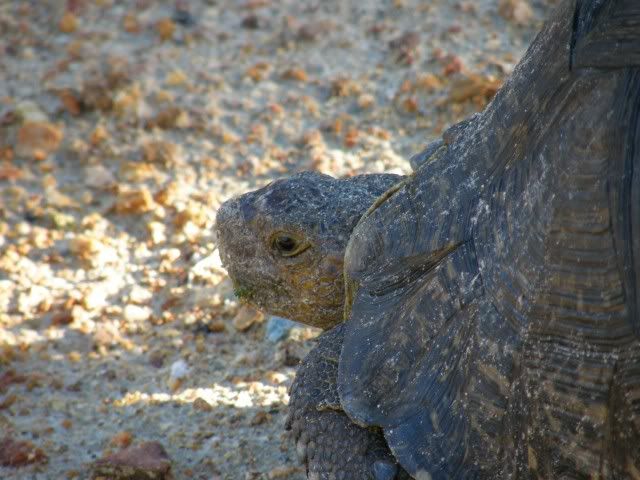 (I tried to research what species this is but could not come to a conclusion. Anyone know perhaps?)
Approaching the ruins of the old village Woeska. What a brilliant day it was!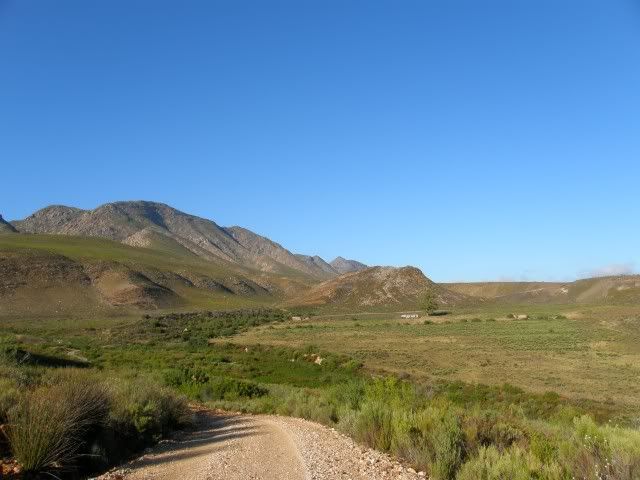 Attakwas Kloof and beyond: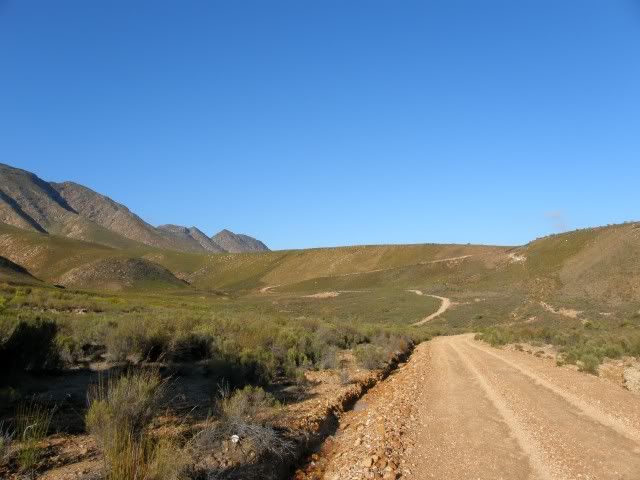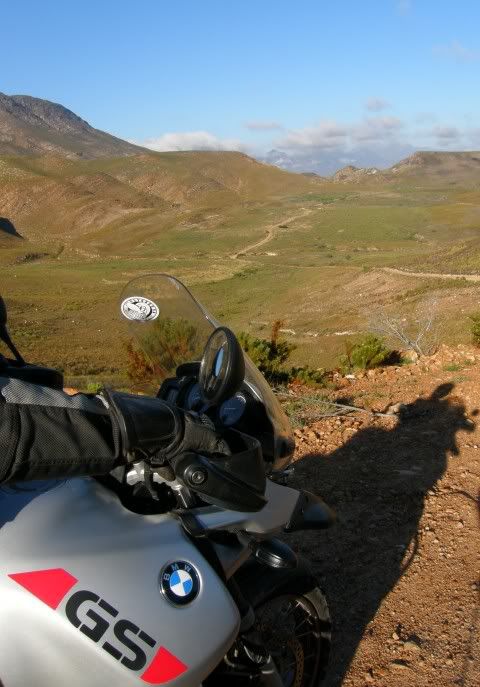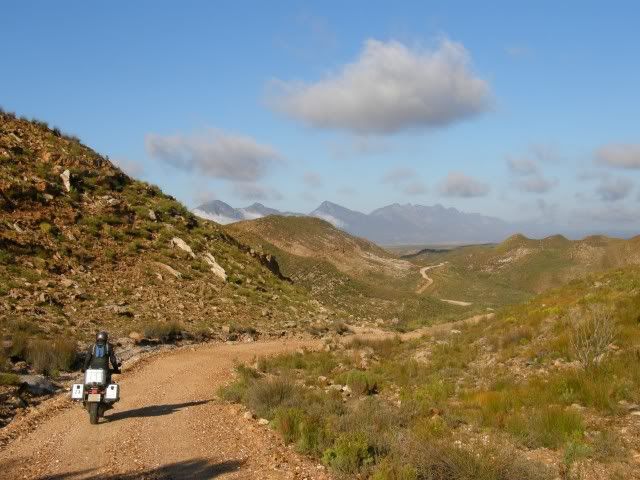 Exiting the kloof you join the R327 and travel West to cross the Gourits river.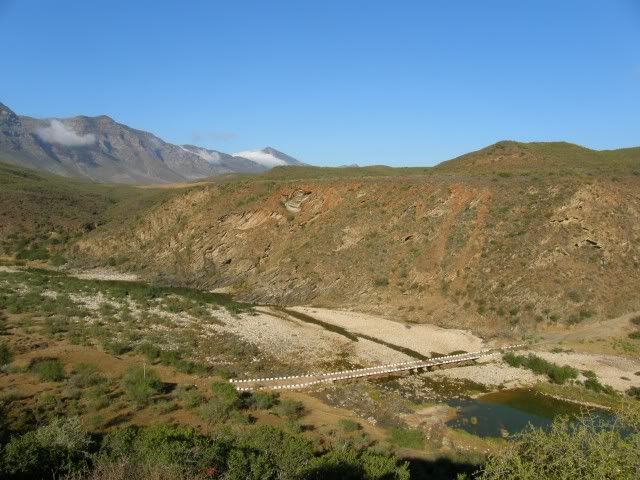 After a slow cruise taking in the scenery of Attakwaskloof these gravel highways were a welcome change. It was not dry and dusty, nor was it wet and slippery. Perfect conditions to turn it up a bit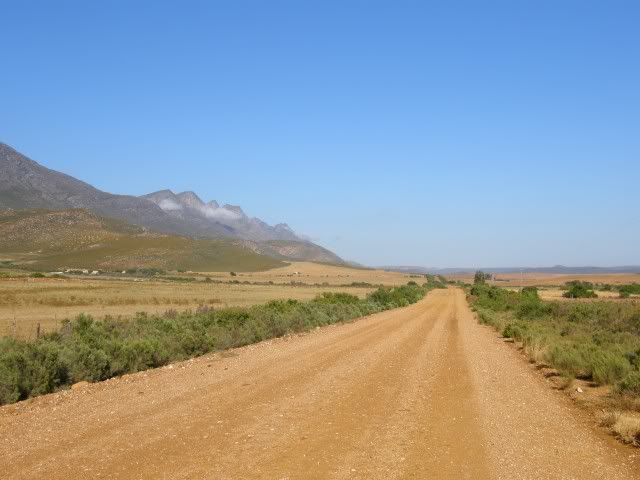 Except for that one spot where a patch of mud really surprised us
Luckily I was over it before I even realised!
We did stop afterwards to "laugh" about it. TKC's make us invincible?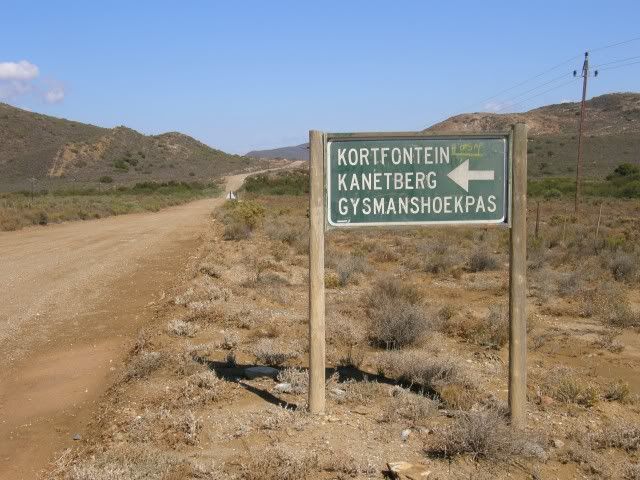 Another muddy spot. A 4x4 slipped and slid across just before us and it really seemed bad. We crossed without incident though. TKC's make us invincible!
Gysmans: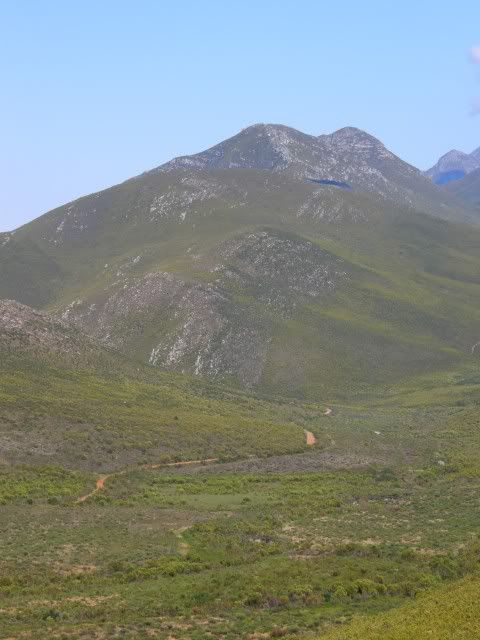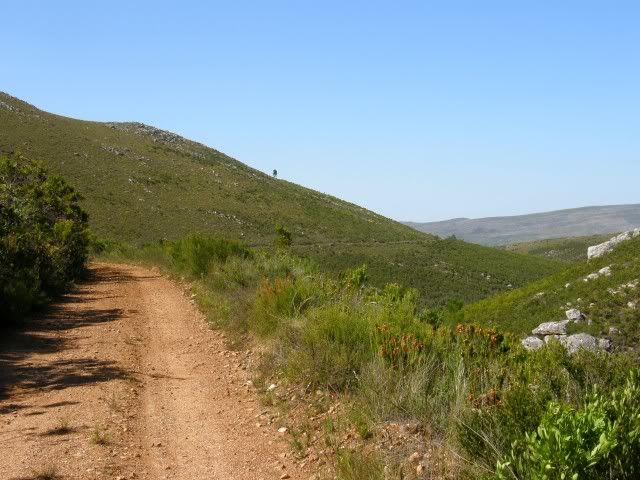 And descending into the Southern Cape. What a view! Something that you cannot really capture on film. That's Heidelberg in the distance.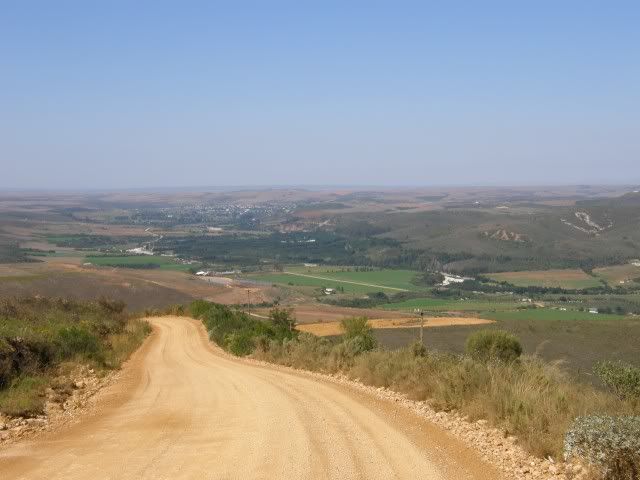 Following gravel along the Southern slopes of the mountain I rode along a section where the shade of some trees disguised some terrible potholes (from the previous night's storm perhaps?). Luckily the line I rode missed them completely. Just after those the road turned and I came apon this moments after it happened.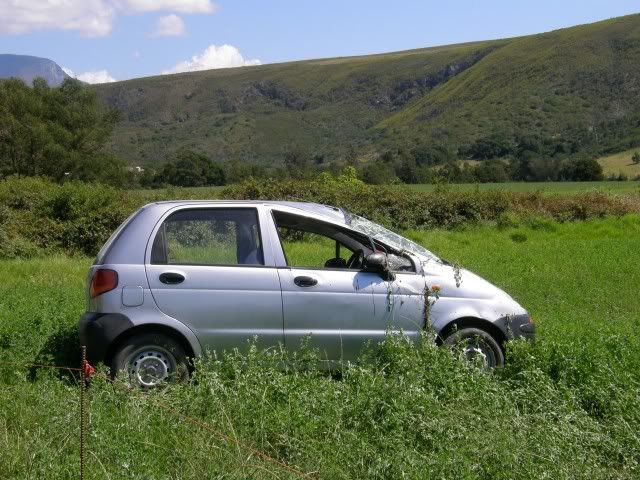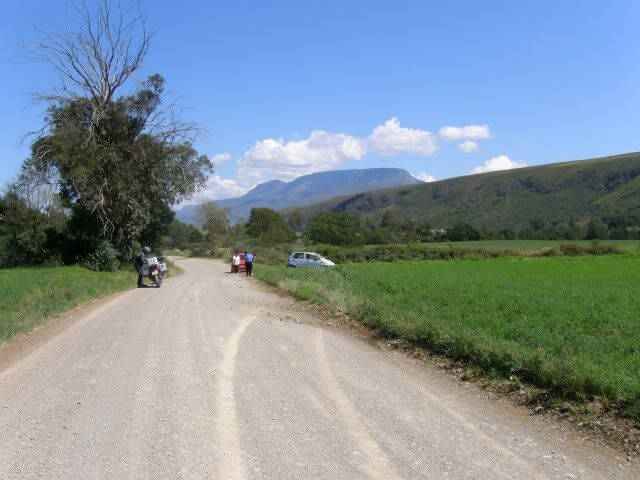 Accidents happen quickly. Luckily the driver was not seriously hurt and the police arrived soon after.
Next up: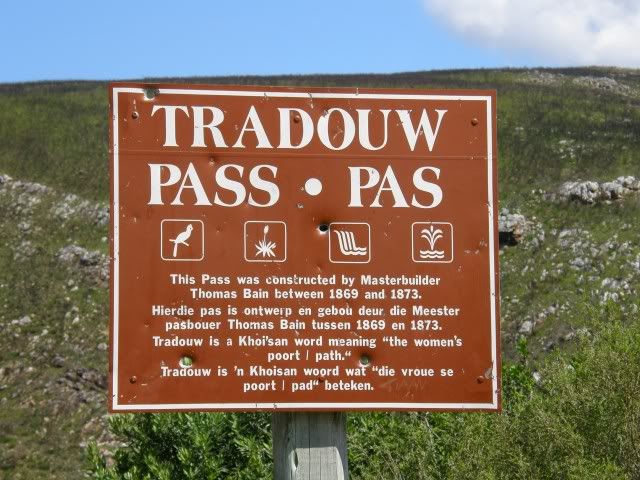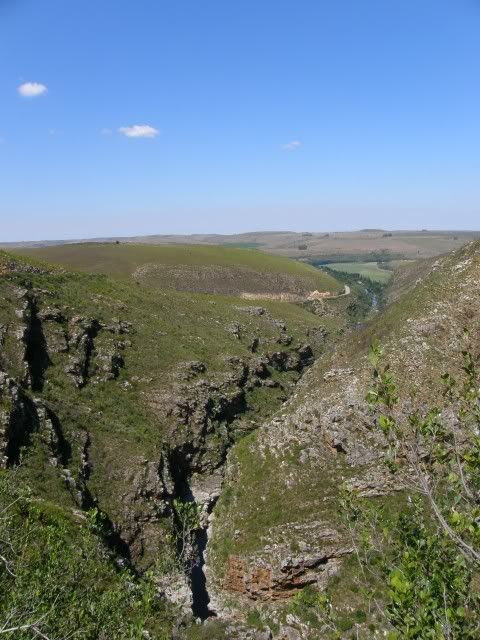 This is a tar pass with sweeping turns. The fancy took us and we really got our knees down all the way to Barrydale
Barrydale
There is a fertile valley lying between the coastal belt and the Karoo, enclosed by the Langeberg and Swartberg mountain ranges. To call this region the Little Karoo is a misnomer . Geographically, geologically and scenically it is not part of the Karoo but supports unique features of it's own that ensure its place as a very special part of South Africa.

The region was referred to as Kannaland on a map produced in 1843, this name being derived from the genus, Kanna. This area has a higher rainfall than the Karoo, which gave rise to permanent populations of Quena or Hottentot people of the Attaqua tribe in the low lying floor of the valley and to the Bushmen / Khoisan, who inhabited the mountains.

The Attaqua had a path, parts of which are still visible today, through the Langeberg, which followed the deep, and steep, ravine known as the Tradouw Poort.

Tradouw is a Hottentot word meaning "the women's poort or footpath".

The Attaqua had kraals on "the other side" of the mountains, round the village now known as suurbraak, known by them as xairu, meaning beautiful.

Early visitors were Isaac Schrijver and his party, who were sent to this area in 1689 by Simon van der Stel and Lady Anne Barnard, who travelled in the Overberg and Little Karoo in 1798.
Lunch at an old favourite -
The Country Pumpkin
. Arrive here on two wheels and you receive a complimentary sherry and a 10% discount on your total bill
The owner is a biker himself and always keen to chat to other bikers and give advise on routes etc. We even got some complimentary "
Route 62
" metal badges.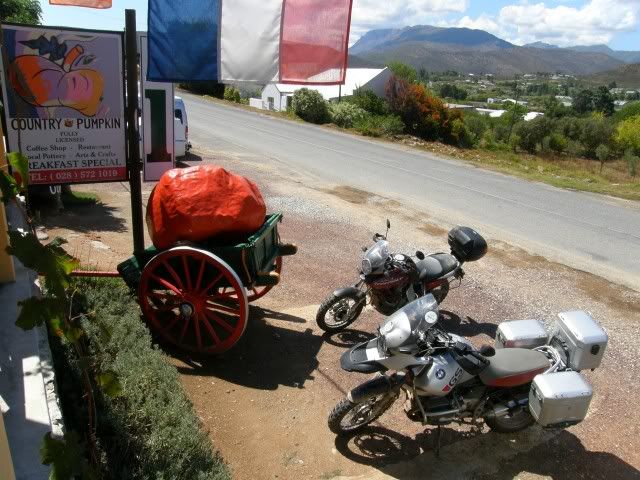 We did most of today's route in half a day so we had some time on our hands. It's was a good thing too because it was extremely HOT by now. Next stop
Ronnie's Sex Shop
(only 2km from our final stop for the day at Warmwaterberg).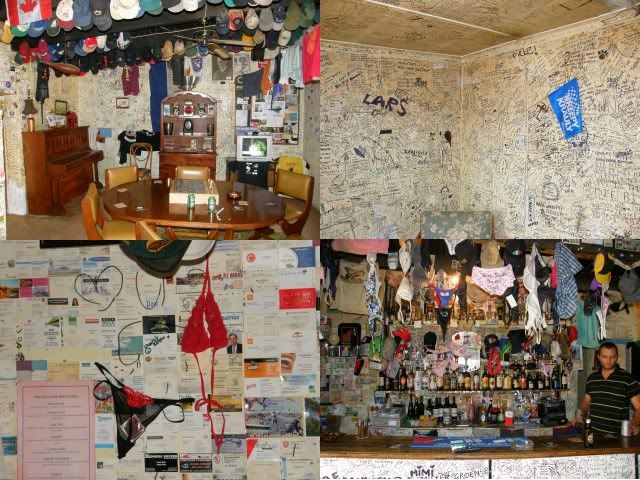 As it turns out the barman is from my home town, George. He arrived here on a 175cc a month ago and heard there was an opening for a barman.
As you can see he's still here
The freedom of youth. I miss it sometimes.
Bikevettie decided to beat the heat:
A quick shower was welcomed but it did little to break the heat. Oh well. Barman! Another cold one please!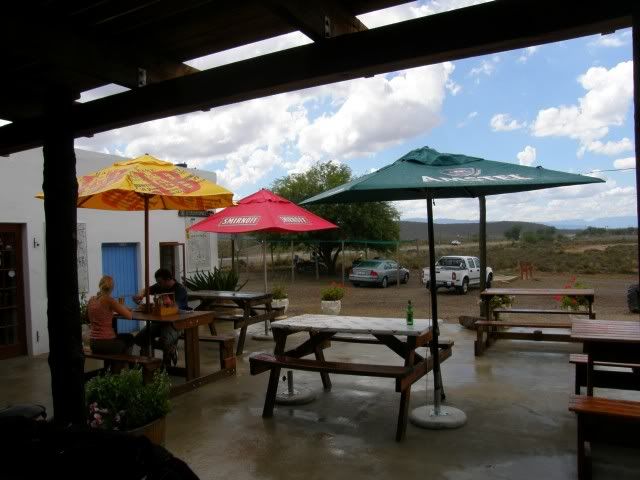 Before we got stuck here (which easily happens
) we rode the 2km to the Historic Bath House we'd call home for the night (
website here
).
Apparently there used to be an asylum here. We'd fit right in!!!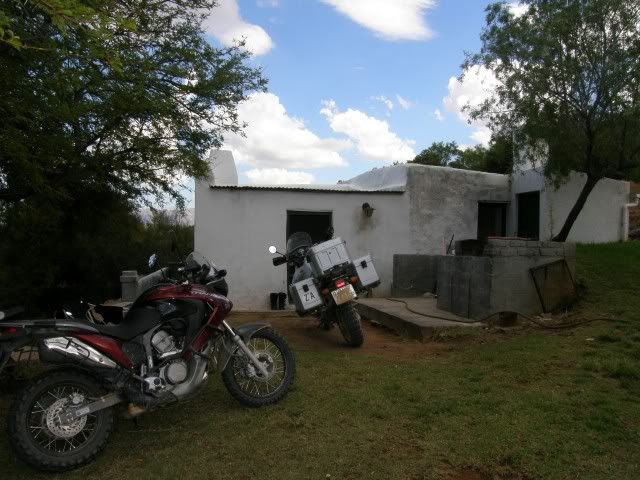 Our neighbours also had some Wings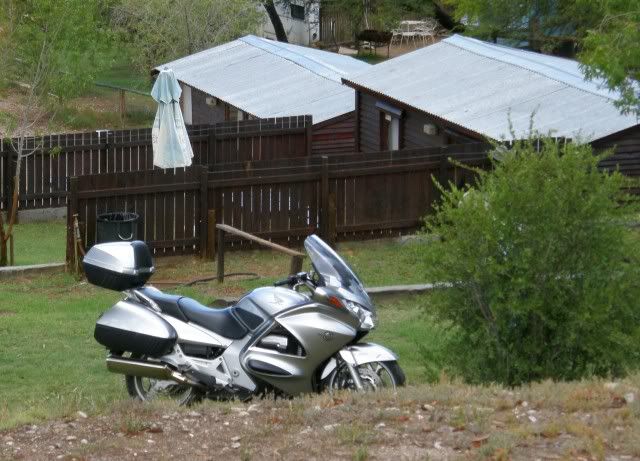 We opted for the cold pool today.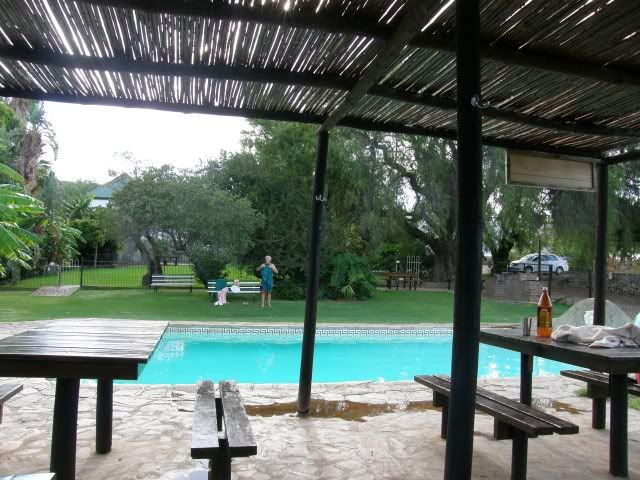 An unexpected guest for early dinner: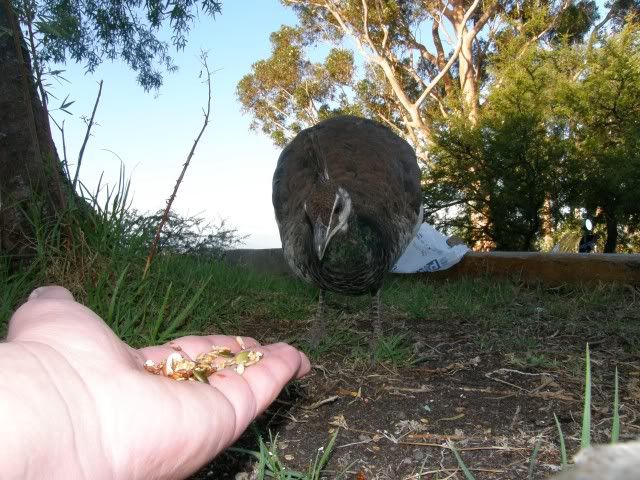 This being our last night on the road we decided to dine in the restaurant to celebrate a truly GREAT trip. We had huge fun. And we still had a great day's riding left!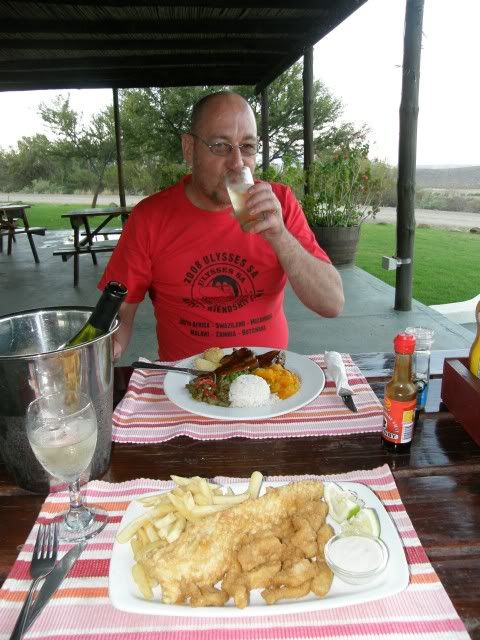 The view from our table: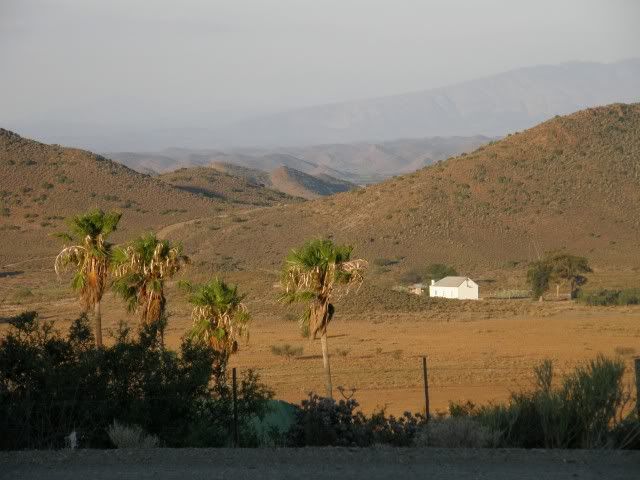 In the distance lay Seweweekspoort and Bosluiskloof. But
that
is another story...
Continue to Day 7.
Return to Index Page.
.