.
Today I had a very long way to go.
We had decided the previous evening that we'll leave earlier today and booked breakfast for 7:30.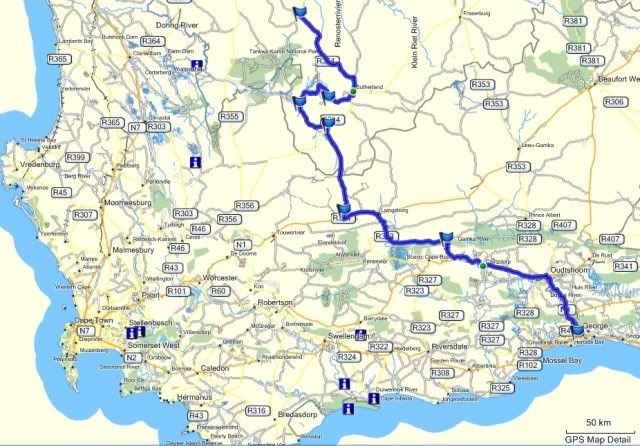 By 9am everybody's bikes we loaded and refueled and we were off - direction Sutherland!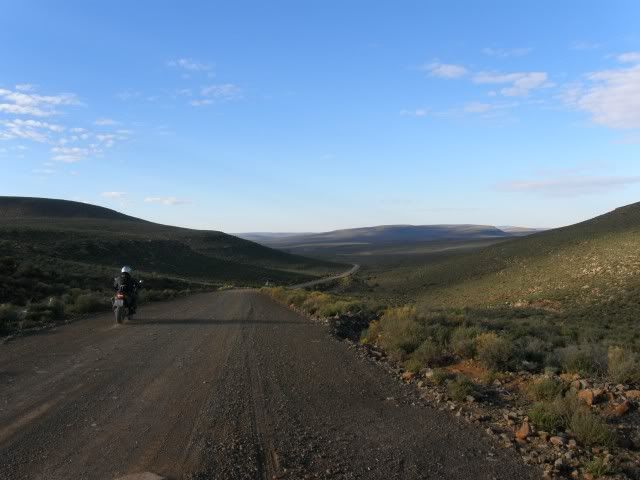 It was a clear and chilly day. They had some rain in the area recently and you could see it in the veld and smell it in the air. Riding through the wide open spaces of the Karoo you really get that feeling of freedom.
We passed quite a few bikes including a group of approximately 15 BMW's. Each and every one of them greeted or nodded. What a friendly group!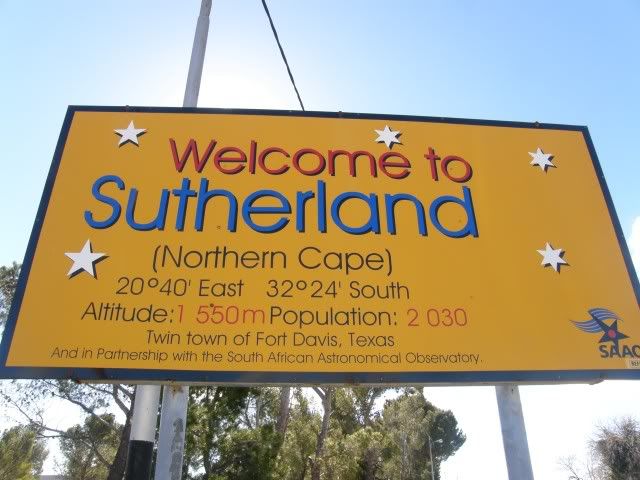 Another quick refuel and we were on the road again. Next on the itinerary - Ouberg Pass!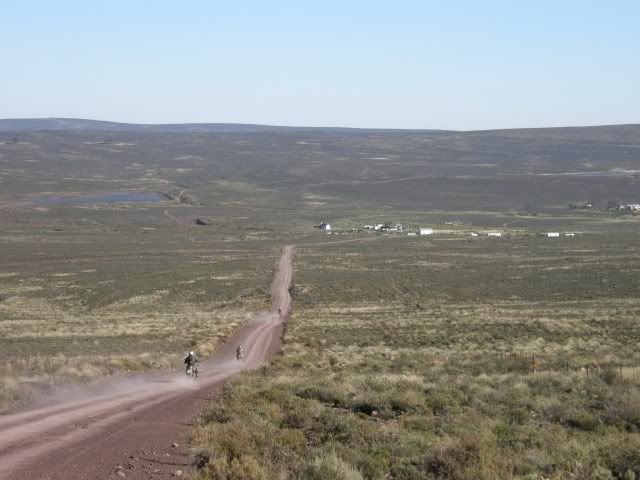 Since the first time I saw photos and read Ride Reports of Ouberg Pass I knew I had to go there.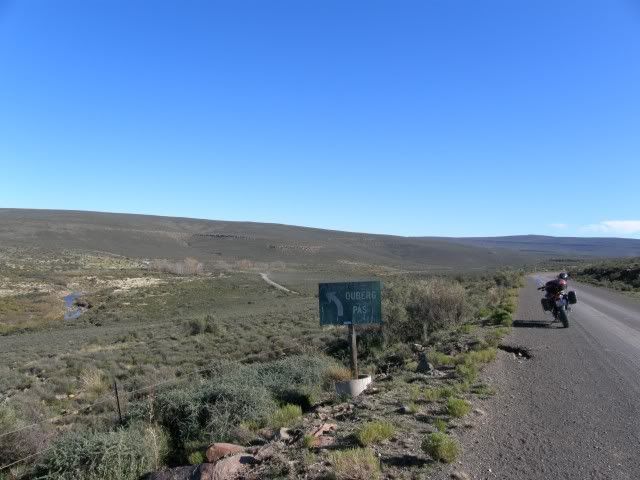 45 Km from Sutherland we reached the top of the Roggeveld Mountains and suddenly found ourselves on top of the escarpment. The view is simply amazing.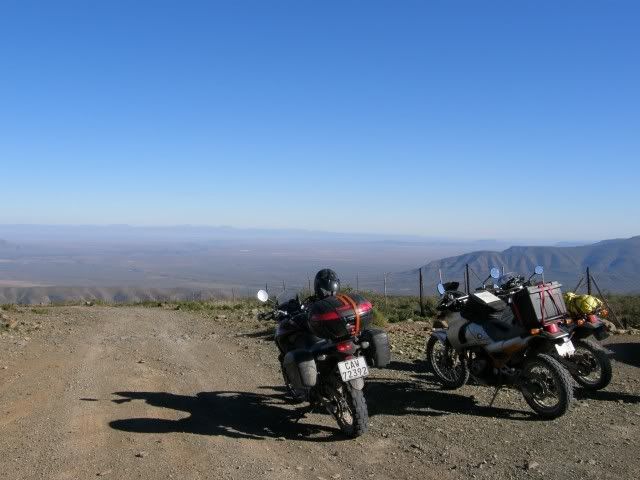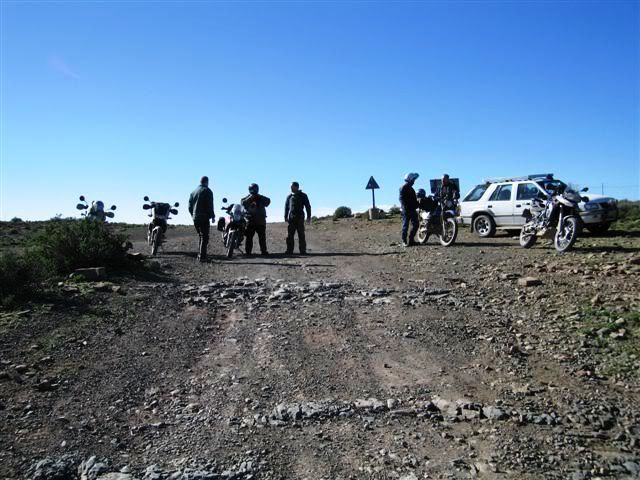 (Photo taken by Merrycan)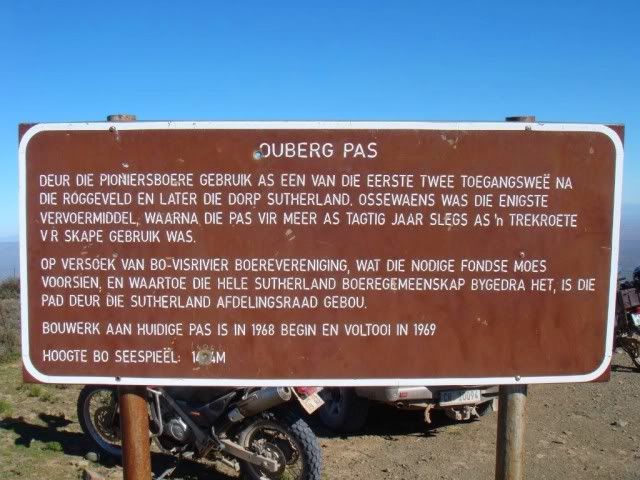 A thousand metres below lies the Karoo valley with a pass winding slowly but surely down, down, down.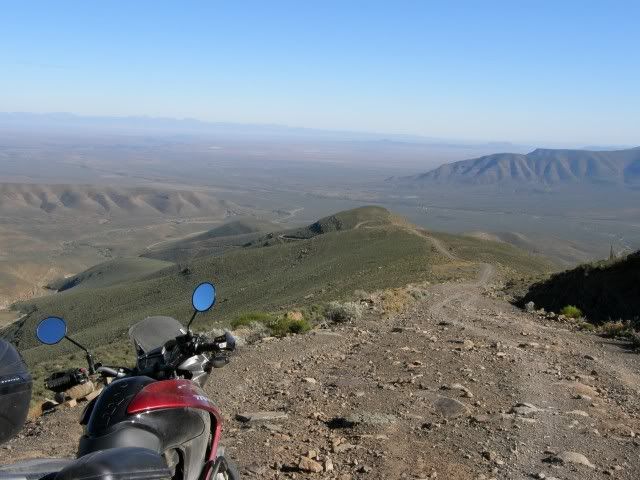 Pioneer farmers used this trek route for more than 80 years for their seasonal sheep trek. Ox wagons were the only transport for these people.
I've been wanting to ride this pass for a very long time, so I took my time, taking in and savouring the scenery and the experience. Believe me, riding down this pass takes your breath away. With the steep decent and the high views you almost feel like you are gliding down towards the Ceres Karoo below.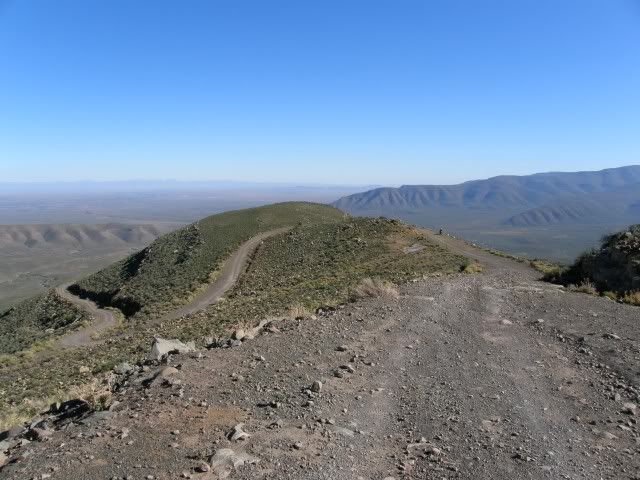 Honda gives you Wings!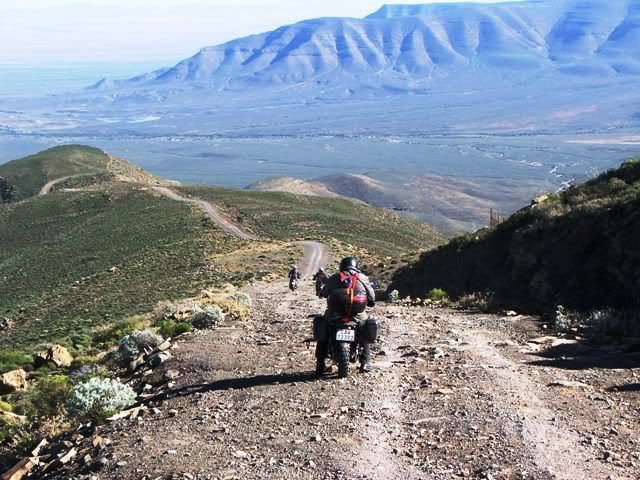 (Photo taken by Merrycan)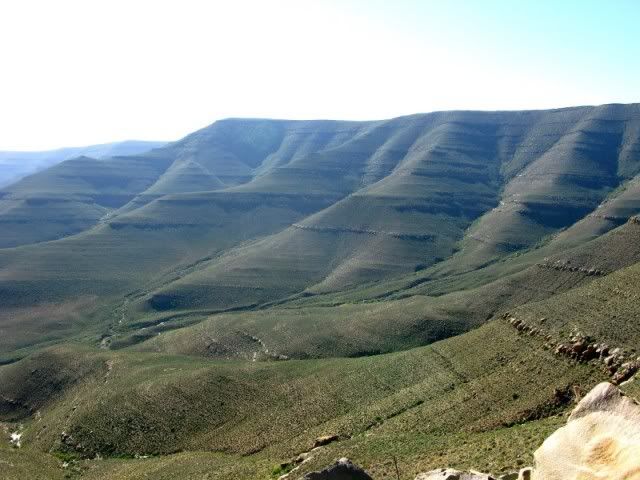 (Photo taken by Tok-tokkie)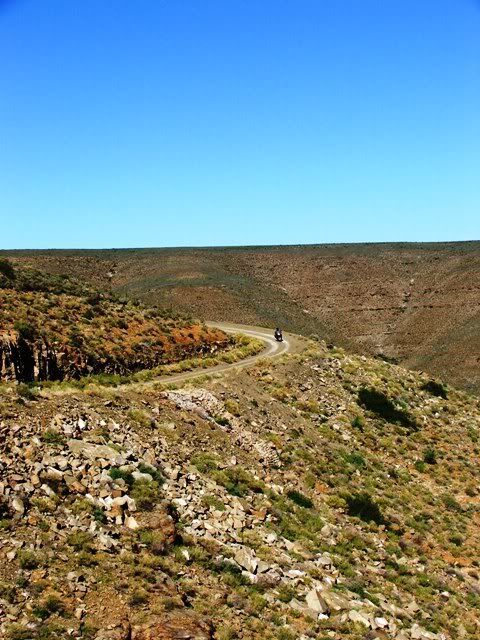 (Photo taken by White Stripes)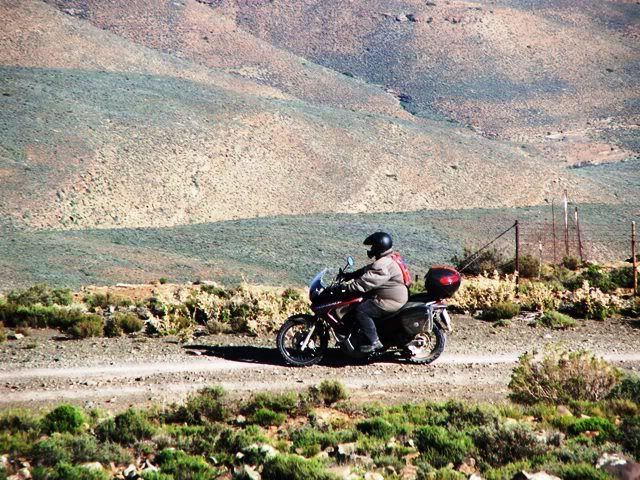 (Photo taken by White Stripes)
Further down the pass you will find a very rare plant called
Olifantsvoet
..... as well as the
Sterboom
which is only found in this area.
Elephant's Foot:
Dioscorea elephantipes (Elephant's foot or Hottentot bread), is a tuberous vining flowering plant, native to southwest South Africa.

It takes the name elephant's foot from the appearance of its large tuberous stem, which grows very slowly but often reaches a considerable size, often more than 3 m in circumference with a height of nearly 1 m above ground. It is rich in starch, whence the name Hottentot bread, and is covered on the outside with thick, hard, corky plates. It develops slender, leafy, climbing shoots which die down each season.
(source)
Sterboom:
This unique endangered veld plant is called Star Cliffortia(Cliffortia Arborea) and confined to the mountains around Sutherland on a southern Peak high up in the mountains. It can grow between 3 to 5 metres high and in very sheltered areas, it can reach a hight of up to 10 meters!
(Source)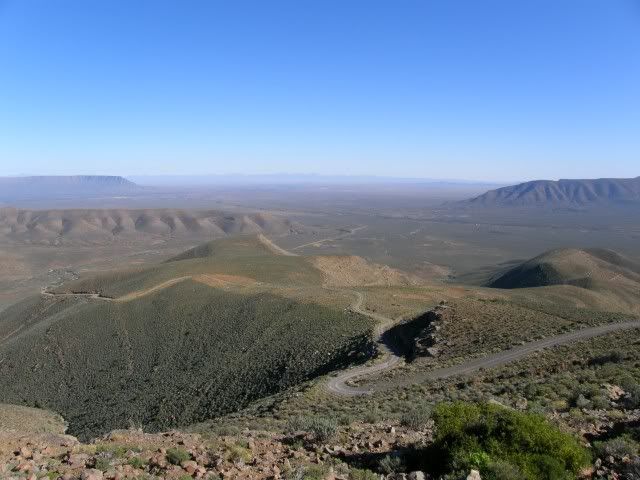 We came from the top of those mountains: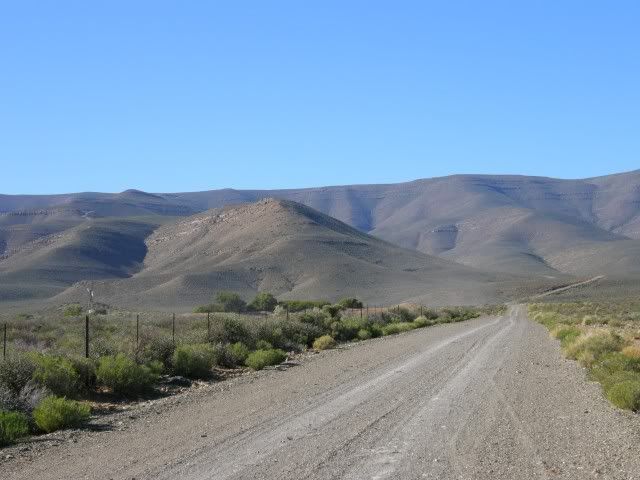 What an amazing pass to experience and what an experience to share with friends. This, without a doubt, was the highlight of my trip.
Rooipoot and I posing with the pass in the background.
Rovrat took the photo: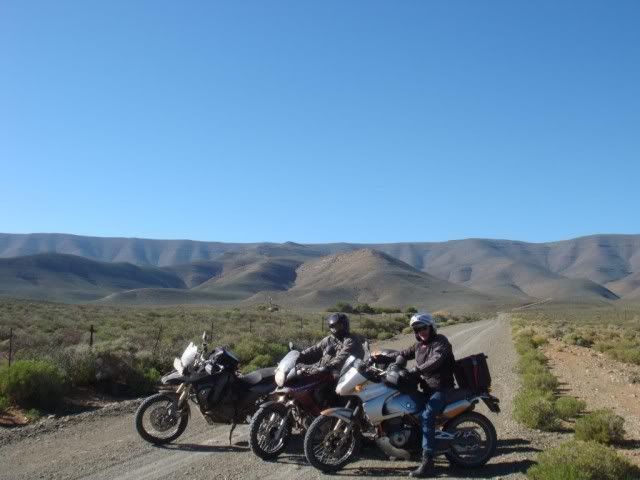 Regrouping at the bottom.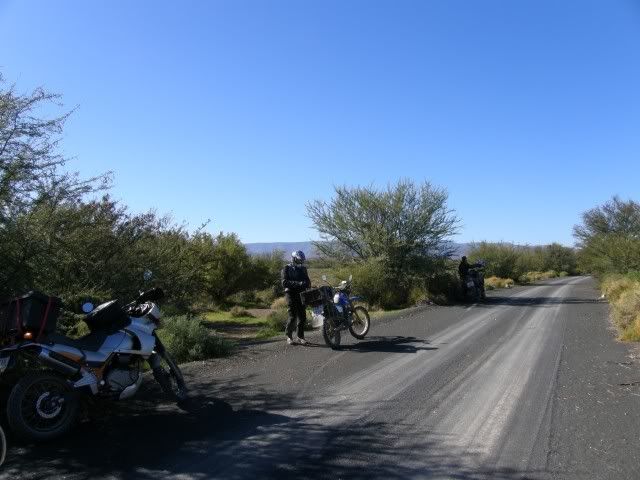 Some more Karoo scenery on the last stretch I shared with the group: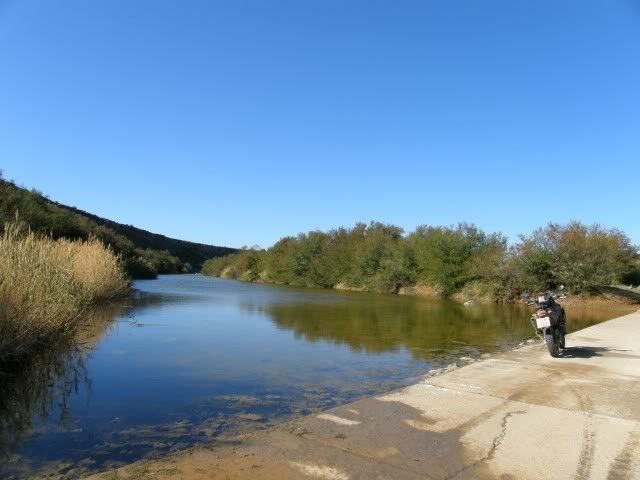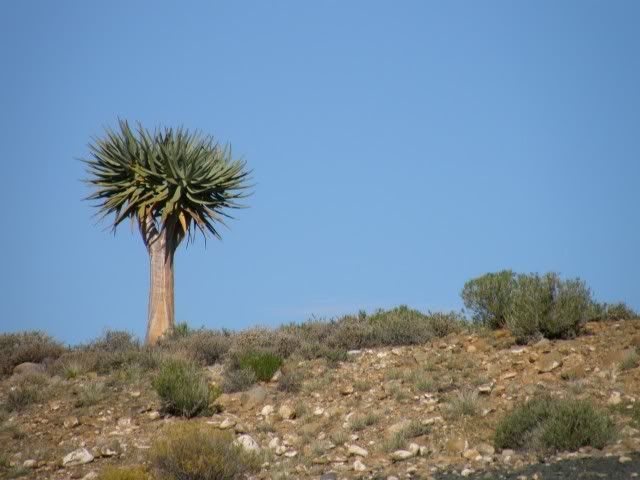 And all to soon we had to say our goodbyes. I split off while the group continued to Katbakkies Pass. Thanks guys. I was great sharing the road again with good friends.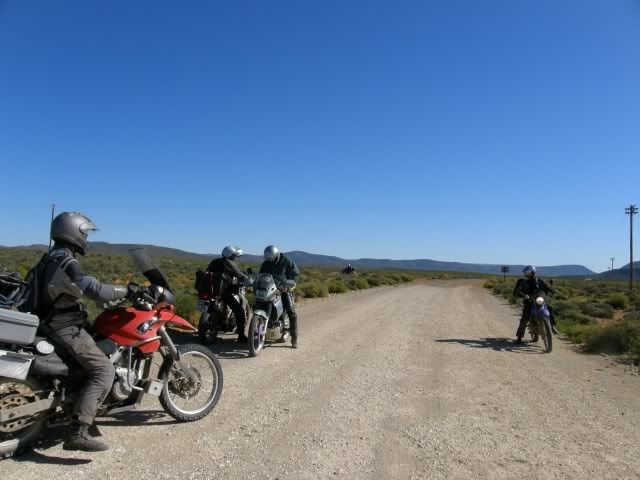 For the rest of my ride the average speed was somewhat higher. I wanted to get to George as early as possible as it was my dad's birthday. I did have time for some photos though.
Just over Rooinekke Pass: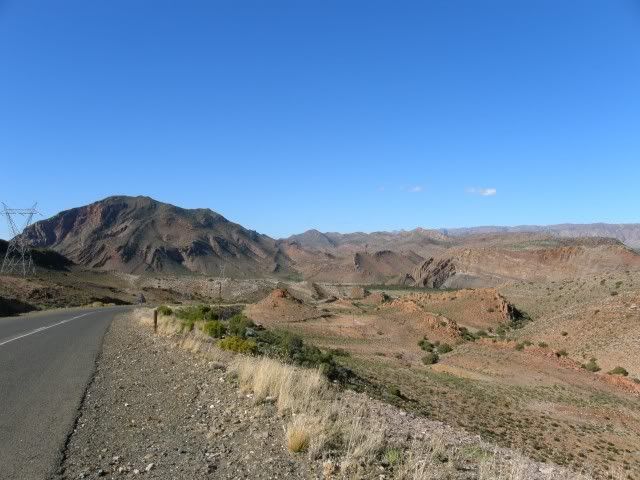 ...and the breathtaking Seweweeks Poort. No matter how little time you've got, you have to stop here to take in the magnificence.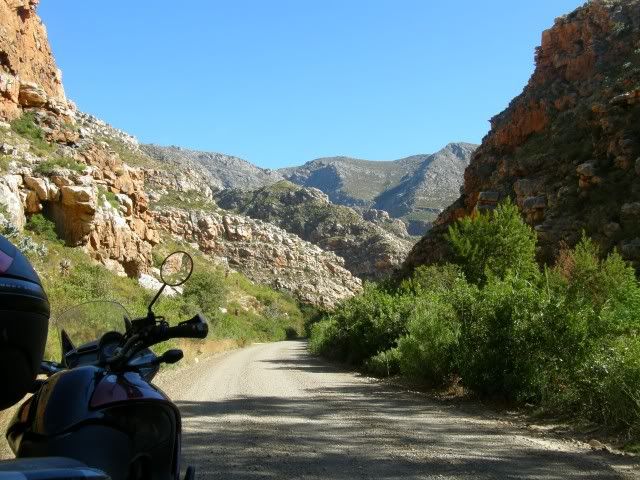 And so the ride drew to a close. I've had my fix (and a good one at that!) and had withdrawal symptoms no more
I had to cover a lot of distance in a short period of time but it certainly was worth it. Ouberg Pass was great. One of the three I had on my "must ride" list. Now I have to make a plan for the other two - Sani Pass in Lesotho and Leba Pass in Angola.

.