The next morning we got up not so bright and not so early...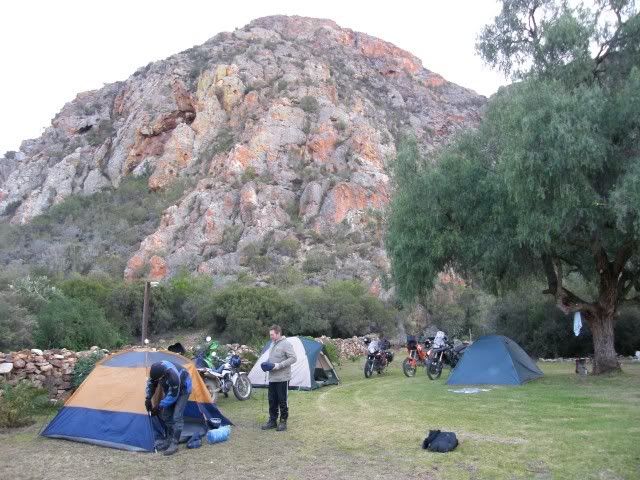 Our two new friends got very little sleep. Apparently there was a snorer somewhere close by.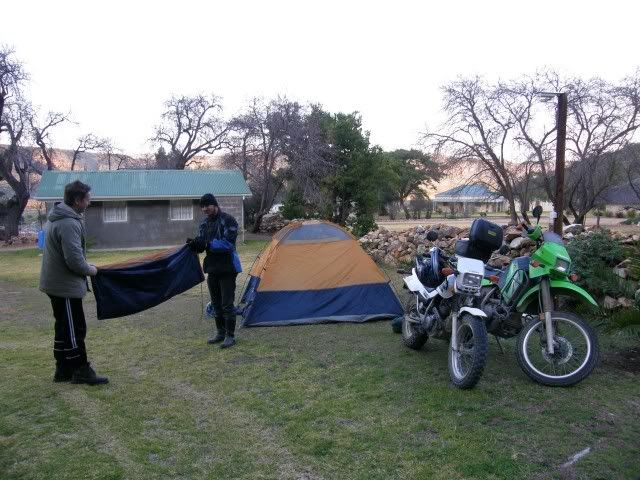 Where to today? Well, Bakkie had to go home. His mommy wouldn't let him play another day
and he would head back to PE through Baviaans. We looked at the maps and Bakkie suggested Suurberg Pass. Rovrat and I have this quest where we want to ride all the passes in SA and neither of us have been there, so it sounded like a great plan. So be it!
Baviaans is a great ride no matter how many times you've seen it before.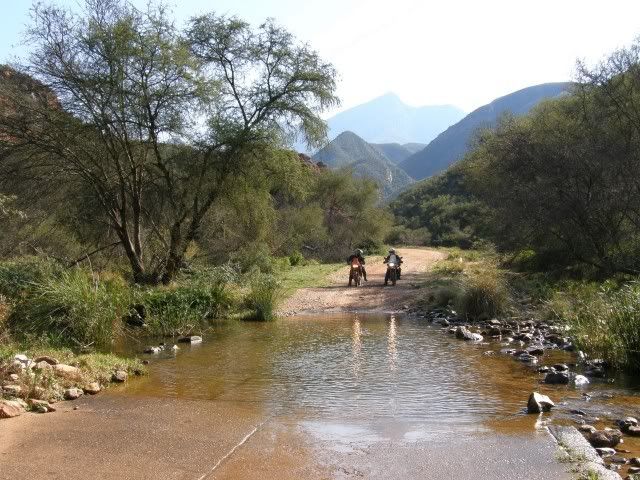 Bakkie admiring my Honda
(Photo by Rovrat)
Progress was slow as our concentration levels were way down.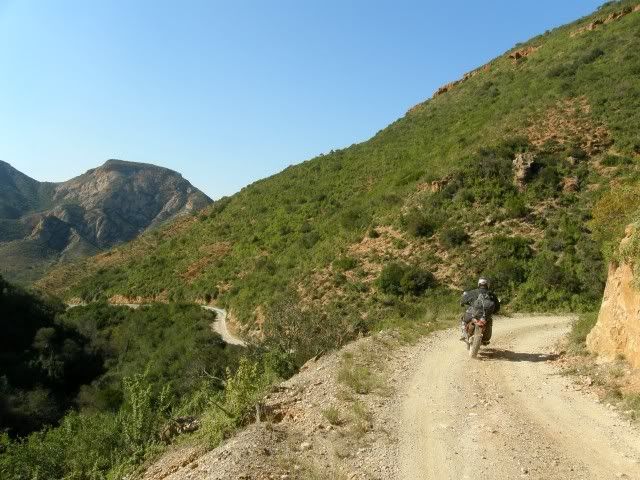 Bakkie falling asleep on his bike: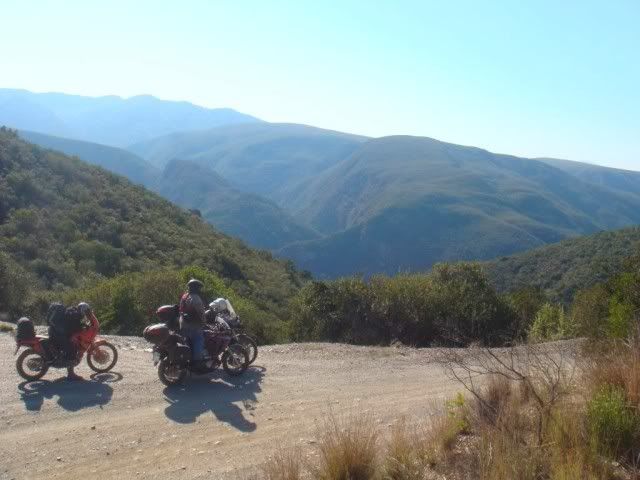 (Photo by Rovrat)
At Smitskraal we stopped for some snacks - Tuna and droewors.
The Smitskraal water crossing was fun as usual with a fair bit of water.
RovRat crossing:
TransAlp crossing:
(Rovrat pics & recording)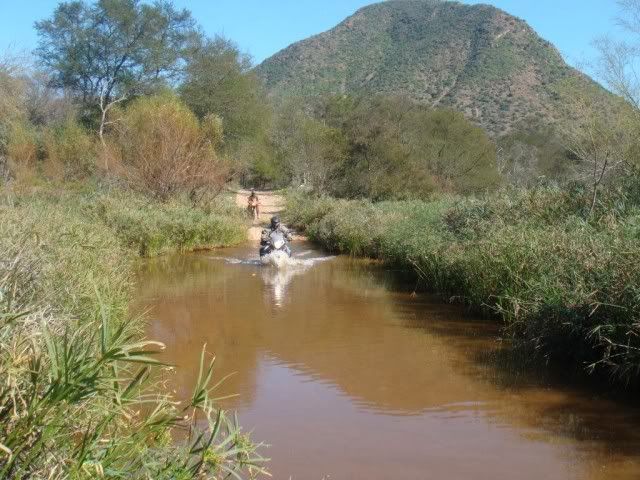 KTM crossing:
(Rovrat pic & recording)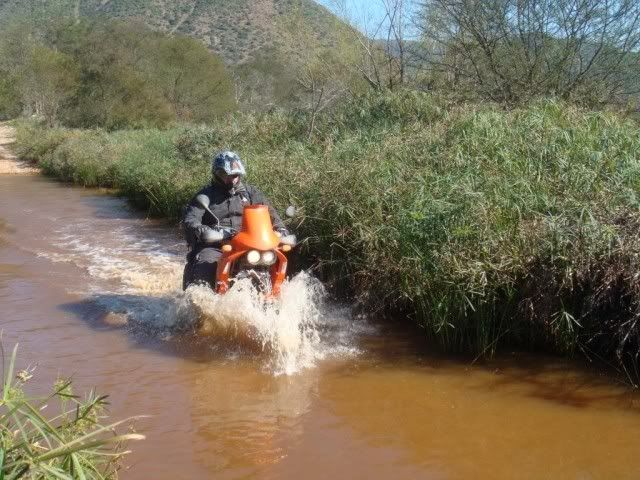 A little bit further along we came across another rider on a TDM850 - cool!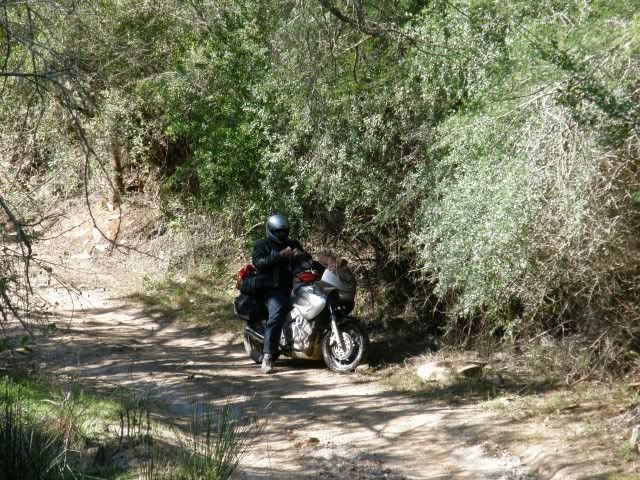 Just look at this:
He is from Mosselbay and hopefully he'll join us on a ride soon.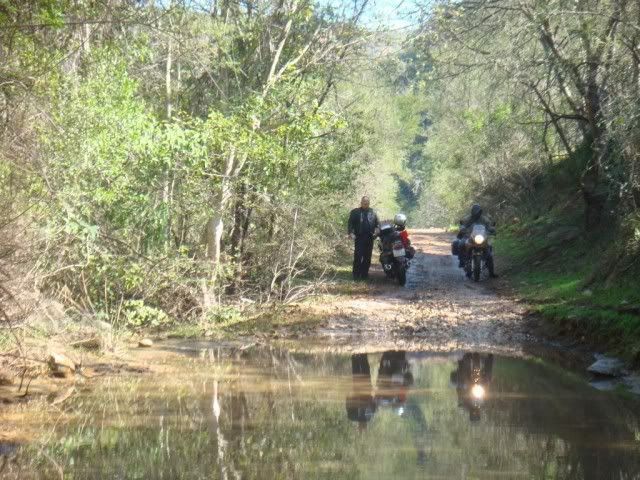 (Photo by Rovrat)
(Photo by Rovrat)
More Baviaans scenery:
Having fun in the water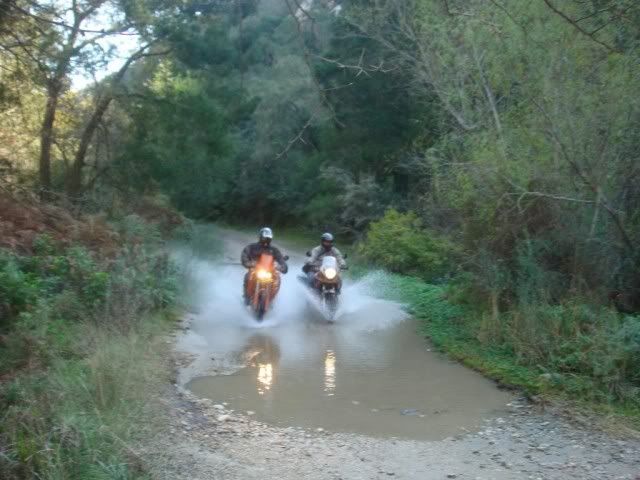 (Photo by Rovrat)
We stopped for a nice big lunch in Patensie. Man we were tired!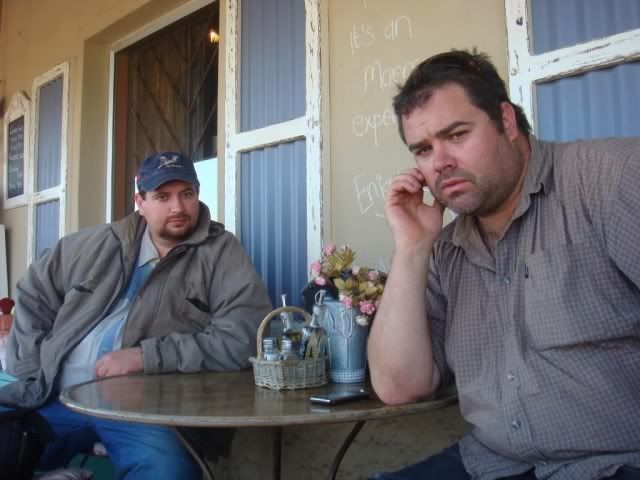 I could have (and wanted too) sleep right there on the grass. Bakkie was even worse. The only person with some energy left was Rovrat. We realized that our plan to reach Suurberg was way to ambitious. Also, Rovrat would have to ride from Suurberg to Hermanus the next day, so the plan had to be altered. We decided that Rovrat and I would ride to Bloukrans Pass (another pass where I haven't been) and stealth camp in the forest.
We set off. I rode slowly as fatigue wanted to overcome me. Between Hankey and Humansdorp Rovrat was leading and I was riding a couple of hundred metres behind him when I suddenly rode into a swarm of bees!
They were hitting my visor and jacket and one flew up my sleeve and stung me on the arm...
I instantly knew I was in trouble. I immediately braked and pulled of the road as Rovrat disappeared around a corner. Even before I was off the bike I felt needles and pins throughout my body. I got out my pocket knife and removed the sting. I then got out my allergy medication and noticed it expired in March 2009.
Now what?
I decided to not take the chance. I got back on the bike to try and ride to Humansdorp. Less than half a kilometre down the road I realized I am going to loose consciousness so I pulled off the road again. I really was panicking. I took one of the expired pills and swallowed it anyway. I got off the bike and collapsed. I lay next to my bike right next to the road and it felt like I was drifting in and out of consciousness, but I am not sure.
Details are sketchy but here's what I can recollect. I was sweating profusely and I can remember I liked the cool air over my face as the cars came by. I was told later that I pulled off the road on a blind corner and I was laying very close to where the cars drove by.
At some stage I heard a bike approaching and I remember I told Rovrat that a bee stung me and I was in trouble. I also took a second pill as the first one did not want to kick in. I'm not sure how long after the first.
After that I knew Rovrat was there so I let go. Details are hazy. Two cars stopped. One had a medic who took my pulse etc. Rovrat also has medical training so he was in charge of the whole situation. He kept me calm and it was a HUGE thing for me to have him there. Later, as I started to become more aware of what was going on around me, I suddenly went into shock. Again Rovrat's calming voice was there, explaining what was happening to me and why. He helped me stay calm and keep my breathing regular, because if I panicked and started to hyperventilate it would escalate the situation. Disorientated I just lay there. I am not used to being this vulnerable.
I have never had such a bad reaction to a sting before. I am told that every time you get stung it gets worse until one day you keel over.
I can tell you this though, I am going to keep my medication currant and study this condition. Knowledge is power. Ek het regtig amper my gat gesien.
As the medication started doing it's thing I started to feel better. We needed to get to Humansdorp, but by the time I felt I could get on the bike again it was getting dark. Funnily enough it was more difficult getting on and off the bike than riding it. The campsite in Humansdorp seemed a bit dodgy so we booked into the nearest B&B. That night I slept like a log!
Sidenote: I later learned that I suffered from anaphylaxis - a serious allergic reaction that is rapid in onset and may cause death.
Our route for the day: