.
This campsite and route blongs to Katot Meyer (a Southern Cape 4X4 legend) and is part of the
Middle Keurbooms Conservancy
.
In November 1998 a fire started at De Vlugt and swept Westward, destroying many hectares of fynbos but exposing a track from the farm Pietersrivier, over Skuurbeknek near De Vlugt. This track was described by the botanist William John Burchell (1814). From Skuurbeknek Burchell traveled to Romanskraal, Jaggakamma and Knoetskraal and joined up with the Paardekop trail to Plettenberg Bay. This is a fascinating trail for 4x4 enthusiasts, especially if accompanied by the owner.
Orientation map: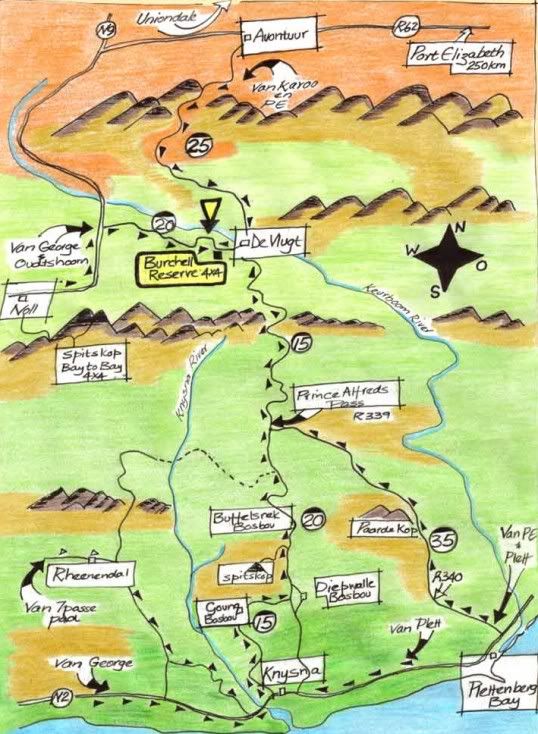 (Click on map and zoom for bigger picture)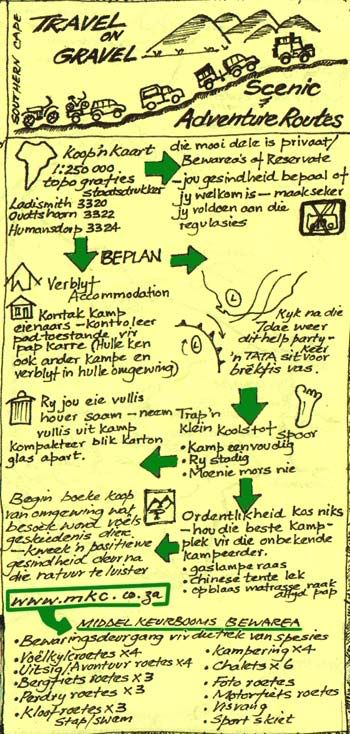 The Burchell route is not a "4x4 challenge" type route, but rather an eco-route with the emphasis very much on nature conservation. Your attitude towards nature will determine if you are welcome here.
Motorcycles are allowed and there are special escape routes at the places where the motorcycles can not ride. Trail bikes are preferred though. Noisy powerful bikes that spin easily (causing erosion) would not be the way to go.
The route passes through changing scenery and that includes indigenous forest, steep rocky inclines and three river crossings, with clay, slate and sandstone surfaces along the way.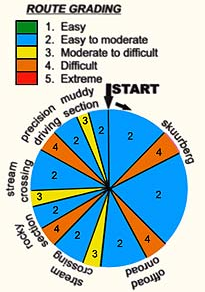 When the going gets tough, just remember Burchell did it in an ox-wagon!
William John Burchell was an English explorer and botanist who travelled South Africa (as well as Brazil and other countries) collecting plants and insects. Landing at Table Bay on 26 November 1810 he set about planning an expedition into the interior, leaving Cape Town in June 1811.
Burchell commissioned a special wagon for his expedition. This wagon was shorter and narrower to negotiate sledge tracks and get into or over the difficult terrain he'd be travelling. A Trailriding wagon if you will!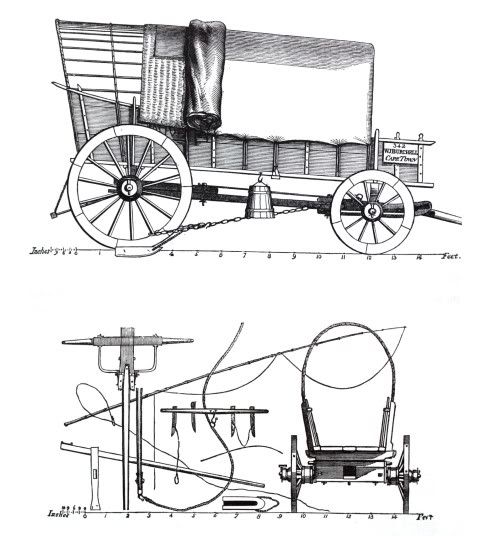 (Click on picture and zoom for more detail)
Burchell travelled in South Africa between 1810 and 1815, collecting over 50,000 specimens, and covering over 7000 km, much over unexplored terrain. He described his journey in Travels in the Interior of Southern Africa, a two-volume work appearing in 1822 and 1824, since reprinted in 1967 by C.Struik of Cape Town.
He is commemorated in the monotypic plant genus
Burchellia
R. Br., as well as numerous specific names including
Burchell's zebra
and
Burchell's coucal
.
Burchellia bubalina: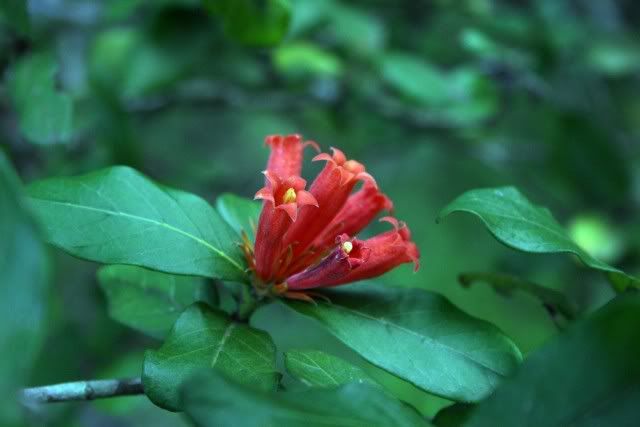 Sources: Burchell; The trail; The Campsite and Route


.