.
So with all tyres fixed and all bikes loaded we headed out: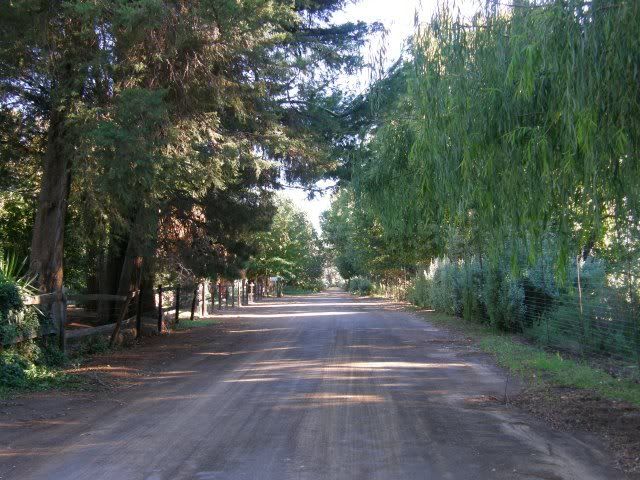 Mrs.TR was also back in the pillion seat
Those in-ride photos do give a different perspective.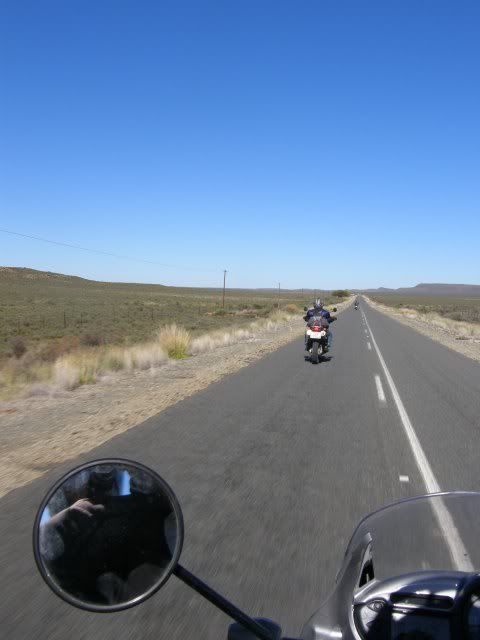 And we ride into Loxton one last time.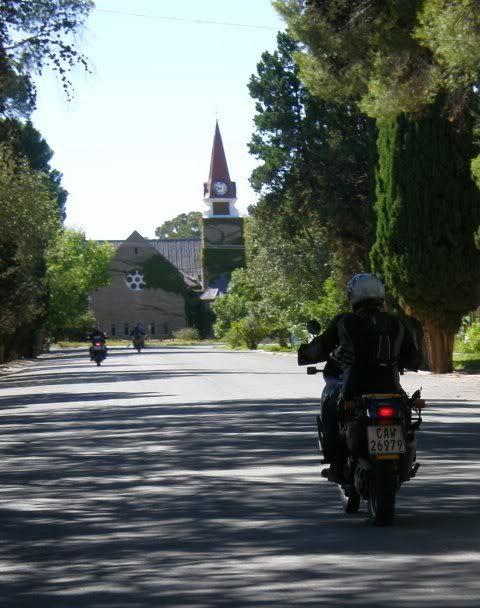 Originally the farm Phizantefontein, Loxton was bought from AE Loxton by the Dutch Reformed Church in 1899. Built to serve the sheep-farming community, it became a municipality in 1905. In March 1961, three-quarters of the town was destroyed by a flash-flood causing the dam above the town to burst. Loxton has long since recovered.
Many of the original 100+year-old houses remain and are good examples of typical vernacular Karoo architecture.
The unique stone Corbelled houses that are shaped like old-fashioned beehives are also found around Loxton. In fact, these dwellings only occur in a small area of the Karoo roughly between Loxton, Fraserburg, Williston, and Carnarvon. They were built from 1811 onwards by the early trekboers (migratory farmers) and due to the lack of other building materials, consist solely of local stone and have no supporting roof beams.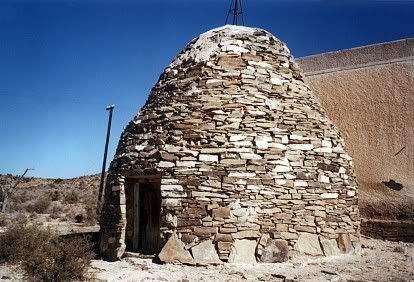 My good friend Tok-tokkie has visited these
Corbelled houses
before. Read more about it
here
.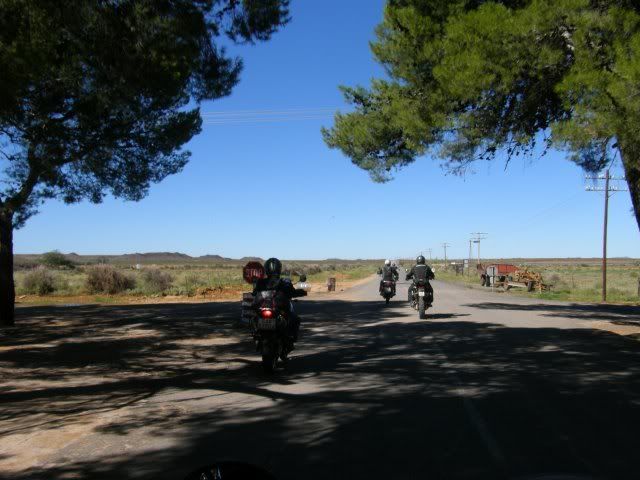 Leaving Loxton and riding past the farm Jakkalsdans...
...before hitting the Gravel Highways of the Great Karoo.
Every rider has to experience rinding these gravel highways at least once. They are such a pleasure to ride.
I love this pic:
Some more Karoo scenery:
Continuing on we saw Lemac's bike and another vehicle parked next to the road. We stopped to find that these poor people had two flat tyres at once.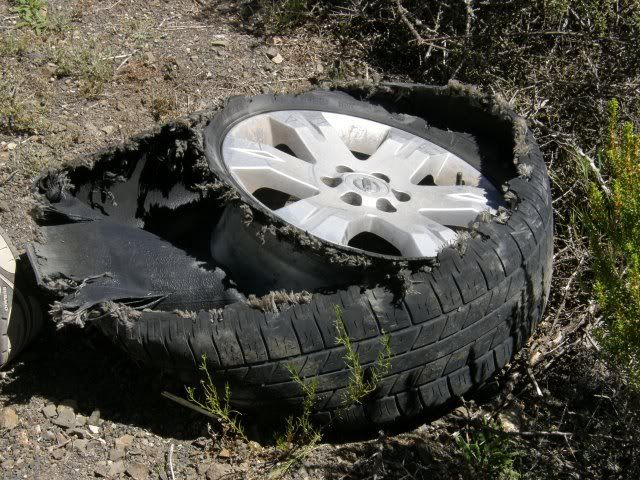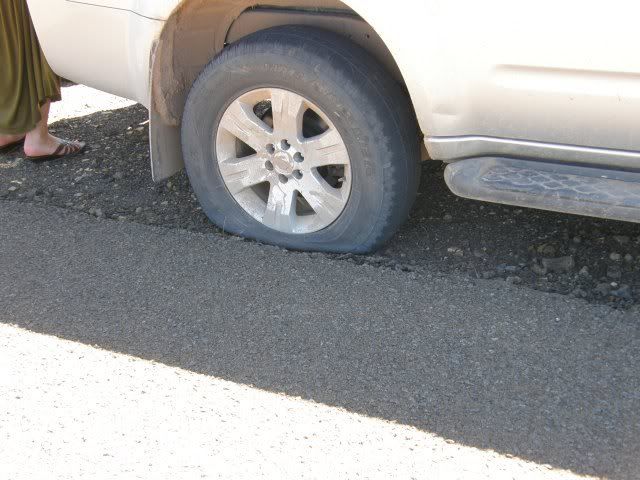 Luckily bikers carry things to fix tyres with and Lemac had them sorted in no time.
In the mean time the backup vehicle never caught up.
As it turns out they had another flat as well!
It's a good thing they went for another spare the day before!
Molteno Pass between Loxton and Beaufort West: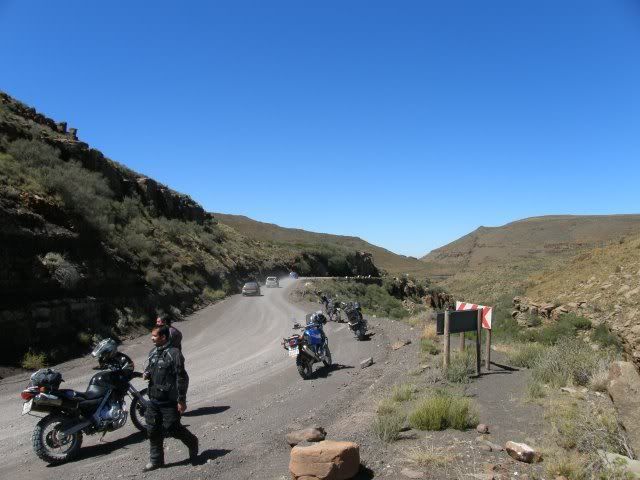 Molteno Pass consists of two parts, the one gravel and the other tarred. The tar section is apparently known as Roseberg Pass, but the signposts on both sides of the pass (both sections) only says Molteno Pass.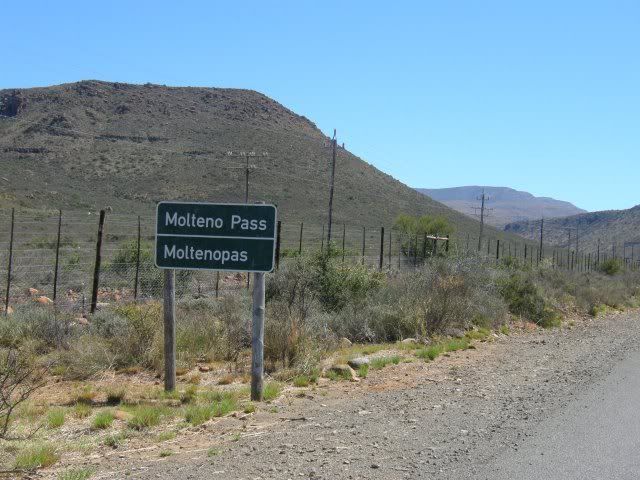 What would have been breakfast in Beaufort West turned out to be lunch in Beaufort West.
Dr.Dirt's scary biker impression: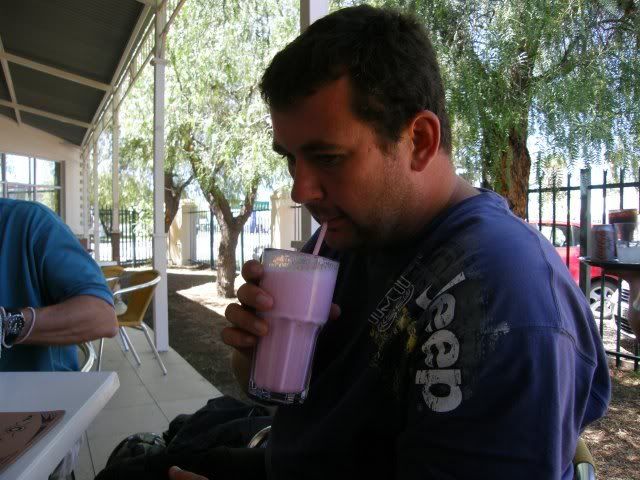 Pad opting for a Bloody Mary instead - self made of course!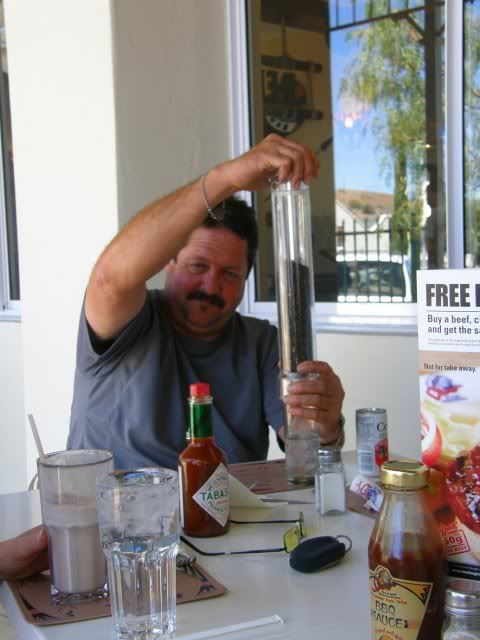 After lunch as we were getting ready to ride we found that Gryph's rear wheel has gone flat again
This trip sure has had it's fair share of flats. He decided that enough is enough and summoned a friend from George to come and fetch him and his bike. The backup vehicle also decided to head straight for George as they had no spare and also some time constraints.
Us remaining bikers had no intention of bringing this ride to an end though. We head out to the gravel roads! This time towards Rietbron.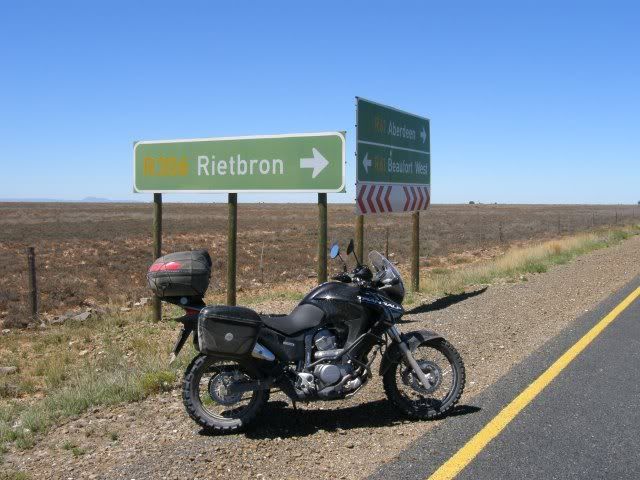 There was a funny recollection of a rider that rode through Rietbron in an Afrikaans newspaper called "
Rietbron het ook Reëls
". Ever since I read that I've wanted to go and have a cold one there, so off we went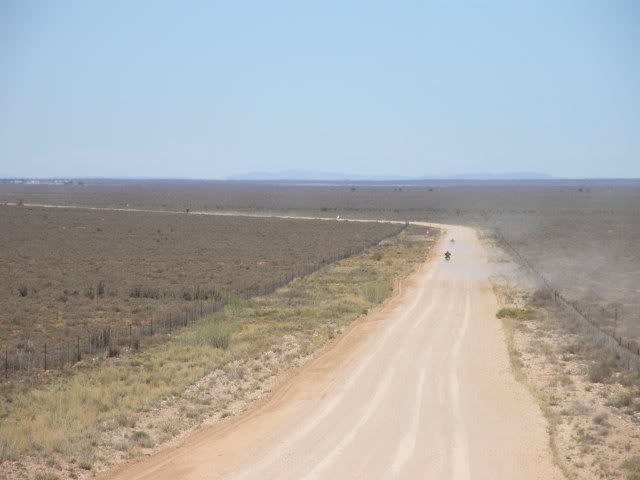 After taking the picture above I was behind a bit and I could really let the TransAlp stretch it's legs and before we knew it we were riding into Rietbron.
Now this is what the inside of a pannier should look like!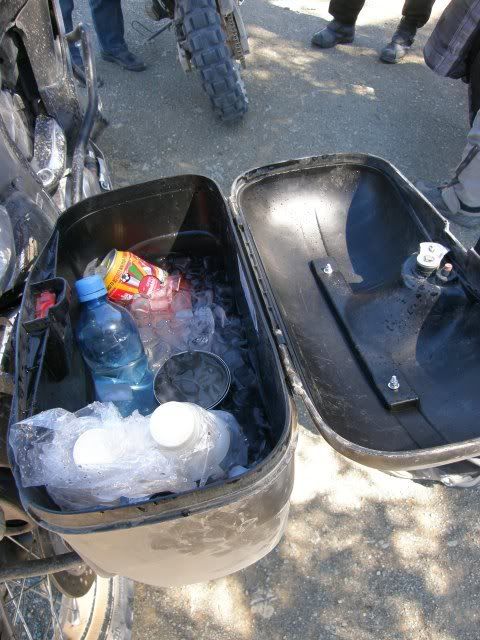 Some Coke - with ice!
Cheers!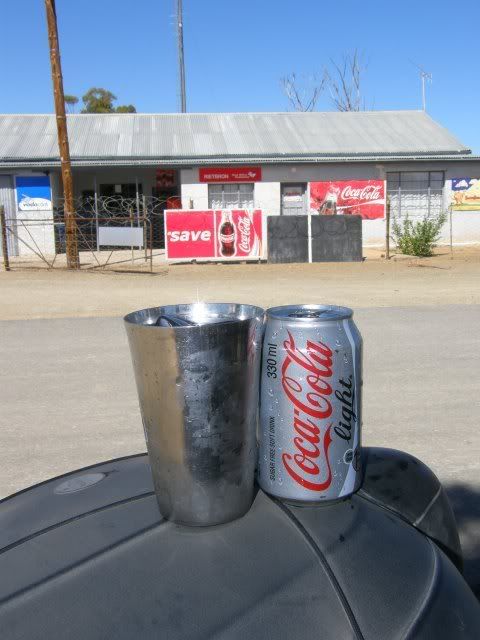 It soon became clear that not much happens in Rietbron on a hot Sunday afternoon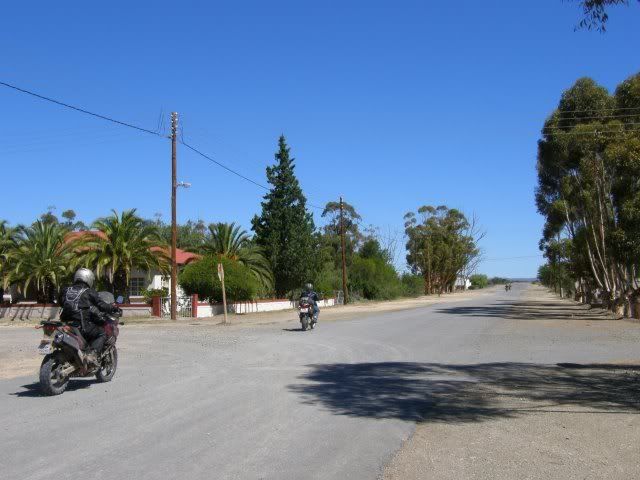 Hitting the gravel towards Meiringspoort: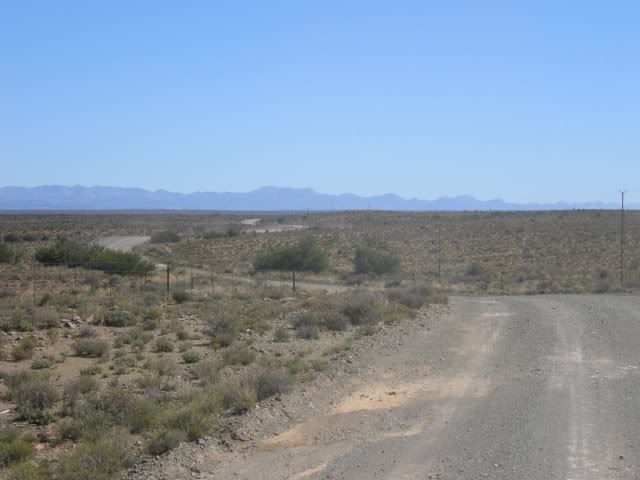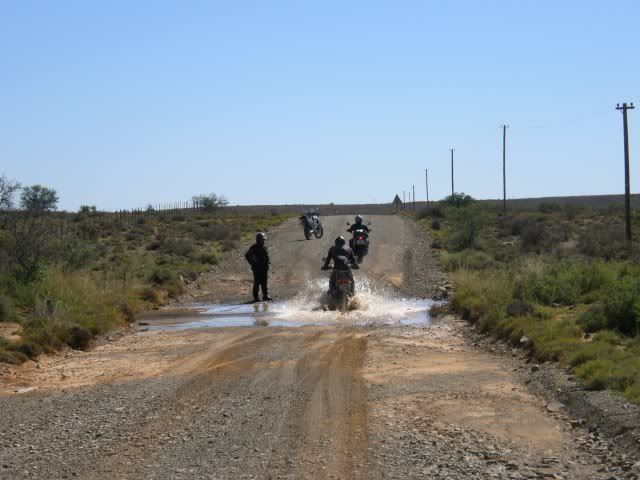 Meiringspoort is a favourite with any biker. Not only is it very scenic, but the sweeping turns is a hoot to ride!
We made another quick stop in De Rust only to find Gryph waiting for us at Herrie se Plek.
He fixed his tyre and started riding towards George. Nice going Gryph!
Having properly cooled down we hit the last gravel towards George. Somewhere near Heimersrivier: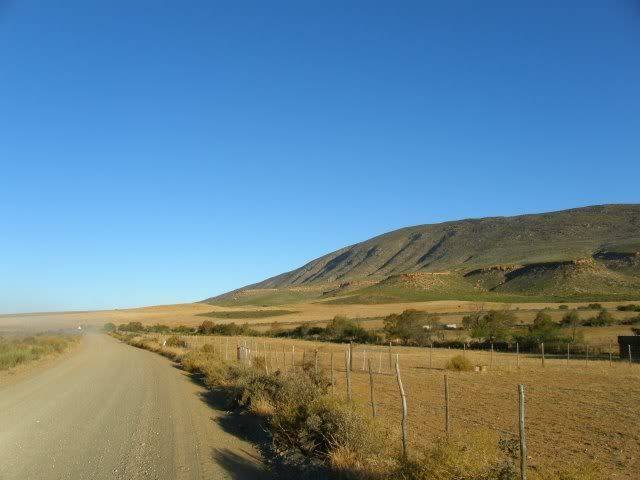 Paardepoort: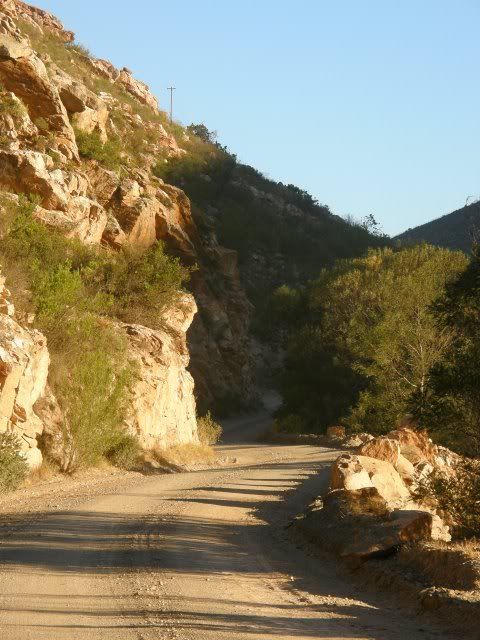 Herold: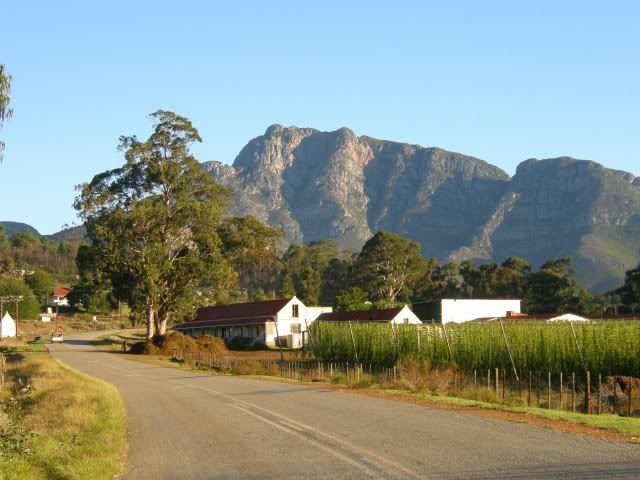 And a last stop on Montagu Pass: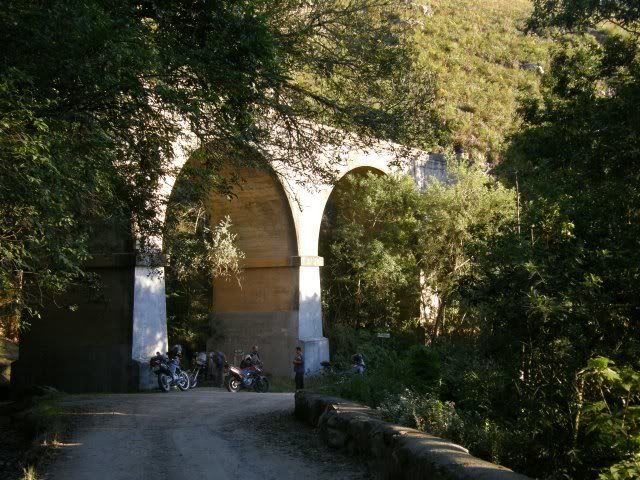 Great scenery around here as always. I must have taken 1000's of photos on this pass.
Sitting around chatting about the trip we've just had, lingering because no-one wants it to be over.
And while here what do we see?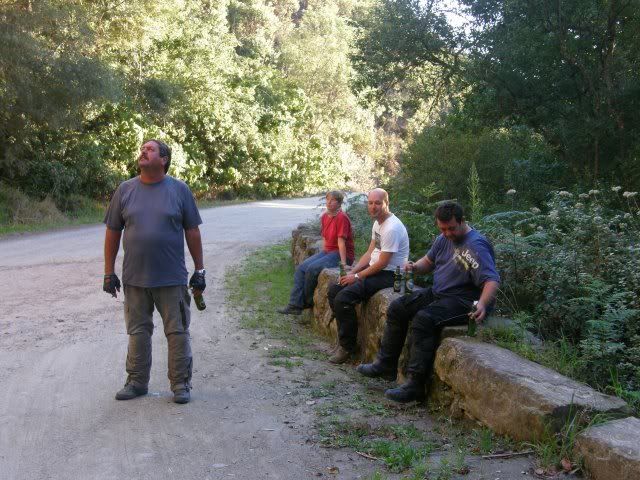 The train passing overhead! Not something you see here often.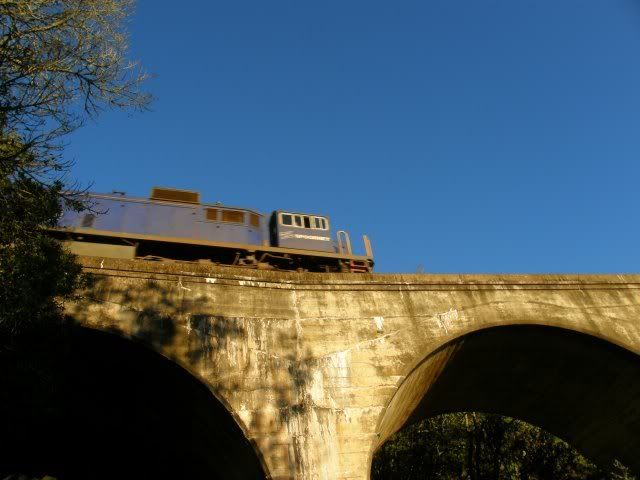 But even good things must come to an end...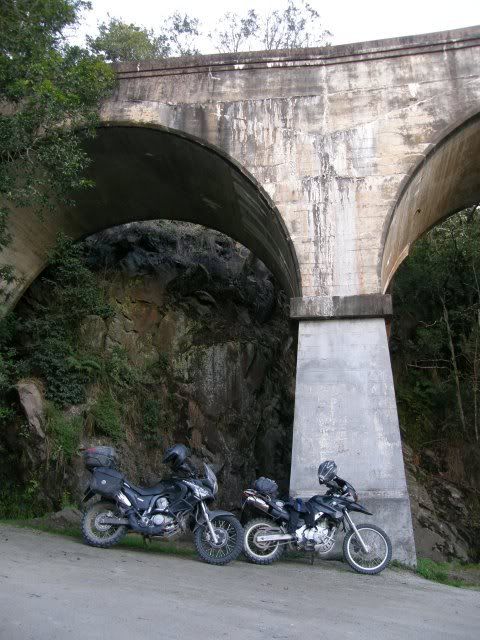 Our route this weekend: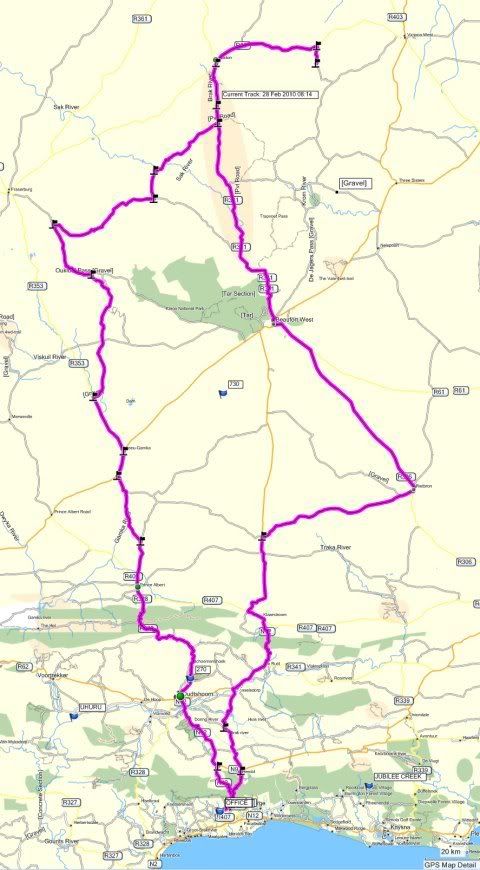 (Click on map and zoom for more detail)
Total km's travelled: Day 1 - 471km; Day 2 - 442km. Total = 913km.
Thanks for a great ride once again guys.
Till next time!
Sources: Loxton




.