.
Friday morning and I arrive at Honda Wing George to find several riders full of smiles already waiting.
To all of us but one (LGF) this would be the first time at Rallye Raid and the excitement was tangible. What a great opportunity and with the entrance fee sponsored by
Honda Wing George
! How privileged we are to have a brand and dealer in our area that not only look after their customers, but also tries to give back to their clients and supporters. Honda George You Rock!
In Group 1 today we had three "Legend" Africa Twins, one TransAlp 650 and three TransAlp 700's. Riders from George, Sedgefield, Groot Brak and Heidelberg. All smiles before departure: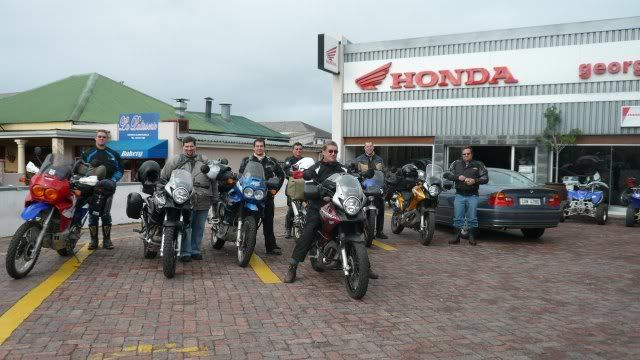 (Photo by Andre)
What better way to start a trip than with a ride over the historic Montagu Pass.
And the obligatory pics at Amanda's Grave: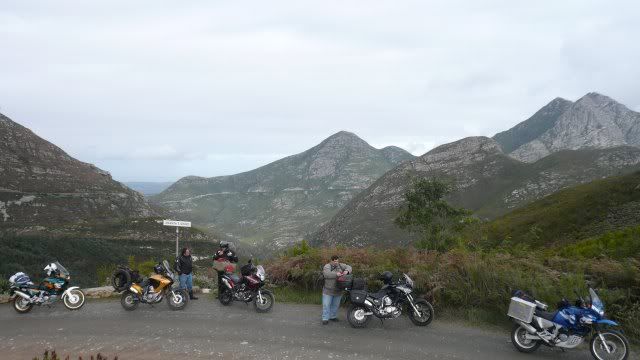 (Photo by Gryph)
We have a pretty straight forward route today, from Honda George to
Camdeboo Safari Lodge
near Graaff Reinet, a total of 337km.
Our first stop in Uniondale Poort (100km) for a leg stretch and time for LGF to smoke his pipe.

A lot of the riders in the group met for the first time today but already the vibe was great and jokes and laughter was the order of the day. I guess bike trips like these automatically has people in high spirits.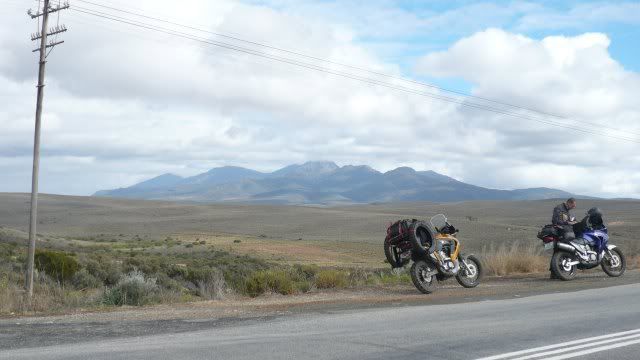 (Photo by Gryph)
Next stop at the hotel in Willowmore for lunch...
(Photo by Matilda)
...and of course to watch the rugby.
It was while we were here that some-one noticed that my rear tyre had cracks all along the knobblies.
This did not bother me at first because the tyre always had those cracks, but I soon realized that it has suddenly become a lot worse.
Luckily I have a Tourance (road biased tyre
) lying in my garage so I phoned my wife and asked her to deliver that tyre at Honda George to bring with in the Van just in case...
After lunch we tackled the final stretch past Aberdeen. Beervlei dam:
(The term "dam" being used very loosely as I have never ever seen water in this dam)
(Photo by Matilda)
And finally we got back on to gravel again in the Camdeboo.
The Camdeboo is the area enclosing (clockwise) Graaff Reinet, Pearston, Somerset East, Jansenville, Willowmore and Aberdeen. This was one of the first areas in die Karoo occupied by settlers.
It seems unclear (to me at least) where the word Camdeboo (Kamdeboo in Afrikaans) comes from. It seems to be a Khoi word meaning "Green depression" or "Green cavity" (Groen holte). Khoisan hunters and herders left evidence of their occupation during the late stone age in the form of rock paintings in this region.
The Inqua tribe occupied the park area during the mid 1600's, grazing their vast herds of cattle and fat-tailed sheep on the apron veld from the Camdeboo River near Aberdeen, across the Sundays River to Agter-Bruintjieshoogte near Somerset East.
White farmers settled the Camdeboo Plains and Sneeuberg in 1770 introducing merino sheep and angora goats. To this day mohair is a prominent product of this area.
Honda's seem to do well here as well.
The Camdeboo is a worthy bike trip destination in itself. Graaff Reinet is the fourth oldest city in South Africa and steeped in history, Nieu Bethesda is well worth a visit as well as the Valley of Desolation etc. I might just come back to this area soon.
Arriving at the
Camdeboo Safari Lodge
. Look at this!
Some photos by Gryph:
.
Tonight we stay over in style.
We are met here by Theo, a TransAlp 700 rider from PE. He is part of our Honda group travelling to the Rallye Raid and also part owner of the Camdeboo Safari Lodge. He kindly offered that we stay over here at very reasonable rates. What a treat! This is the most luxurious surroundings we've had on a bike sleepover trip by far.
Thanks a stack guys!!!!
Unpacking for the night:
(Photo by Gryph)
It's while unpacking that we noticed what has happened to my Heidenau tyre in the mean time.
The tyre has totally come apart with whole pieces of the tread missing.
I have heard of these tyres coming apart before, but always on bigger more powerful bikes. This happened today and we were only travelling at 120 - 130 km/h.
Not a good start to my trip at all and I'll still have to ride the bike like this to Graaff Reinet (about 50km) the next day.
It's a good thing I phoned for that Tourance. Hopefully I can buy a TKC at the Rallye Raid or I'll be stuck with a road biased tyre for the duration of the trip.
I have to say that I was not happy about the situation at this time at all.
This tyre was cheaper than a TKC but I guess you get what you pay for. Lesson learned. But that's tomorrow's problem. Tonight we party!
And where better than this?
(Photo by Matilda)
Chilling at the bar (literally, it was
very
cold outside).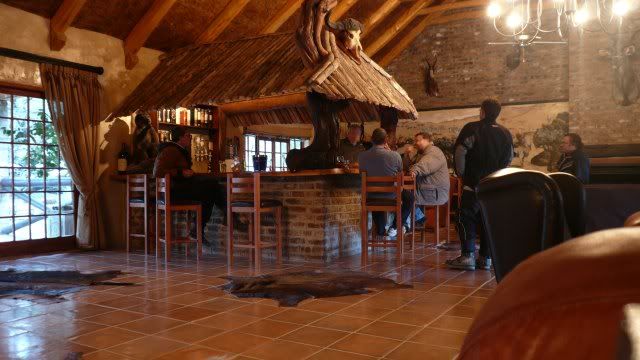 (Photo by Gryph)
Luckily it was nice and cosy inside with the fireplace.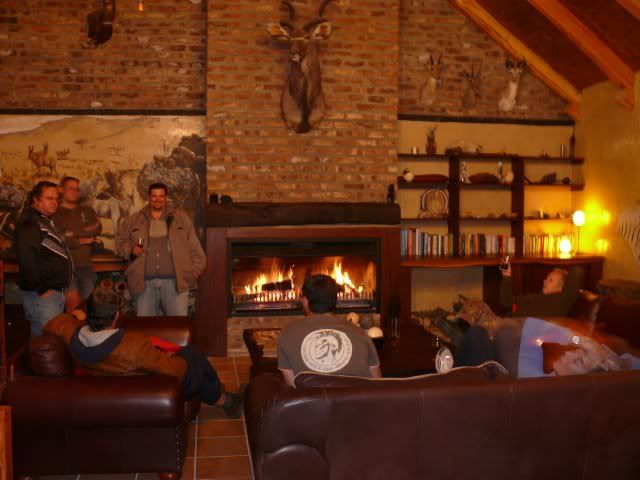 (Photo by Matilda)
Matilda (a nickname he shares with the "old lady" Africa Twin he rides) sharing a wisdom or two with his new mate.

After a dinner suited for a king the chats and laughter continued. What a nice group. It was clear off the bat that this was going to be a great ride. As it turns out one of the other owners of the Camdeboo Safari Lodge is also an avid Adventure Biker (KTM990) and is also going to the Rallye Raid.
So with Theo and Gary added to our travelling group nine bikes will head out from here the next morning.
Our lodgings for the night:
Little did we know how we'd long for warm beds like these in the nights that were to follow...


.