.
One of 5 large concrete arch bridges located along South Africa's beautiful N2 Garden route from Port Elizabeth to Cape Town, the Paul Sauer was the first and possibly most interesting to be built along the 2-lane highway. This is also the only highway in the world outside of China or Italy to have 3 bridges in excess of 500 feet (152 mtrs) in height.
The Paul Sauer Bridge is (wrongly) known to many as the "Storms River Bridge". It was designed by Riccardo Morandi and was completed in 1956. It crosses the Storms River gorge.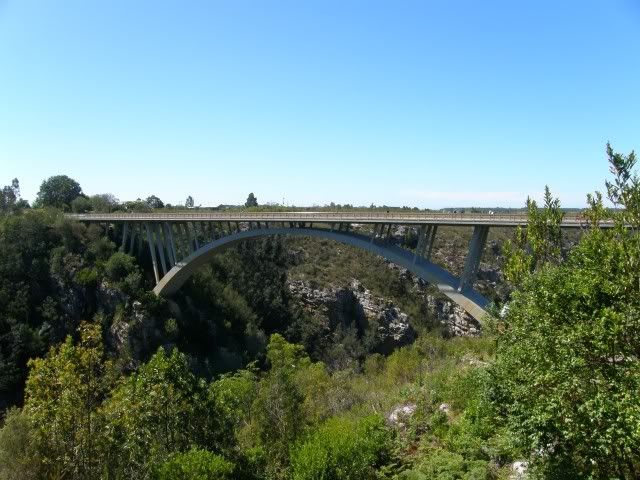 Storms River is unusual for having inclined spandrel supports that radiate out from the main arch rib. The approach supports are also inclined in the opposite direction - balancing out the profile of the entire bridge. The use of inclined supports is a Morandi trait visible on nearly all of his bridges.
Not so evident is the unique construction method by which Morandi built the bridge. Instead of using a highline and adding segments of the arch until the two halves meet in the center, Morandi had both sides of the arch built vertically above the foundations with a climbing formwork on either side of the canyon. The two sides were then carefully tilted outward over the gorge until they could rest on each other at the crown. There are several concrete arch bridges in China that have recently been constructed this way.
In 1986 the Storms River bridge was widened and rehabilitated.
Source:
Highest Bridges

.