.
The next morning some felt better than others...

A certain member of the group thought it a good idea to go for a ride at 3am in the morning - so this morning we decided cable-tie him in his tent.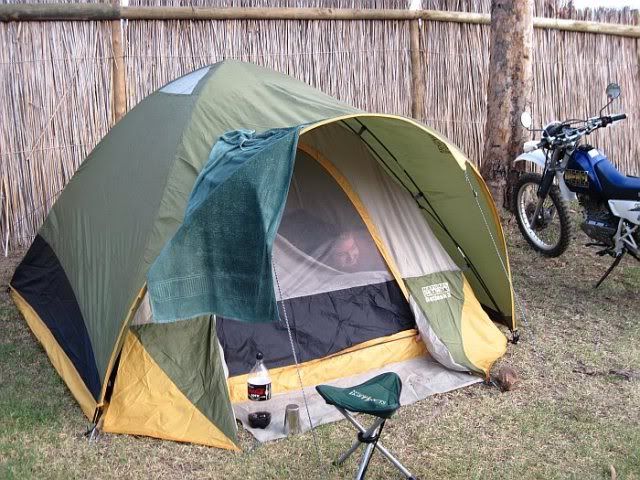 (Photo by Pmdb)
Kermit wondering how he's going to get out.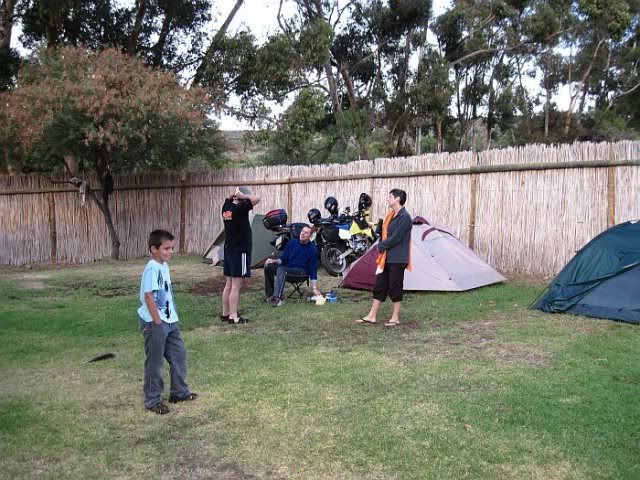 (Photo by Pmdb)
A short step to freedom.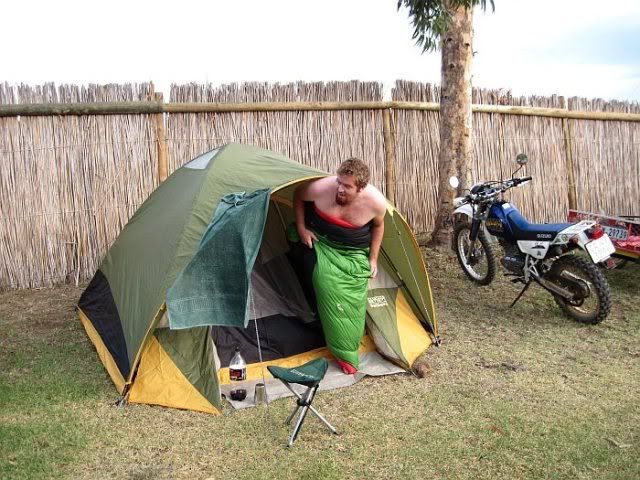 (Photo by Pmdb)
Whereto today? A quick look at the maps to plan our ride: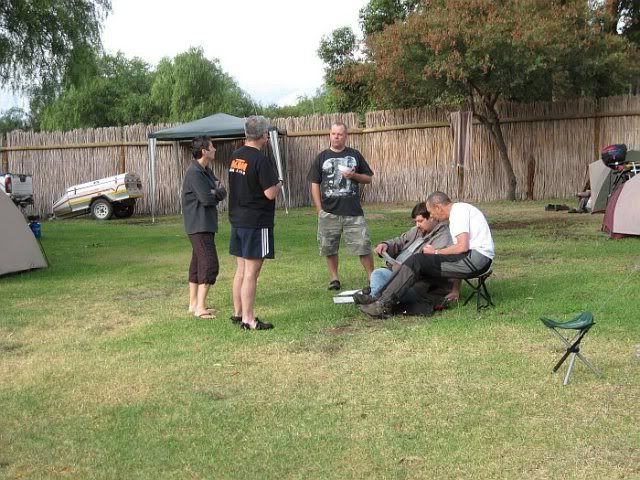 (Photo by Pmdb)
We had some new riders in the group today so we decided on a nice and easy scenic route through the Sanbona Game Reserve and over Ouberg Pass to Montagu, before returning to Warmwaterberg with stops at the
Country Pumpkin
and
Ronnies Sex Shop
.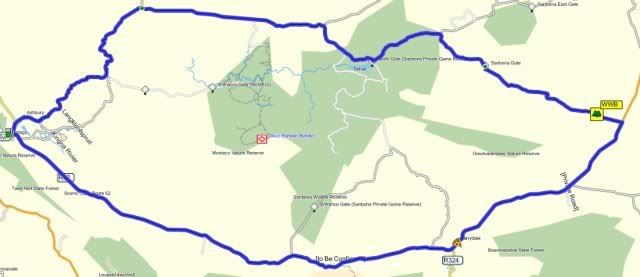 (Click to enlarge)
And with everybody ready to leave Firecoast discovered she had a flat rear wheel.
Luckily we (mostly Rooipoot) had it sorted quickly.
Pmdb and Buzzlightyear waiting on their new steeds.
Quite a few people in the group got new bikes recently.
Different little groups went in different directions. This was the group going through Sanbona:
Buzzlightyear (Tenere), Myself & Kermit (TransAlp), LGF (DRZ), Firecoast (Djebel), Rooipoot (KLE), Pmdb (DR) and Rustyb and entourage in the Isuzu following some of the way before branching off to Ladismith.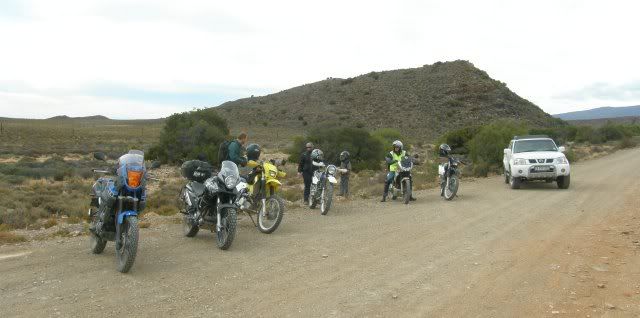 Sanbona Wildlife Reserve
boasts many animals, including Lion, Elephant and Buffalo and riding through this area on a motorbike is NOT recommended.
So of course we just had to go and have a look!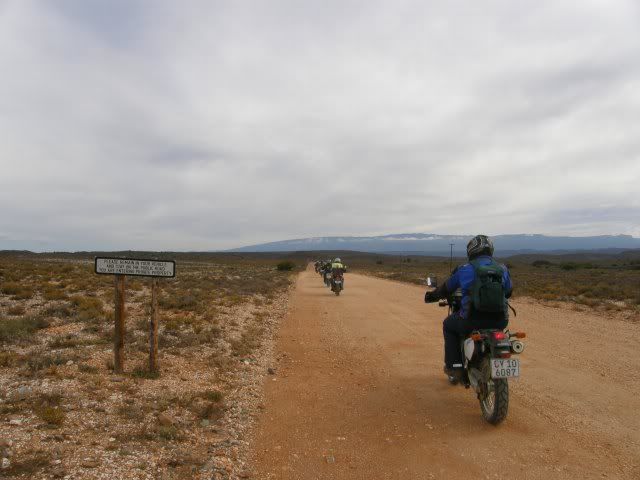 So with a lot of bravado, a tinge of excitement and a strong belief in "safety in numbers" we tackled the approximately 30km to cross the reserve.
Quick pictures with Firecoast on lookout duty:
Road signs you don't see every day: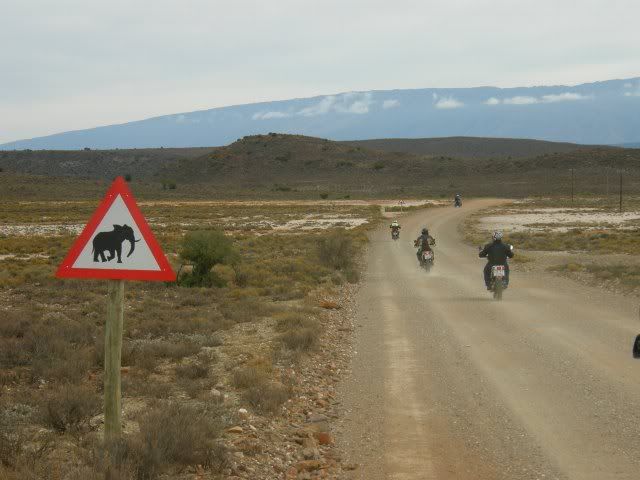 Kermit was quite nervous every time I decided to stop for a photo.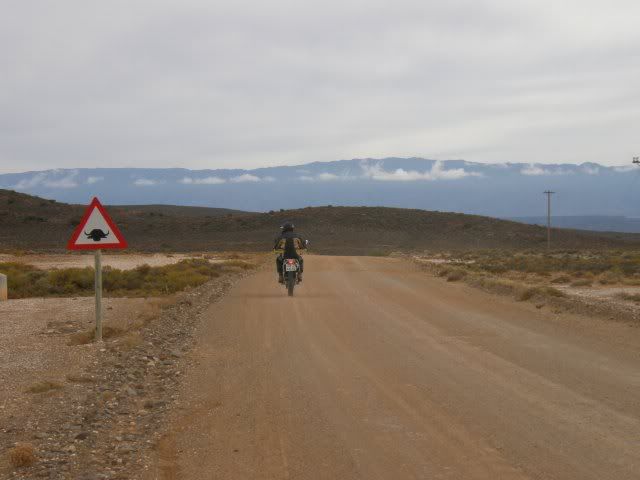 Riding through the reserve was quite uneventful until finally we saw some Springbok.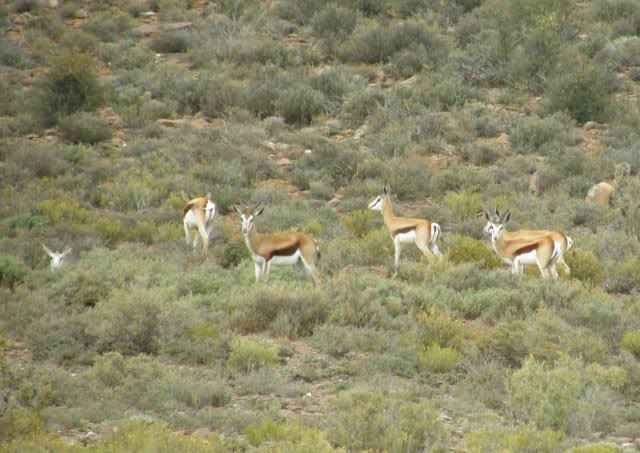 At least with all the natural pray around we shouldn't be on the top of the menu if there were any lions around.

And finally we exit the reserve on the other side.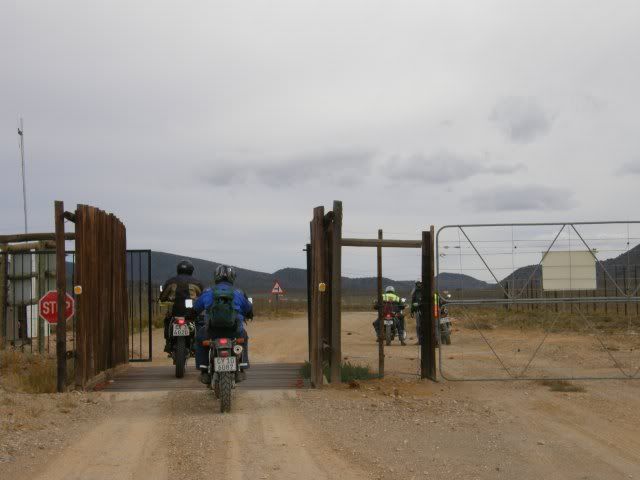 Hitting the dirt towards Ouberg Pass: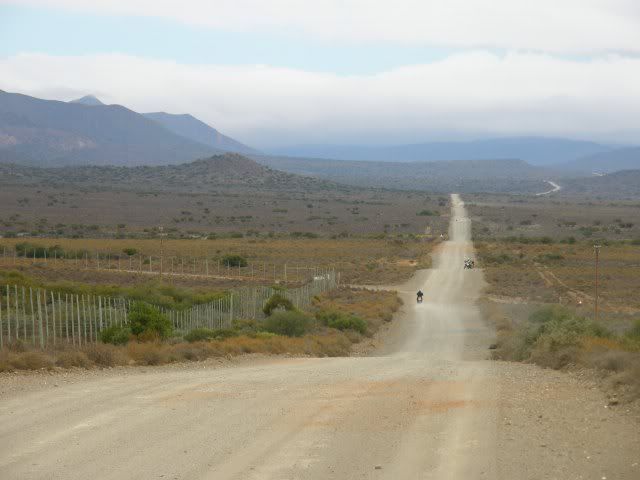 Amazingly I can't seem to find much info on this pass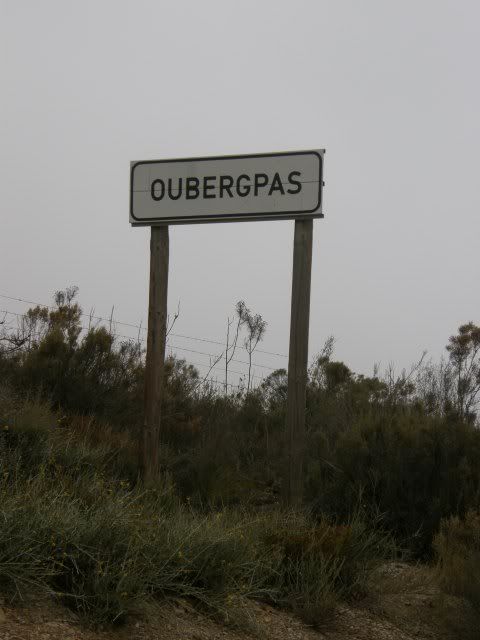 What I do know is that it was
very
cold on top of the pass. LGF came to the rescue with some Port
Just what the doctor ordered!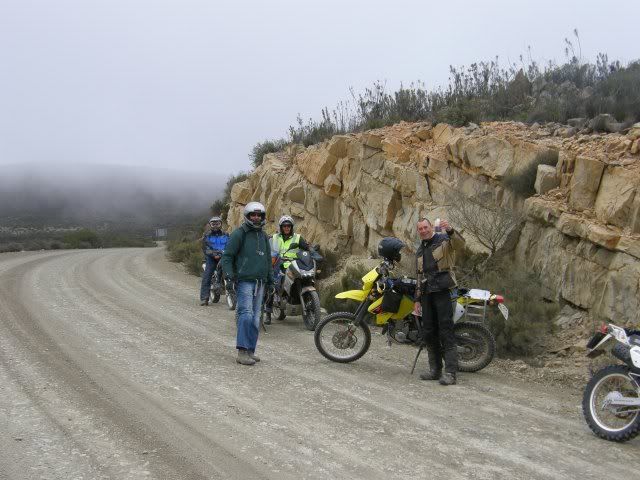 Am I biased or do bikes look better in black no matter what the model?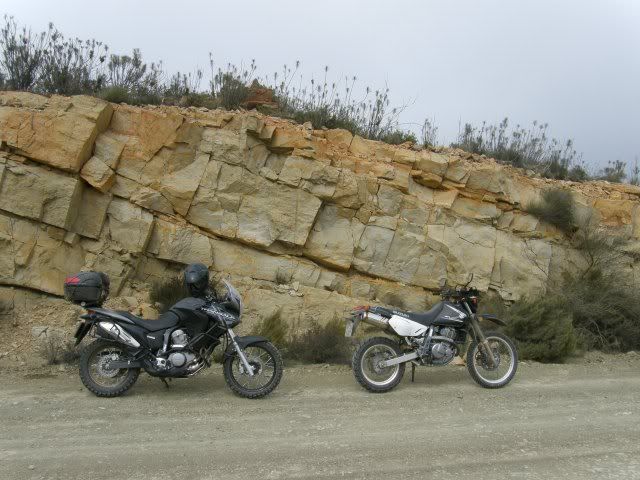 The view on the way to Montagu:
The first time I rode over this Ouberg Pass (there are three in South Africa) it was raining and this time it was overcast, but still the scenery was great. I'd like to ride over this pass again in brilliant sunshine one day though.
From Montagu we hit the road back to Barrydale for lunch at the Country Pumpkin. Always a favourite with us bikers.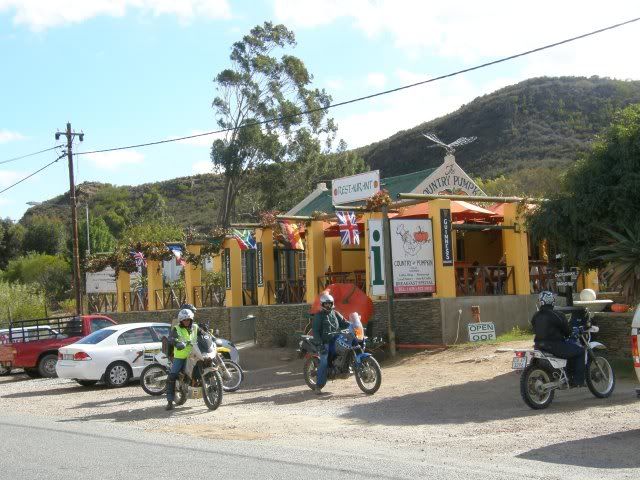 And then a quick one across the road from Warmwaterberg at
Ronnie's Sex Shop
: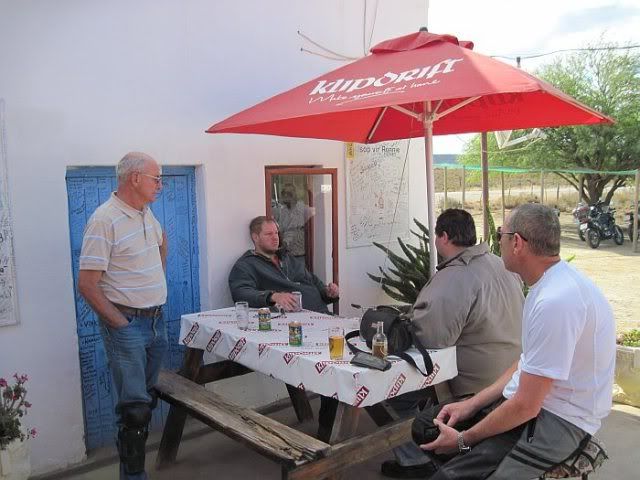 (Photo by Pmdb)
Ice cream for Kermit: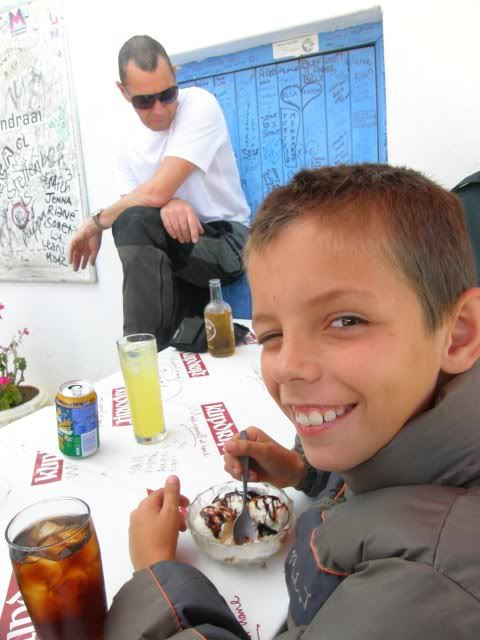 We knew that by now the rest of the people who were yet to arrive at the campsite must have arrived already, so we headed back for some R & R
Back in the campsite the latecomers were greeted and festivities commenced.
Not all are bikers, but the bug bit some who acquired bikes recently and of course brought them with. In our group today we had twelve bikes:
Suzuki DR200 Djebel
Suzuki DRZ400
Suzuki DR650
(Huh? I'm spotting a trend...
)
Suzuki DR200 Djebel
Suzuki DR250
(So far all Suzuki's
)
Suzuki DR650
Suzuki DRZ400
Yamaha XT660
Yamaha XT660
Yamaha XT660 Tenere
Kawasaki KLE500
Honda XL700V TransAlp "
Africa Twin Lite
"
So in a group of
twelve
bikes we have
seven
Suzuki's
no BMW's
and only one Honda
I'd have to rectify that on my next ride...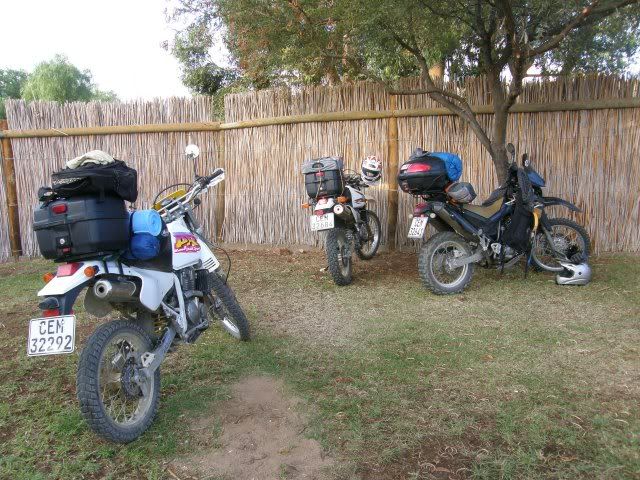 The fact that there were no GS's present also meant that my bike was the most road biased bike there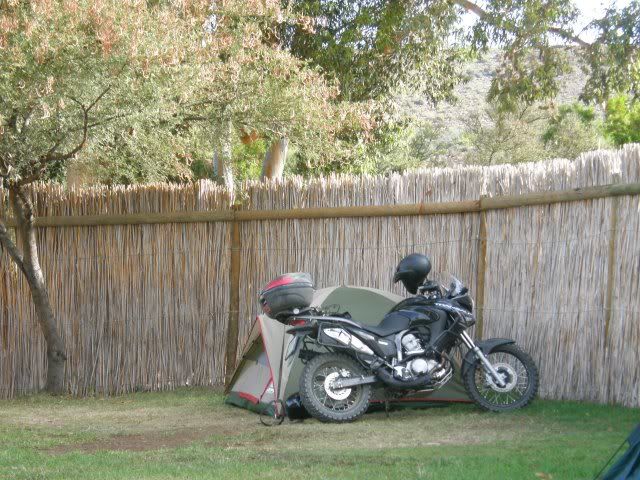 Some pictures around the campsite: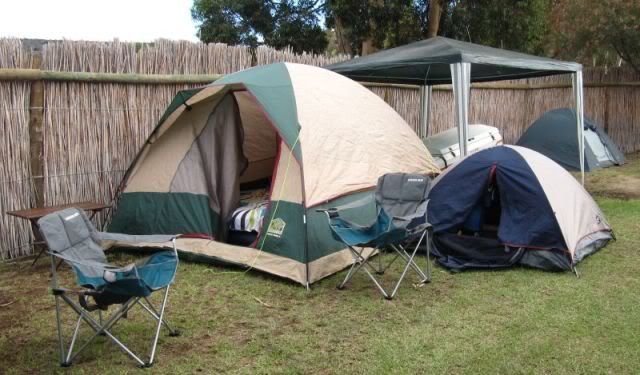 (Photo by Martin)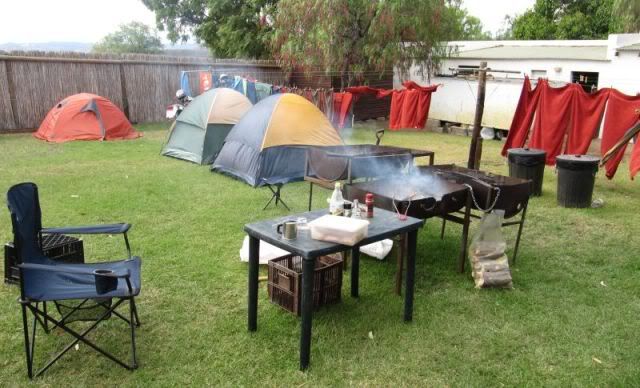 (Photo by Martin)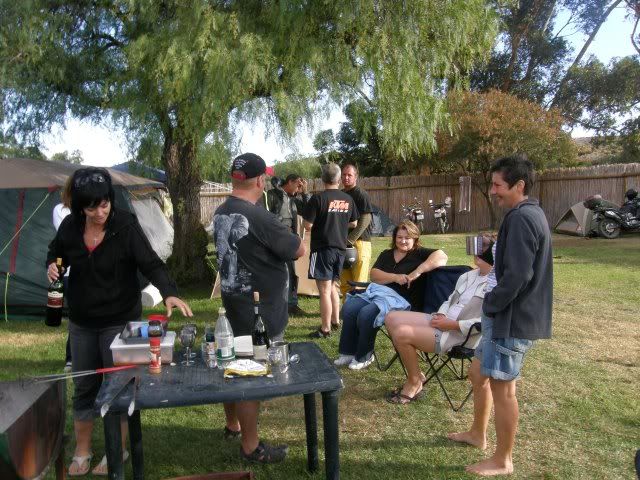 Martin's rugby team lost badly today, but he still wore his colours proudly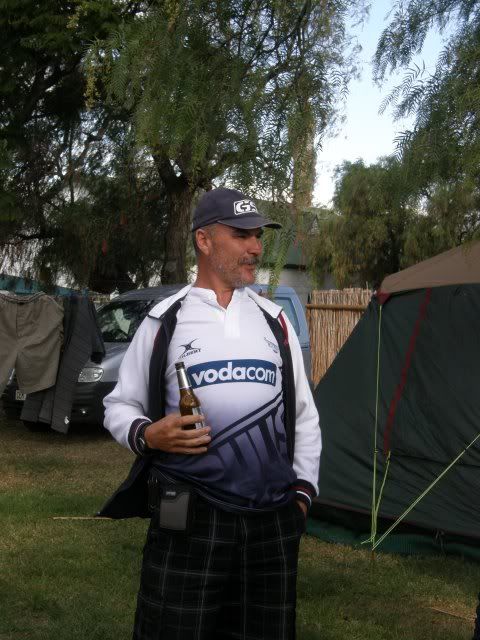 The Secret Suzuki Society having a meeting: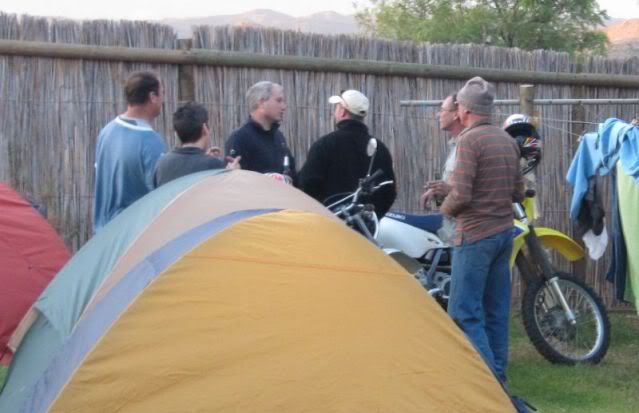 (Photo by Martin)
Fire's are lit!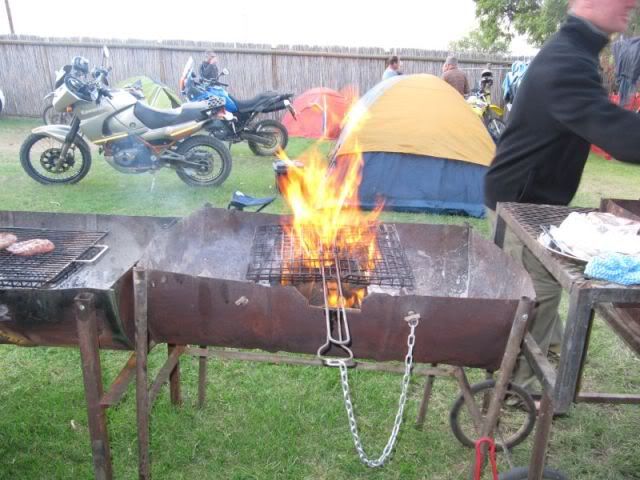 (Photo by Martin)
Stories around the fire. We are only able to gather like this once or twice a year so we have a lot of catching up to do.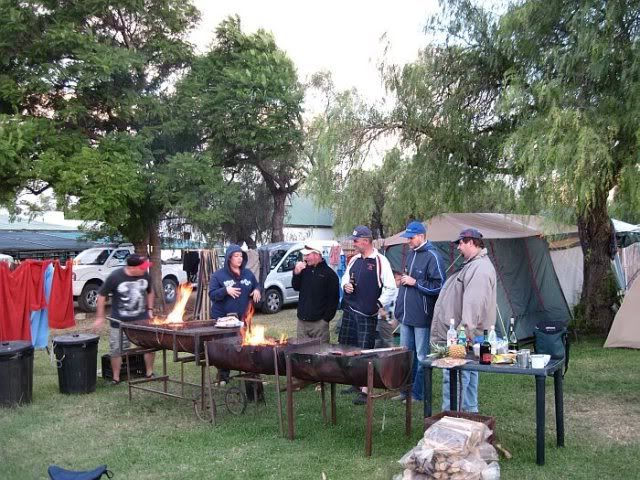 (Photo by Pmdb)
Big and small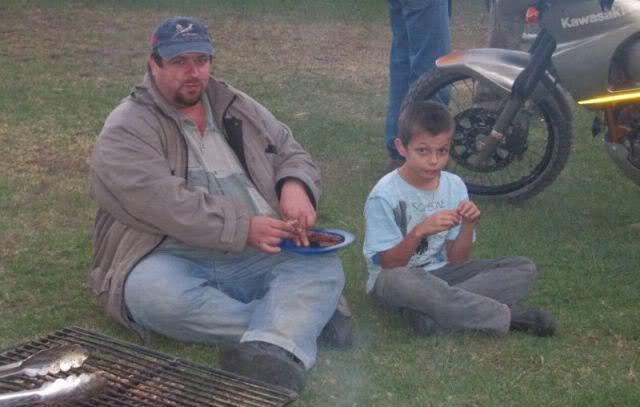 (Photo by Martin)
Operator, Lovey & Rooipoot:
Kanniehorie, Kanniesiennie, Kanniepratie
(Hear no Evil, See no Evil)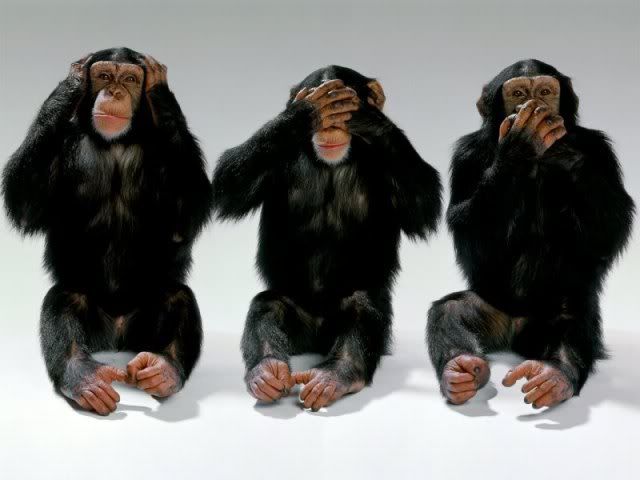 Oops! Wrong Photo - Sorry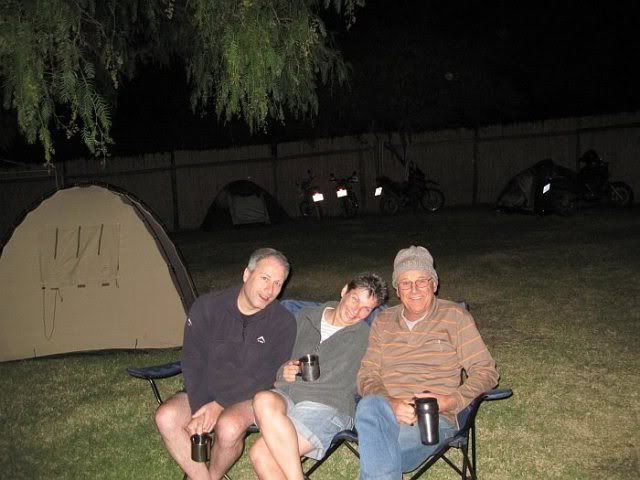 (Photo by Pmdb)
Chatting, jokes and laughter among friends. What better way to spend an evening.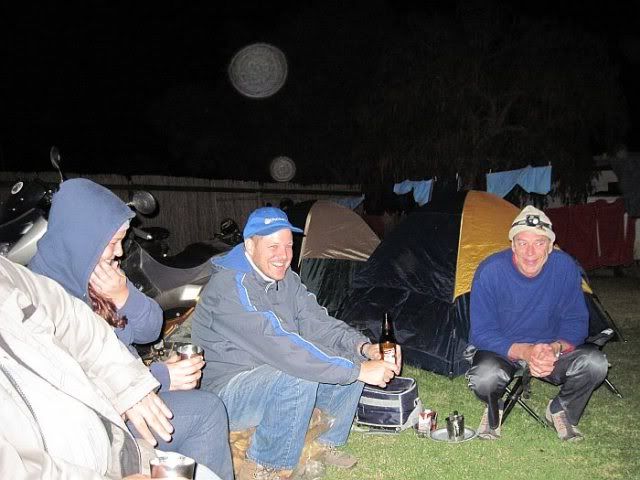 (Photo by Pmdb)
After the late night we had the previous night we went to bed at a much more civilized hour tonight.


.