.
Today was a "rest" day. Not only did we have some long days in the saddle behind us, but it's also easy to suffer from total sensory overload on your first visit here. There is so much to see that it becomes almost impossible to take more in - a "condition" Bike Vettie confirmed.
We'd ride from Baviaans to De Vlugt, a short trip of only 142km, so we could take it easy.
(Clickable map - you know the drill
)
Despite having lots of time we hit the road around 8am - we like getting on the road early. We rode slowly breathing the fresh air with the sun on our backs. Yep - this is how every Monday should start.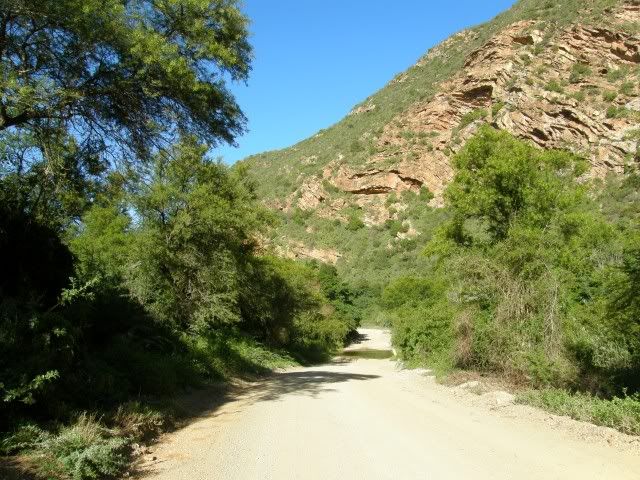 Easy gravel and a tame water crossing - no technical roads today. Out of Baviaans and through Nuwekloof Pass.
Next we had some beautiful gravel highway towards Uniondale.
A couple of km outside of Uniondale (on tar luckily) the GS had a front flat.
We searched for the hole but found none. We inflated the tyre and still could not find the puncture - the tyre stayed inflated.
We never did figure out what caused this "phantom flat", but the tyre was fine for the rest of the trip.
Uniondale: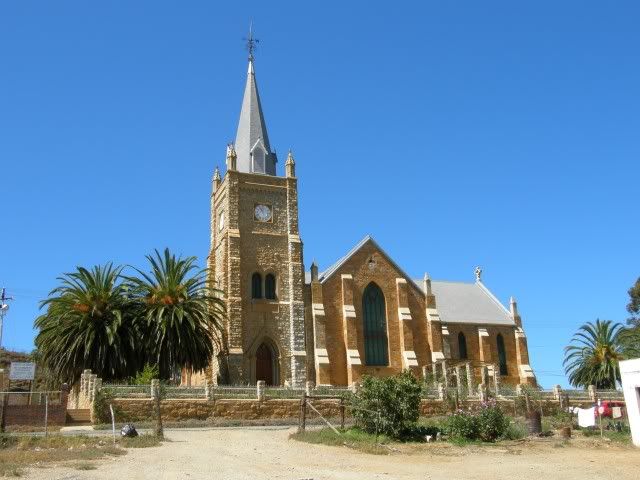 José Burman (Author) commented, "
I have seen all the famous, and most of the minor passes in South Africa, and of all of them I love Prince Alfred's Pass best.
"
It's easy to see why. Of all the passes in Southern Cape this is often singled out as a favourite because of it's wondrous variety. Seventy kilometers long and rising 1000 metres, it winds through some of the wildest and most unspoilt scenery in South Africa. (
Sources: *Prince Alfred's Pass: Spectacular & Diverse - Ilse Meyer. *The Romance of Cape Mountain Passes - Graham Ross
)
Today we'd only ride half of this Pass though.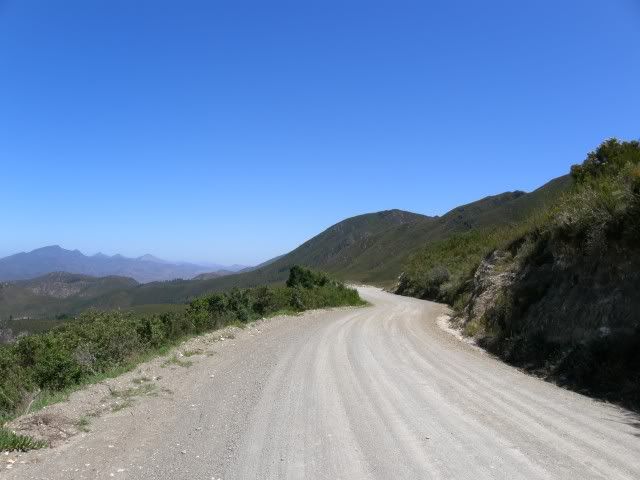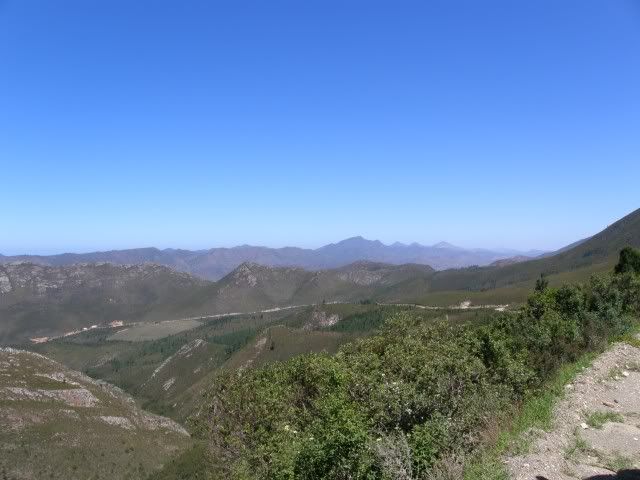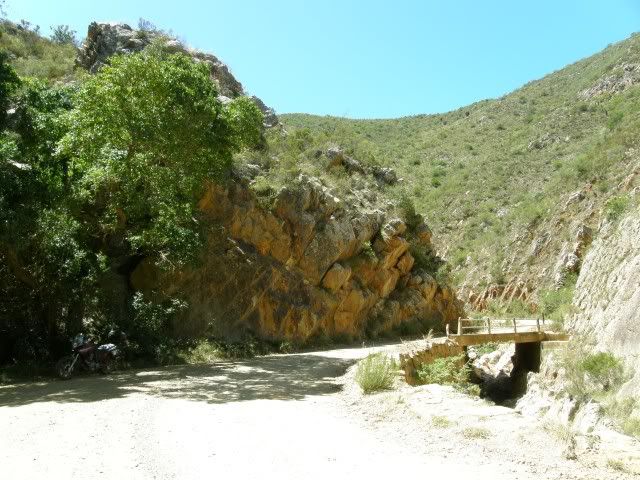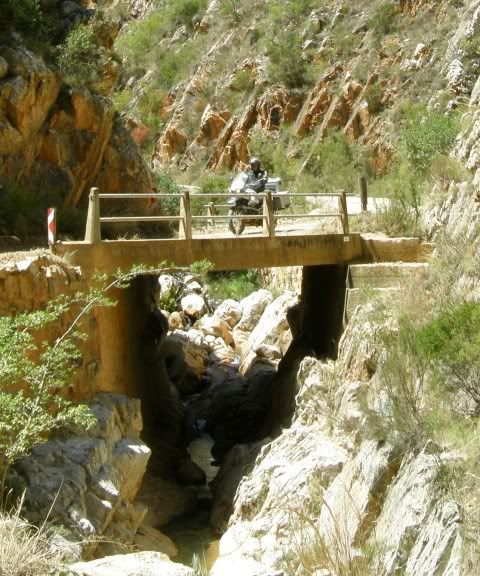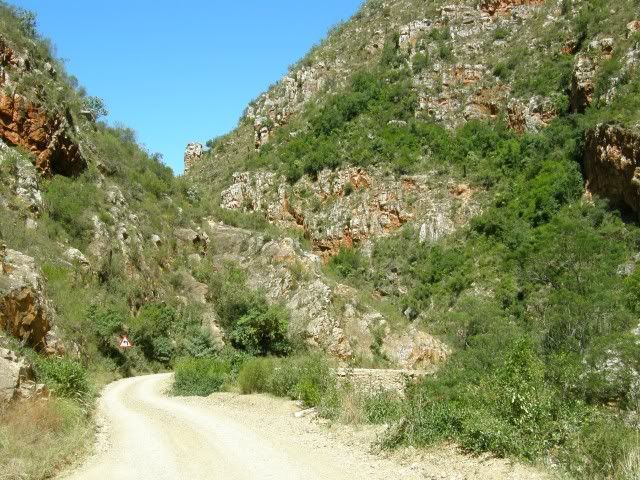 Around midday we rolled into De Vlugt and stopped at Angie's G-spot for lunch.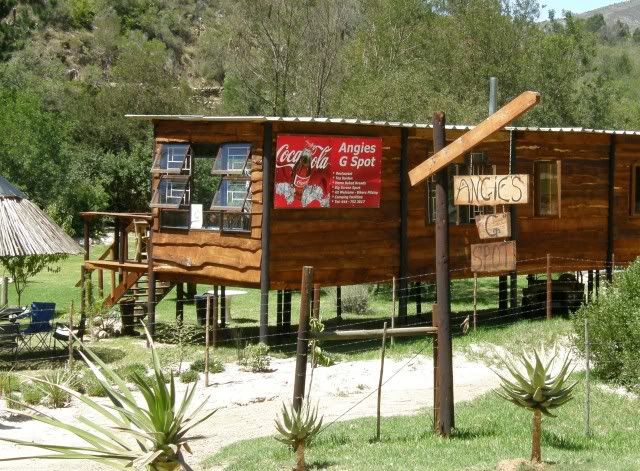 Dual Sport bikes welcome!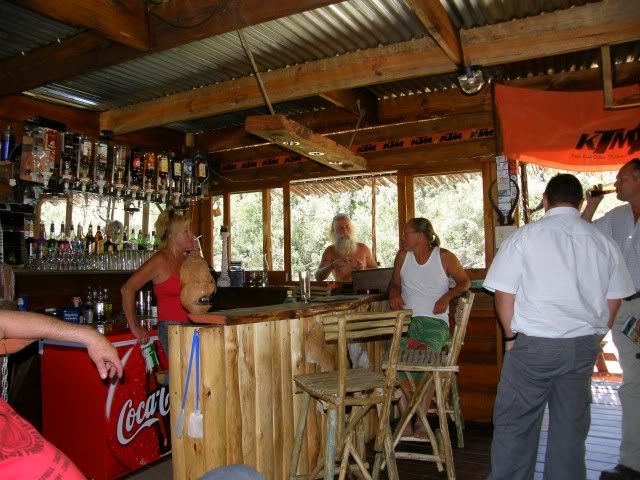 Very nice home made burgers and some cold ones before we headed next door to the
Outeniqua Trout Farm
- our home for the night. Here we found some more Dual Sport bikes. This truly is Dual Sport country!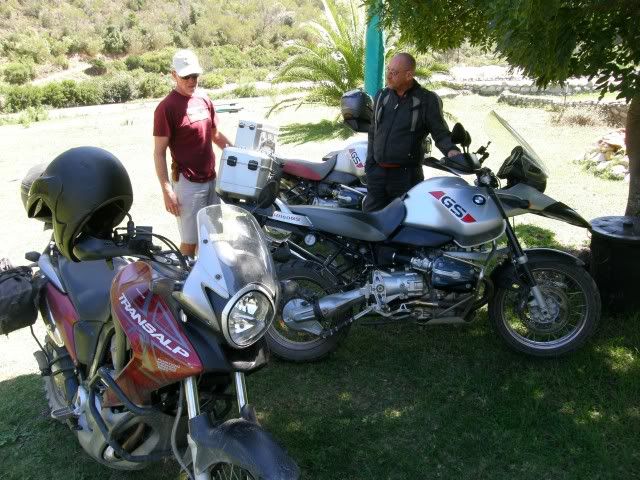 What we did not expect was what we found next. I knew that any lodging would battle to impress after two nights in the cave, but this blew my mind! We made a reservation to sleep in one of the TiPi tents. Believe me when I tell you that this is absolutely 5 star!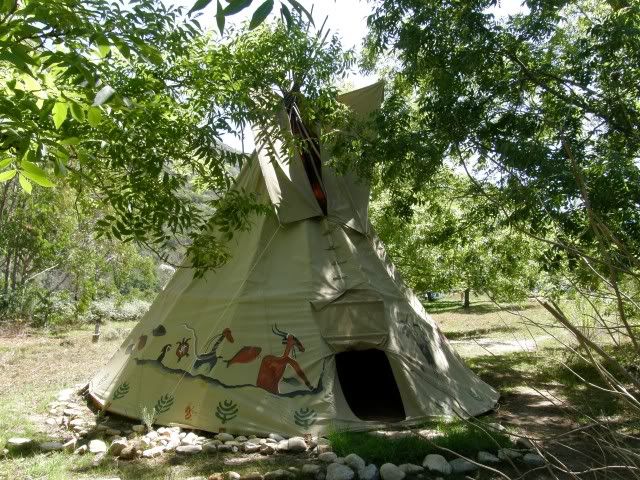 This is camping in luxury. When you sleep here all you have to bring is your clothes, toothbrush and a juicy steak for dinner. Everything else is included and provided down to the wood and ice. The tents have beds with great linen, mattresses and even a fireplace!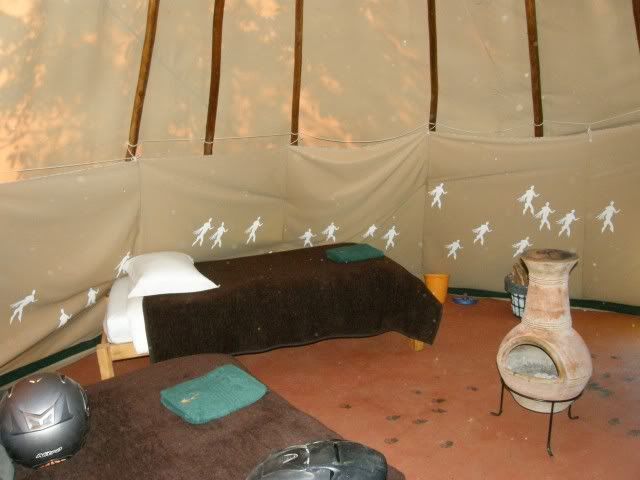 Also note the "logo" on the TiPi walls. Each TiPi has a different logo (ours being the "Shaman") and that logo is used on everything that is provided with your TiPi. There are four TiPi's and four ablution blocks. The one with the "Shaman" logo on the door belongs to this TiPi and this TiPi only. So if you camp here you have your own bathroom and you don't share it with other campers. Speaking of which - the bathrooms are top notch!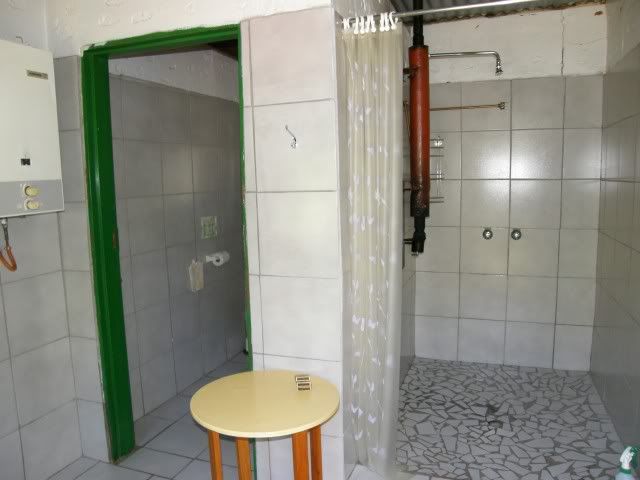 I was really intrigued by the Rocked Shower. It works with a little paraffin and a little cup gives you enough hot water for a 20 minute shower. Very eco-friendly!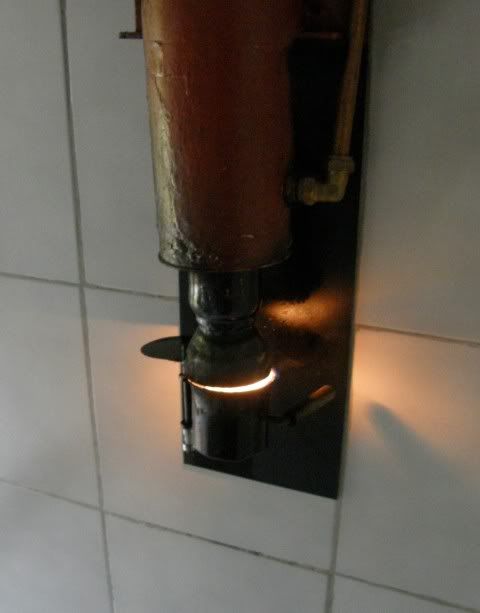 The braai area and kitchen: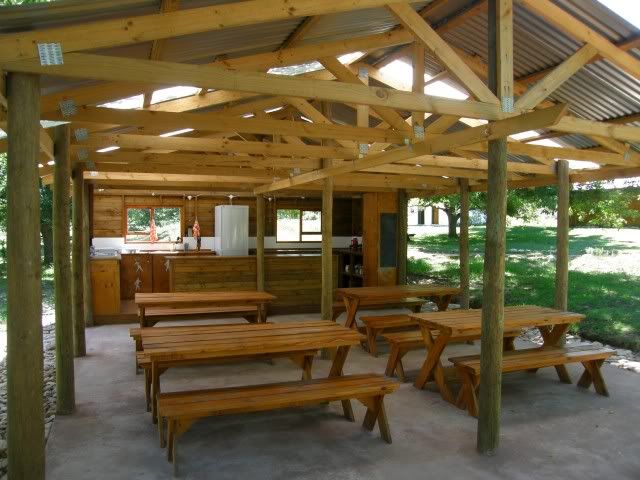 Once again very neat and everything is provided. Note once again the "Shaman" logo on "our" cupboard. We could leave our groceries there if needed. We were the only people in the camp tonight so we could use everything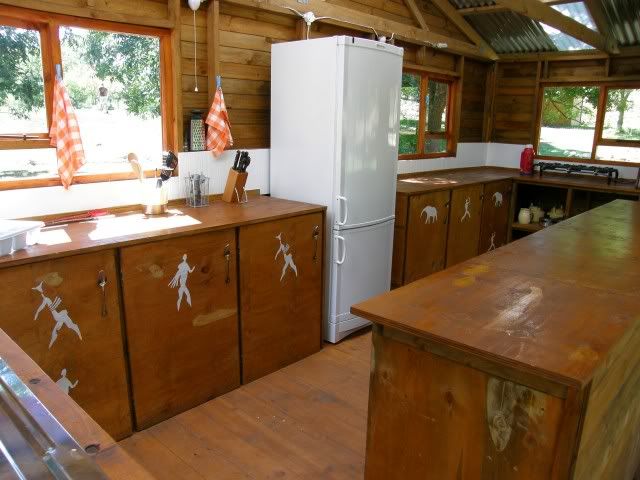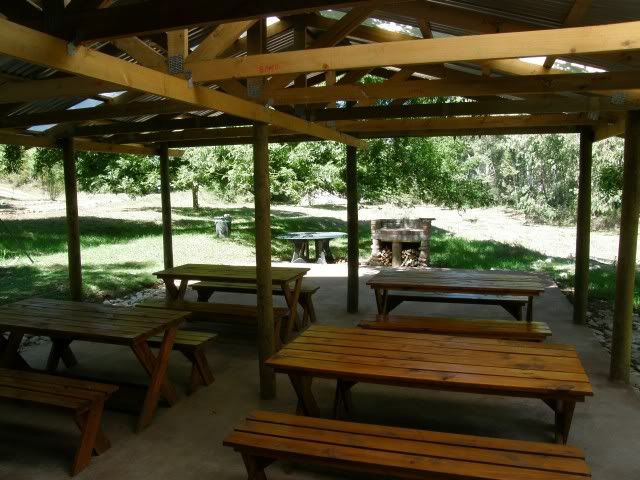 Mid afternoon we were treated with some freshly baked banana bread and butter to enjoy with our
afternoon tea
, uhm, beverage of choice
Some wildlife roaming free: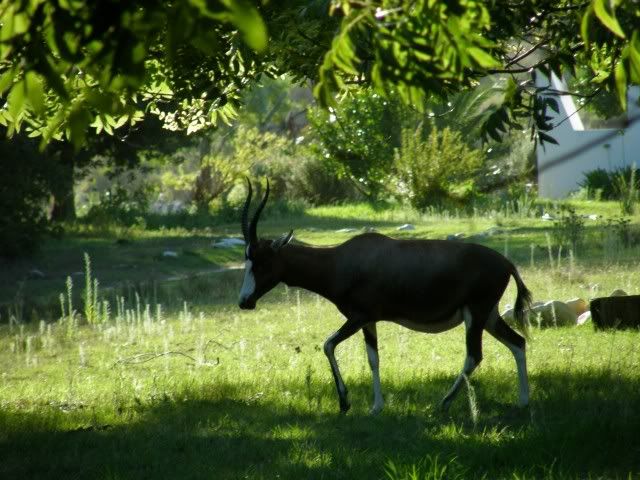 This is a great destination. I am definitely bringing Mrs.TR back here soon!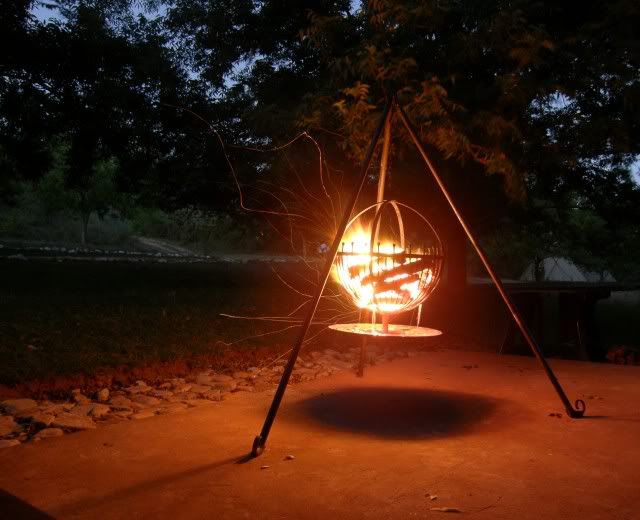 We chatted the night away around the bonfire. This was the end of day 4 and this trip was just getting better and better
Continue to Day 5.
Index page.
.