.
Withdrawal is a terrible thing...
I have not been on a bike trip for 5 weeks. I was irritable and missarable. Even my wife told me to break away for a weekend! Who am I not to comply?
Bike trips are wonderful things. Even just planning to go on one can lift the mood! And so the planning started.
I had a chat with some friends and they were keen to join, but where to? Somewhere central. We had riders from Langebaan, Hermanus, the Northern Suburbs of Cape Town, George (me) and Villiersdorp. Well, for some time now I wanted to ride the road to Wuppertal and Ouberg Pass. The plan was set. We'd all meet at Cederberg Oasis on Friday evening for a weekend of leisurely and social riding.
The group would be:
Rovrat - GS800
Trailrider - TA700
Tok tokkie - GS650
Niklaas - KLE400 (joining on Saturday)
Rooipoot - KLE500
White Stripes - DR200
Merrycan - Isuzu Frontier (back-up and fuel carrier)
Operator had to pull out due to work commitments, but we had a nice mix of bikes. Just the way I like it!
Friday morning early I hit the road. I had to rendezvous with Rovrat (from Hermanus) at
Ronnies Sex shop
at 10am for breakfast. My route for the day (just shy of 500km):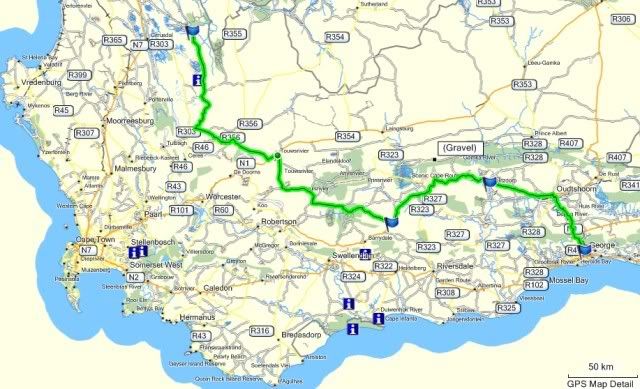 Blue skies and perfect riding weather. First pic on Outeniqua Pass: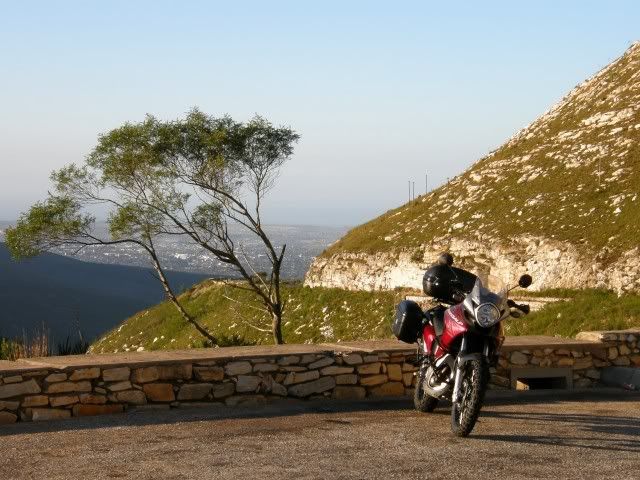 Rovrat arrived at Ronnies 5 minutes late. I arrived about ten minutes after that
Rovrat is sporting his new GS800 and I must admit I am very impressed by this bike.
We weren't the only people who likes the wind in our hair, but it's better on two wheels!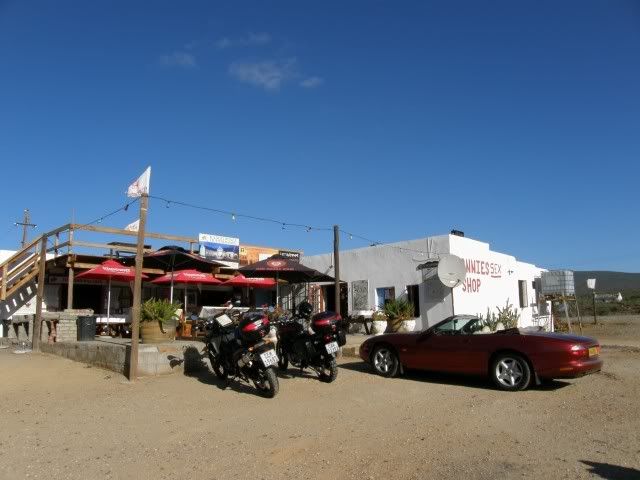 While having breakfast 3 more bikes pulled in - a Yamaha scooter, a Vuka Scooter and a Yamaha FJR1300! Unlikely riding partners (all wearing leathers and badges
) but what the hell - it's not what you ride, but who you share the road with.
After a quick drink they were off again. A part of me envied the guys on the scooters. There is something to minimalistic touring. I cant quite put it into words and not everybody gets / understands it, but there's a different mindset or mood when you're on a minimalistic tour.
Beserker on the WD Forum put it like this:
"The only pro of an enormous bike, it eats distance.... a quick fix similar to all the quick fixes and conveniences that infest our modern lives, from which I try and escape when I ride my bike."
Rovrat just shook his head. Envying a guy touring on a scooter? I must be out of my mind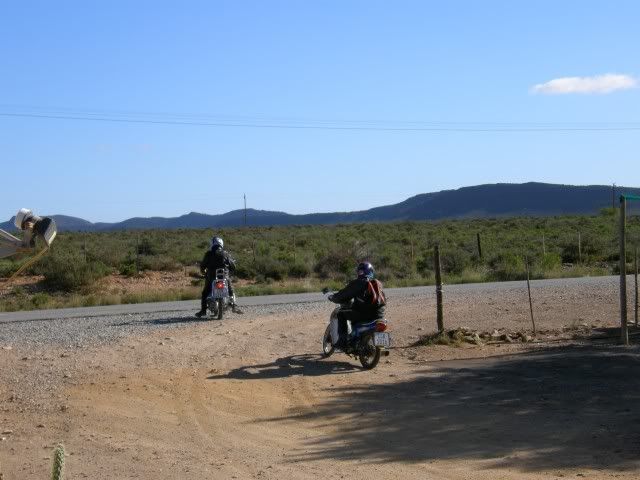 The area West of Warmwaterberg / Barrydale has been established as a huge Game reserve and as a result the roads have been closed. We chose our route to run past this reserve (part of the route to Hondewater LGF rode last December) so as not to run into some closed gates. Big was our surprise when we rode up to this: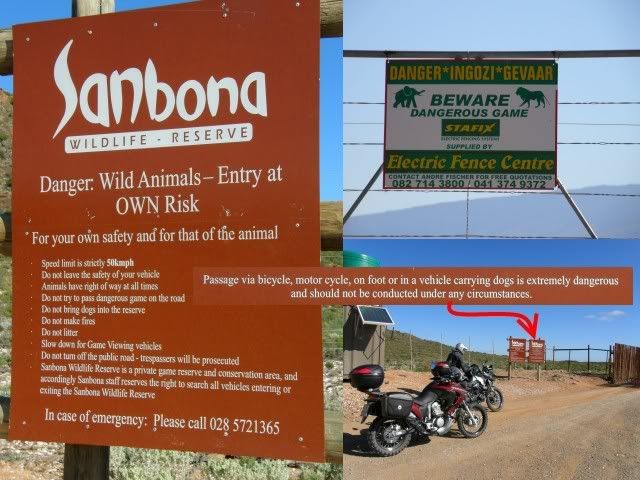 There is no way we are turning back. We still have a very long way to go and this is a public road after all. I asked the gatekeeper what kinds of dangerous animals they have? "Only Leopard, Buffalo, Lion, Rhino and Elephants sir." Oh, only the Big Five then?
Please let us through...
After a lot of talking on the radio to the superior we were allowed in - at own risk. It's exciting riding through an open wild area. It's that "naughty" feeling you get when you're doing something you shouldn't.
I only stopped once for a quick pic during the 50km ride through the park. You shouldn't leave your vehicle after all
Nice open areas with no fences in sight.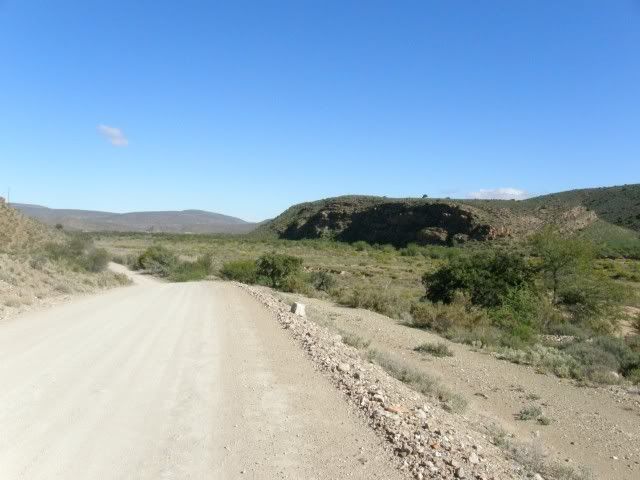 After signing out on the other side (quite a bit sooner than they expected us...) the roads opened up into nice gravel highways towards Touwsriver. The road surface allowed for some high speed gravel and by the time I've finished taking these photos the GS800 was long gone.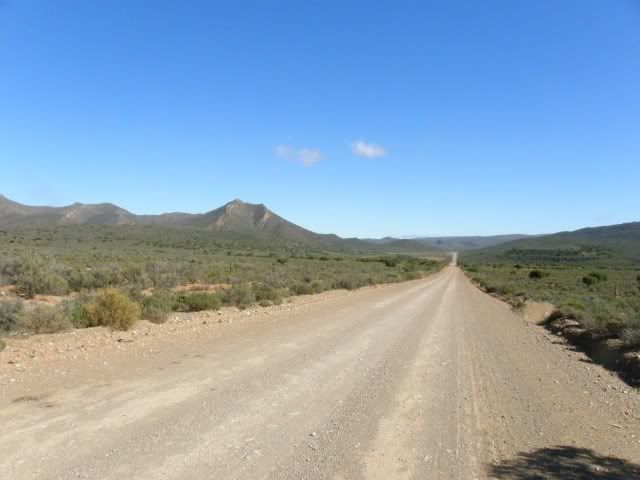 I followed suit but before long I rode up on this scene:
Rovrat's bike was parked next to the road and he flagged me down. He showed me what line to take through the water (right through the middle) and indicated that the water was not very deep. Pic taken by Rovrat: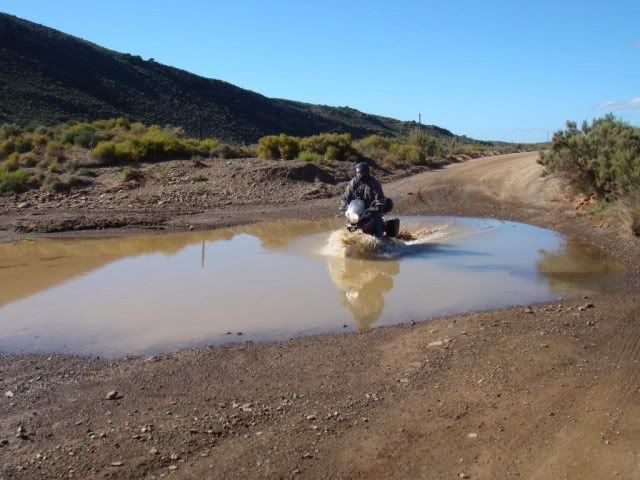 It turns out the water was quite a bit deeper than he indicated...
I later learned that he never rode through the water but around it. He had no idea how deep the water was or which line to take. He just motioned me through, camera in hand, hoping for a action shot!
Who needs enemies with friends like these? The Bugger!
After I successfully rode through he also wanted a "water crossing pic".
He hit the water too fast and got soaked from top to bottom
Just like he deserved!
We were having fun but we had to push on. No pics of the tar stretch to the beginning of the road to Blinkberg Pass.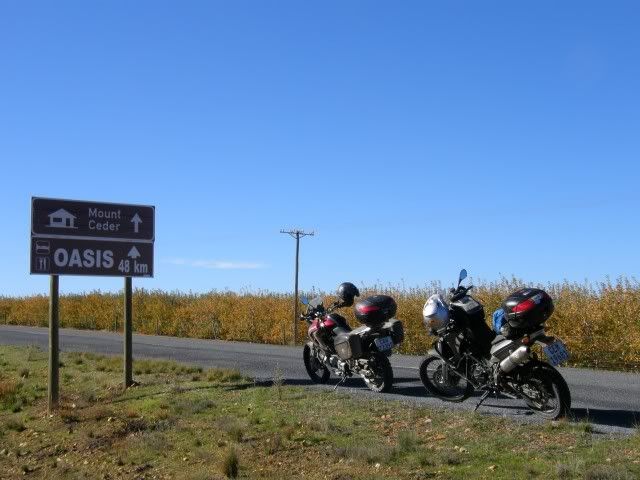 We saw a bike approaching in the distance - Operator! What a great surprise! He got his things sorted in the end and decided to join us for Friday night.
Blinkberg Pass. What a great area to ride in. Very scenic indeed!
And before long we ran into Rooipoot. Quick greetings and we were off again. Cederberg Oasis had some beers with our names on them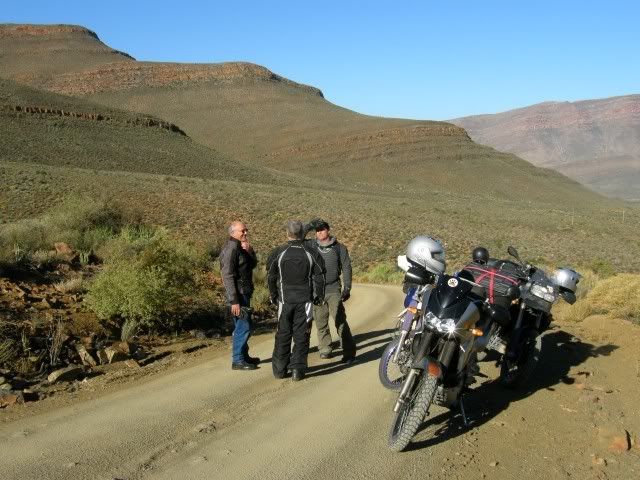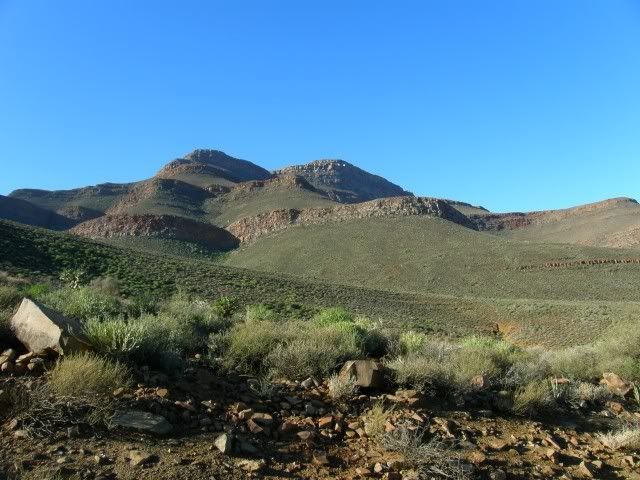 The last stretch to Oasis: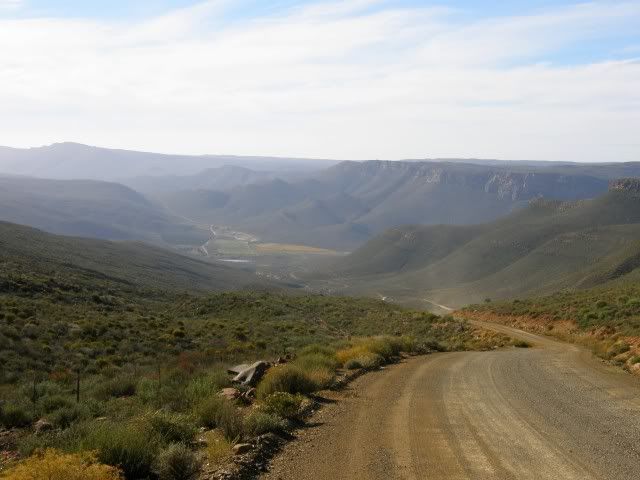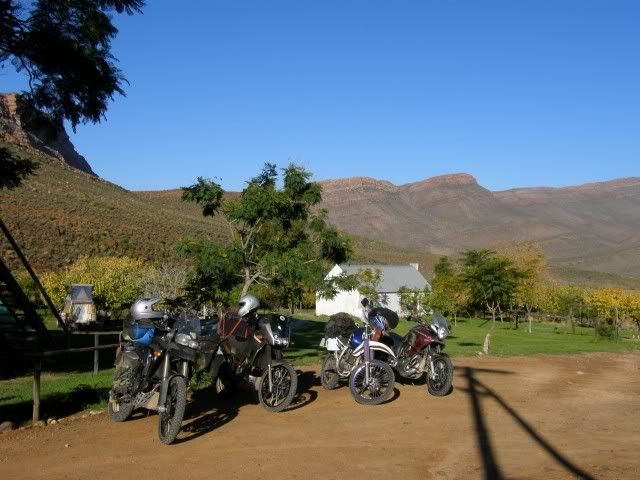 A nice day riding. I have to admit it took me 50km or so to get back into the groove, but after that it was plain sailing and I had withdrawal no more
White Stripes, Tok tokkie and Merrycan ran late and only got there after dark, but they arrived safe and we partied up a storm along with two other bikers who where there (KLE500 & DRZ400).
Tomorrow we tackle the 4x4 route to Wuppertal along with our two new friends.


.