.
This ride was described from the outset as a relaxed social ride - and relaxed we were! Operator had to leave early but the rest of us chatted away, picking up where we left off the evening before. Some time after 9am some of the bikes had luggage on but everyone decided to go have breakfast first. Eventually, around 10:20, we were ready to ride.
We planned to ride the 4x4 road to Wuppertal and then take the Biedouw Valley to Middelpos. It did not quite work out that way in the end:
The total distance of the revised route we rode in the end was 340km. Some of this over rough terrain and all of this while we got away late. Not that it bothered anybody at first. Some more chatting at the first regroup at the beginning of the route: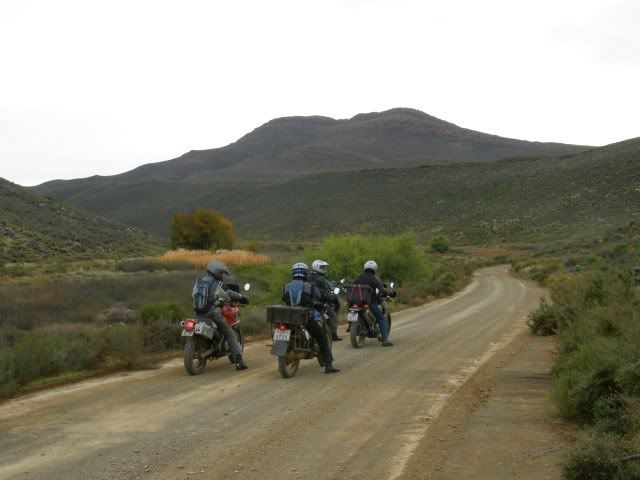 Merrycan in the Backup vehicle: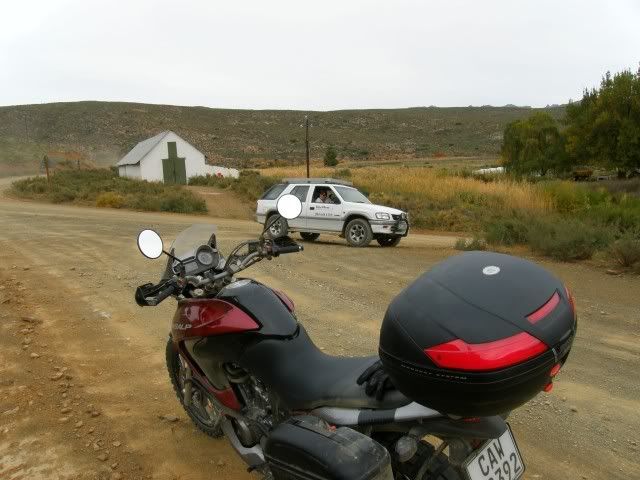 My aim of the weekend was to ride this route and Ouberg Pass, and this route did not disappoint. We took our time taking in the scenery.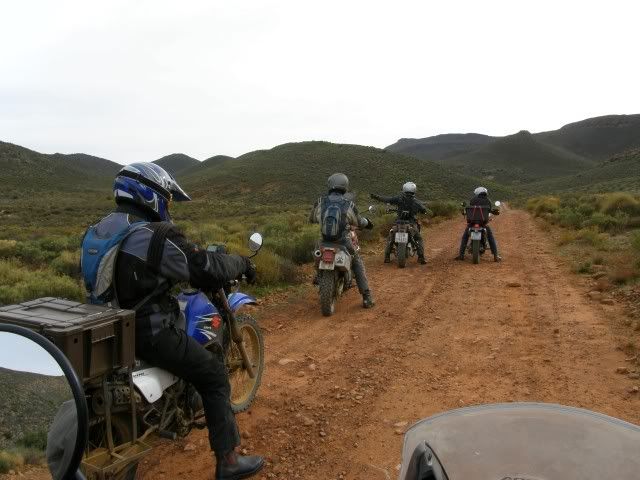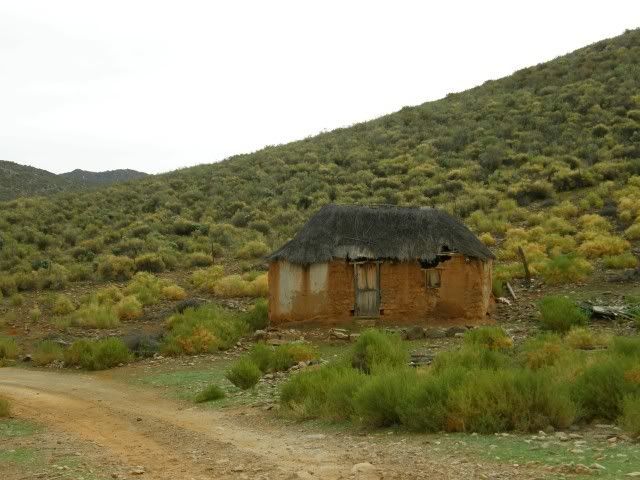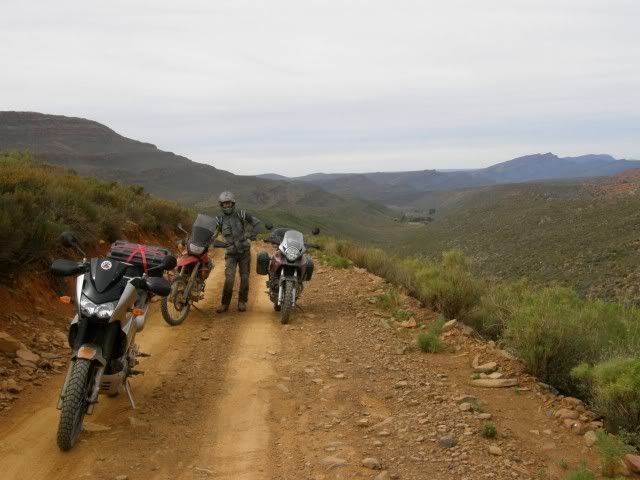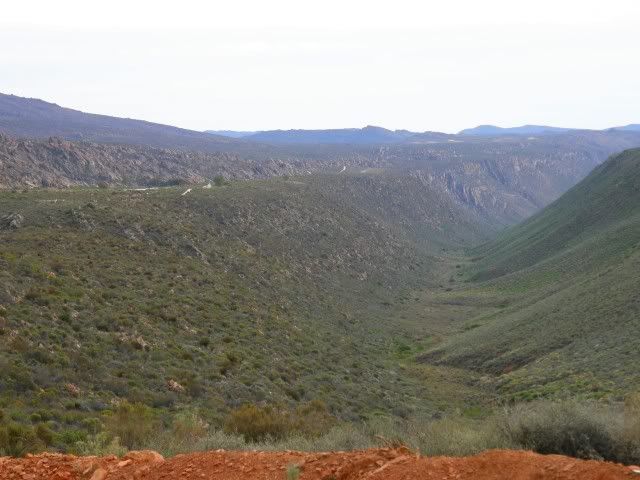 The road deteriorated as we went along, but I would not describe it as a 4x4 only road. A 2x4 vehicle with good ground clearance should do just fine. We had some loose rocks, sand and some water - nothing too hectic but enough to keep one and all entertained.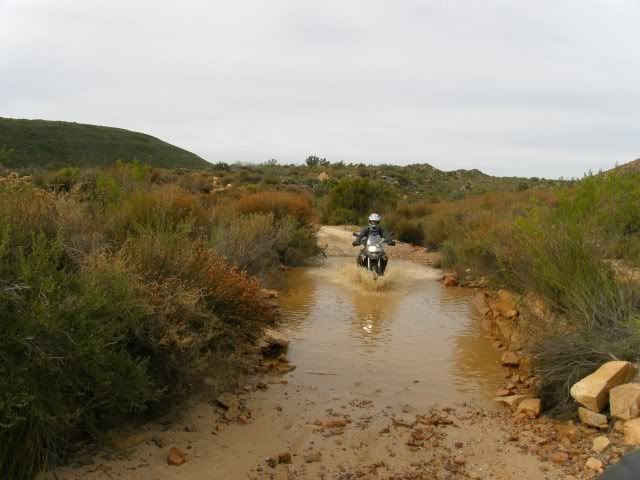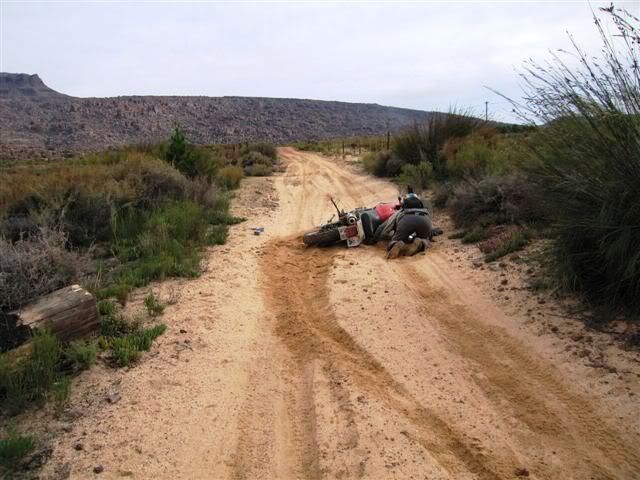 (Photo taken by Merrycan)
Water crossings ahead:
I love this!
Picture taken by Rovrat: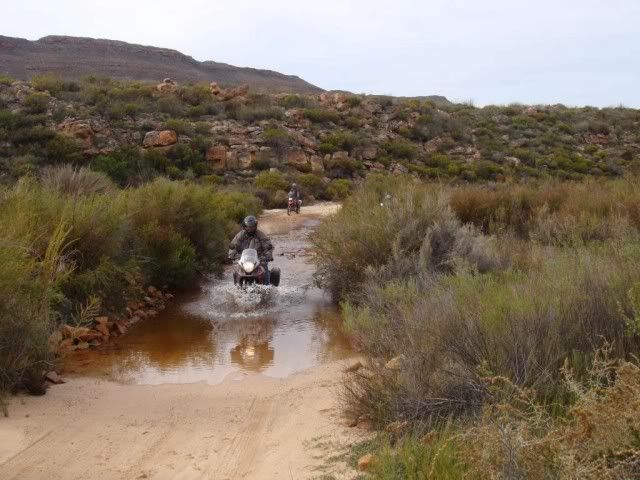 Rooipoot hitting the first of several: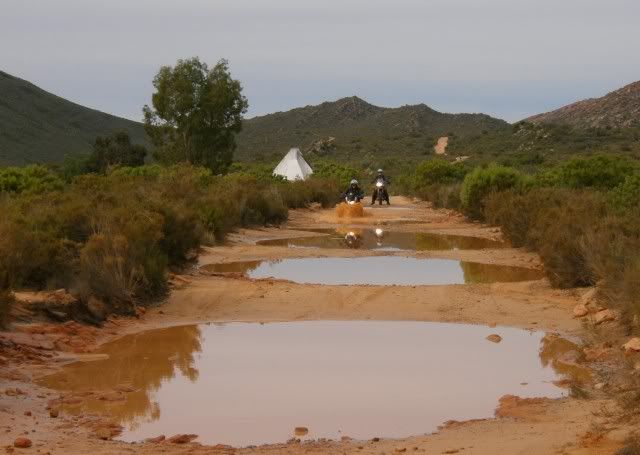 Rovrat:
Rovrat very nearly bought it after I took this pic
If he did go down it would have been a funny coincidence with me taking the pics after the stunt he pulled the day before.
That GS800 is a great bike, but the road biased Scorpion Tyres and the electronic throttle did him no favours.
Eventually we reached Eselbank - what a nice little town. The main street: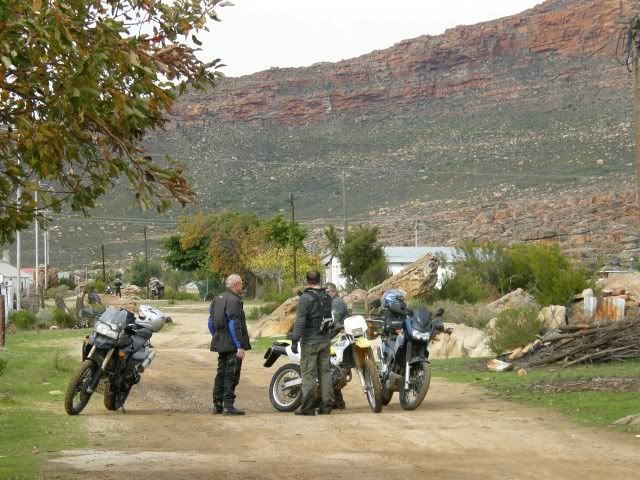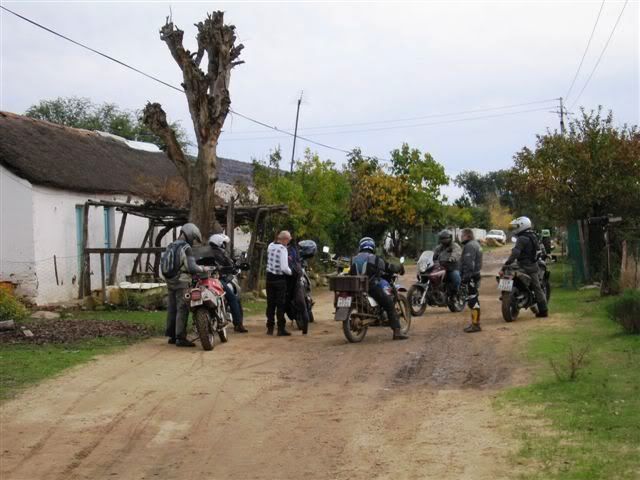 (Photo taken by Merrycan)
Some of the beautiful buildings: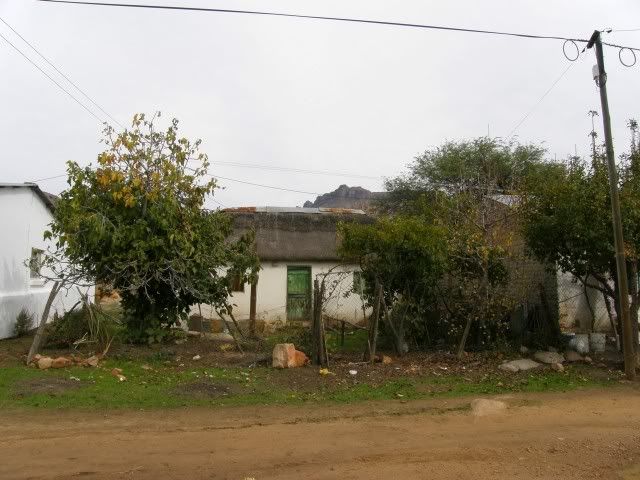 Just outside Eselbank Rovrat took the lead to show us the waterfall.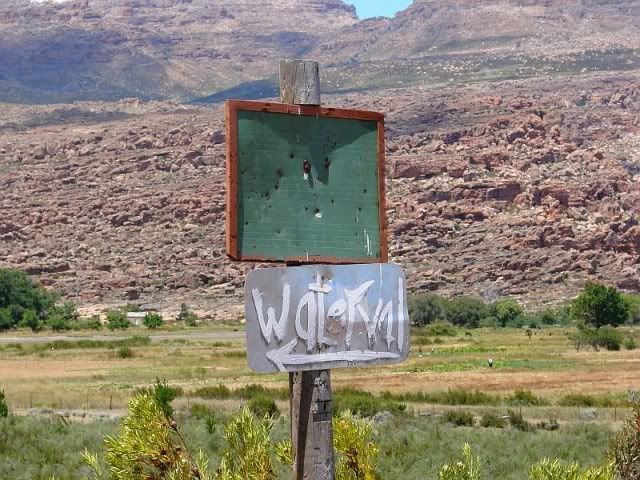 This was simply breathtaking. This truly is an amazing area.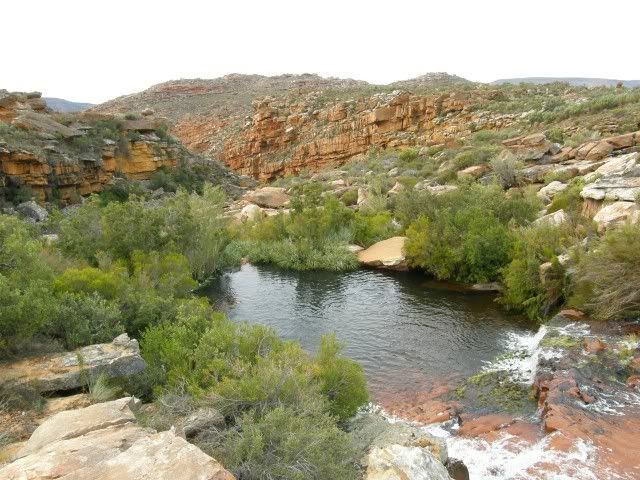 Views to die for.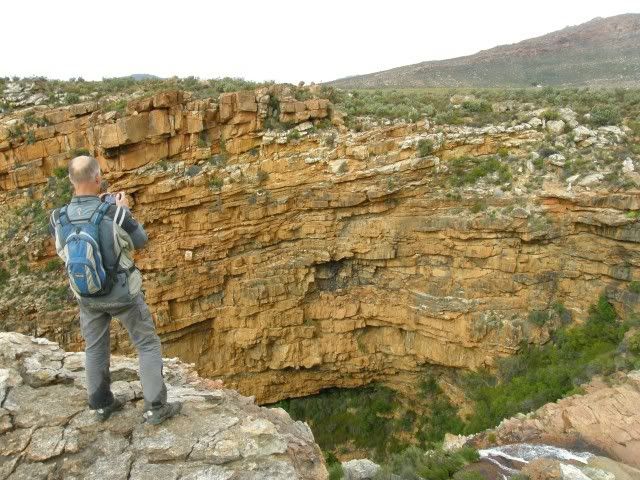 The photo Tok-tokkie took in the picture above: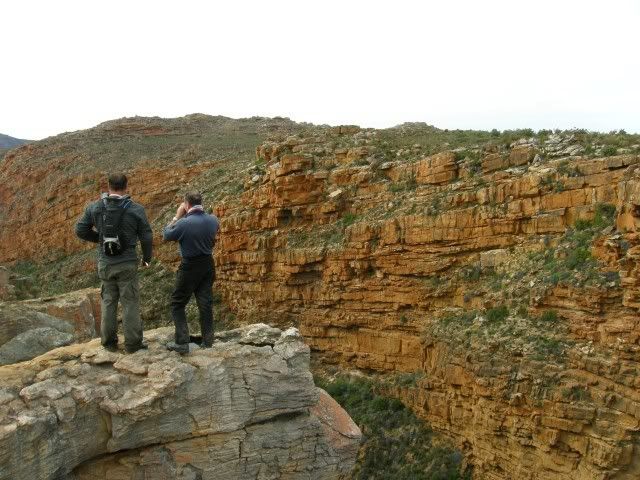 Merrycan: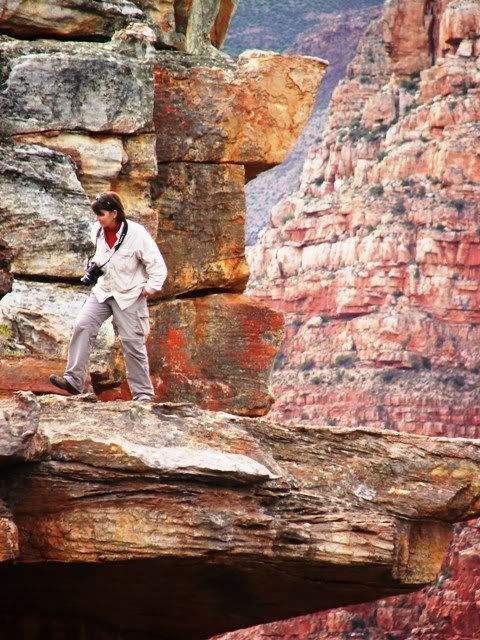 (Photo by White Stripes)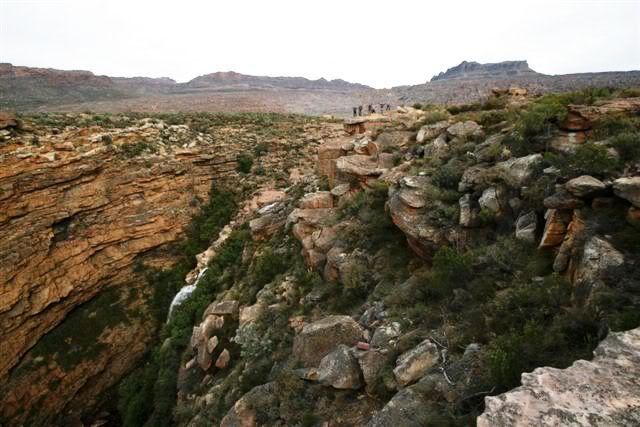 (Photo by Merrycan)
We chatted some more and Merrycan produced some water, chips, chocolates and Chilli bites from the Backup vehicle for everyone to snack on. I did mention this was a social ride?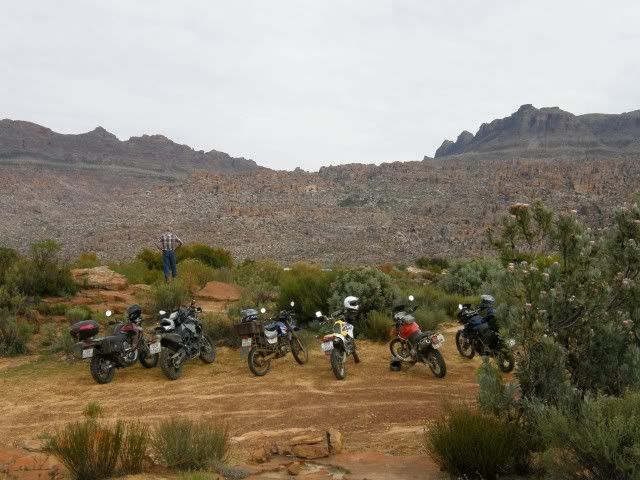 (Photo by Merrycan)
At 12 o'clock we hit the road again. We've only done 37km for the day so far
and we had a very long way to go still. Niklaas was waiting for us at the Biedouw turnoff by now and we had no way of contacting him. He was going to have a long wait...
The road to Wuppertal turned out to be a little more technical than the first section with lots more sand.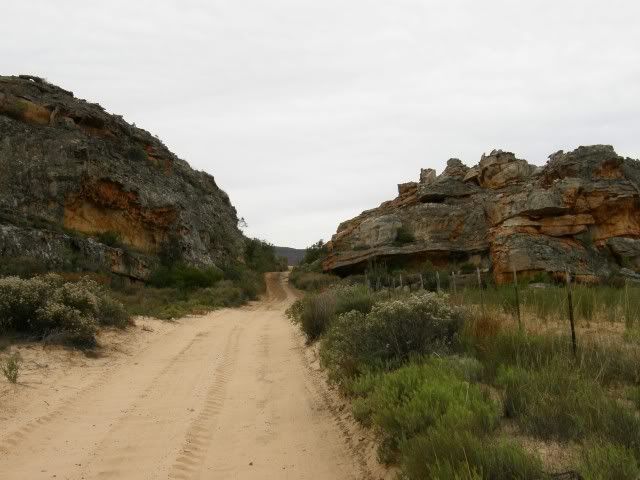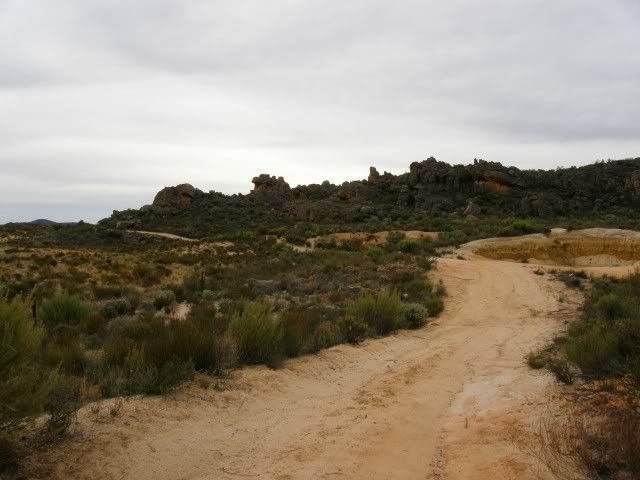 The view from the Eselbank Pass towards Wuppertal: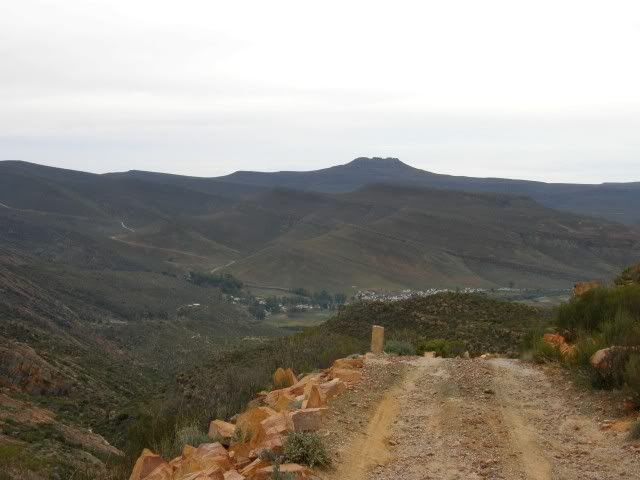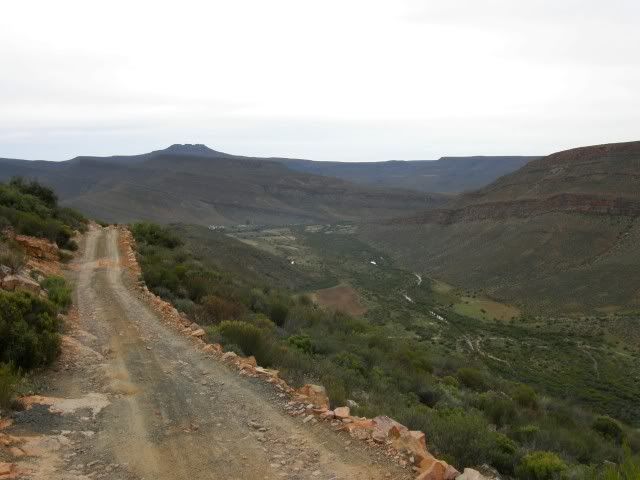 In Wuppertal we met another group of bikers and helped one out with petrol. Rooipoot went ahead to meet Niklaas at the Biedouw turnoff and we chatted to the bikers for a while.
Wupperthal (sometimes also spelt Wuppertal) is a small town in the Cederberg mountains in the Western Cape province of South Africa. It was founded in 1830 by two German missionaries of the Rhenish Missionary Society (Rheinische Mission), Theobald von Wurmb and Johann Gottlieb Leipoldt, grandfather of C. Louis Leipoldt - some 100 years before the city of Wuppertal was formally established in Germany. In 1965, after the Rhenish Mission had gradually scaled down their activities in Southern Africa over a period of 40 years, a decision was taken that Wupperthal in future should become part of the Moravian Church, which by that stage had already made the transition from a mission to an autonomous church in South Africa. The town remains a Moravian mission station to this day.
(source)
From Wuppertal we head over the Kouberg Pass towards Biedouw. Another pic for my
quest
!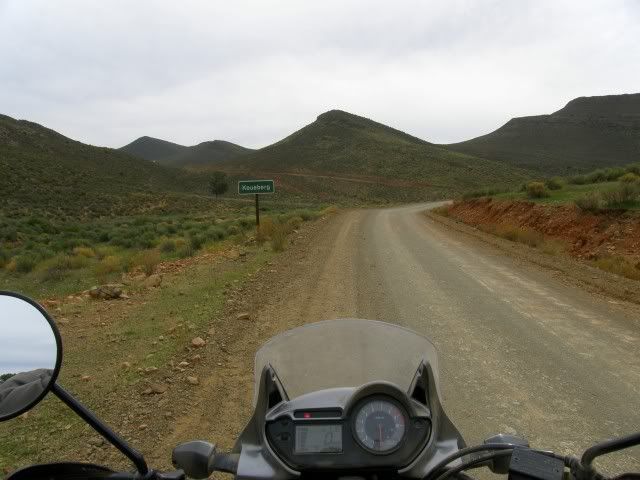 At the Biedouw turnoff we got a message that Niklaas and Rooipoot went ahead through the Biedouw Valley and we followed. I found this sign interresting - seems like fun!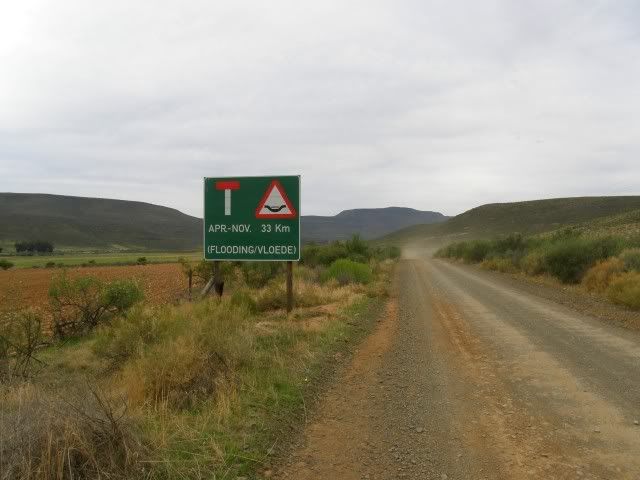 A short way down the road Rooipoot and Niklaas approached from the front. "
Turn around. The river is in flood and there is no way to get through.
" We had no option but to turn around and take the long way round to Calvinia.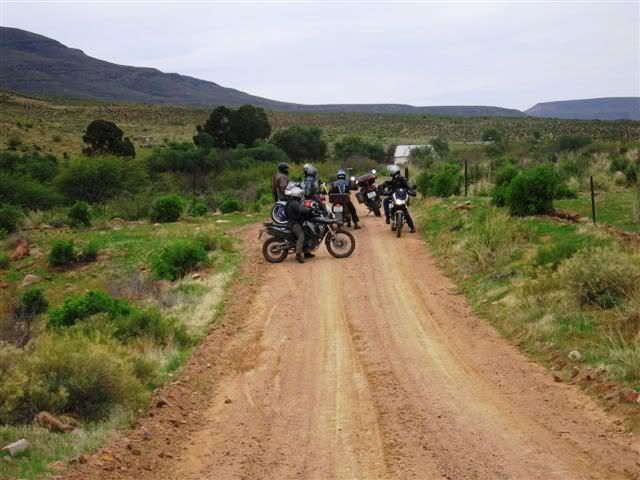 (Photo by Merrycan)
These were the photos taken by Niklaas when he was there: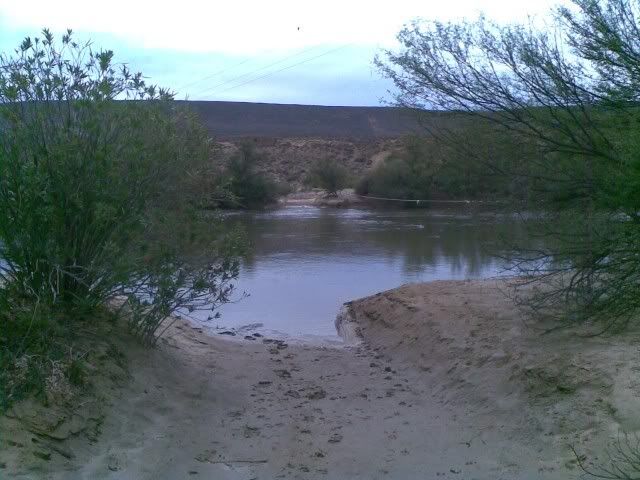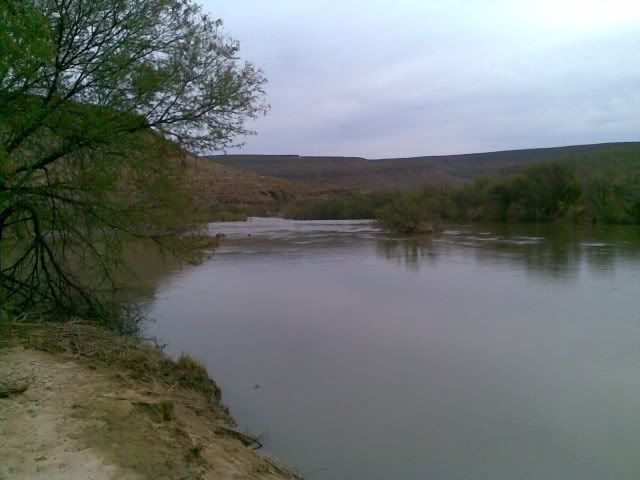 I only realized something somewhat embarrassing after the ride when I saw these photos.
A couple of weeks earlier Bobnob of the WD forum turned around at the same river. I chirped him that they could have had an adventure if they at least tried to cross it.
Now it seems I (unknowingly) did exactly the same thing!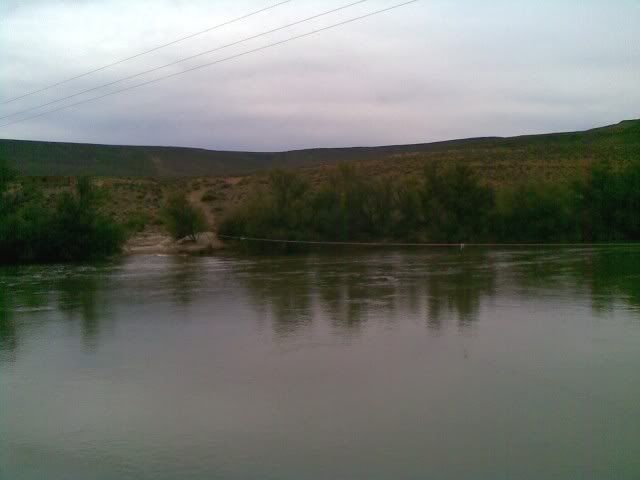 Hoek se Berg Pass: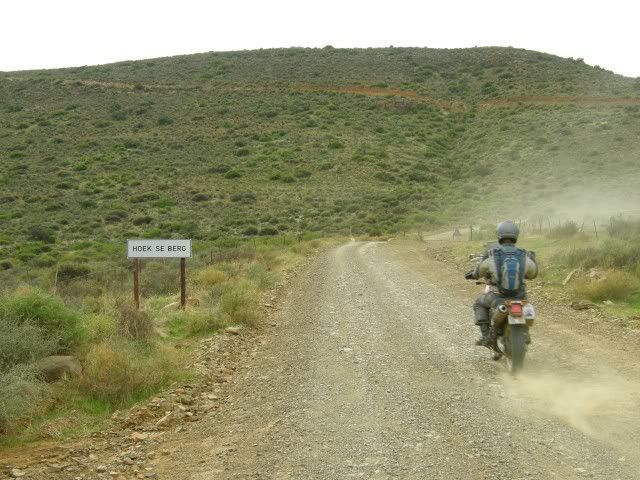 Another pic for my
quest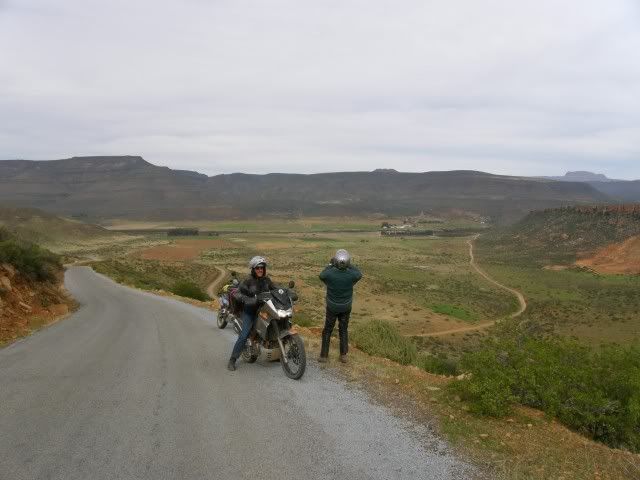 A small sign near the dirt road for the Wuppertal turnoff points to "The Englishman's Grave."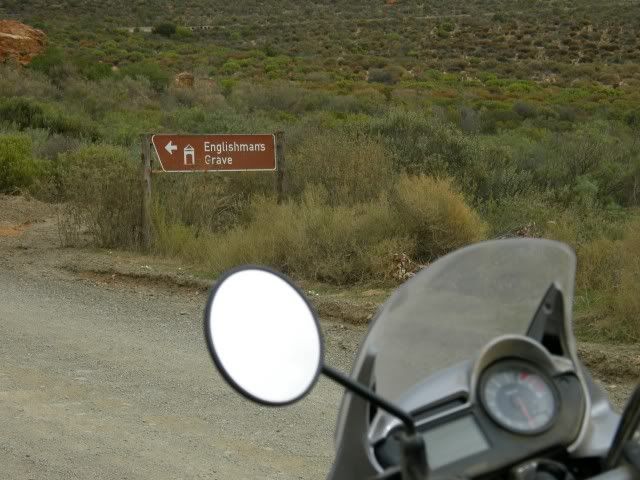 The headstone is in the form of a Celtic cross and bears the words "BRAVE AND TRUE." At the base of the cross is inscribed:
In sacred and loving memory of Graham Vinicombe Winchester Clowes Lieutenant 1st Battn. the Gordon Highlanders… killed in action near this spot on 30th January 1901.
Lt. Clowes' Gordon Highlander regiment was famous in South Africa. It had suffered a catastrophic defeat in the battle of Majuba Hill that concluded the lesser-known First Boer War of 1880-1881 (British casualties at Majuba, 280; Boers, 1). When the Second Boer War started in 1899, British soldiers who had a spirit of revenge would run into battle shouting, "Majuba! Majuba!" That word had been chanted at Elandslaagte, when the 2nd Gordons wore their kilts into battle.
Lt. Clowes' 1st battalion shipped out to Cape Town after Elandslaagte, arriving just in time to march out for the ill-fated battle of Magersfontein. By the end of it British casualties numbered 902, compared with 200 for the Boers, and they had made no advance: a disaster. Lt. Clowes lived a year and two months longer, only to fall victim to a small band of Boer guerillas on an ordinary summer day.
The soldier's mother had journeyed all the way from England after the war to find this remote spot and have the memorial erected.
(source)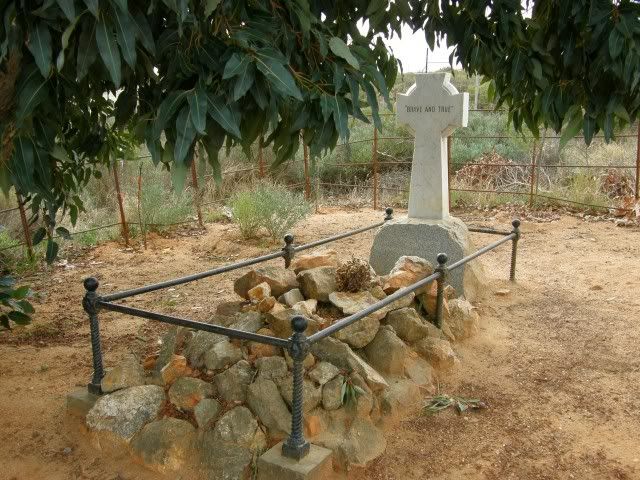 By now it was 2pm and we have only ridden 80km for the day. We were waaaaaaay behind schedule and had to get a move-on.
I had to stop for this pic though. In this area you can ride passes to your heart's content. I will have to come back yet a again sometime and ride the rest.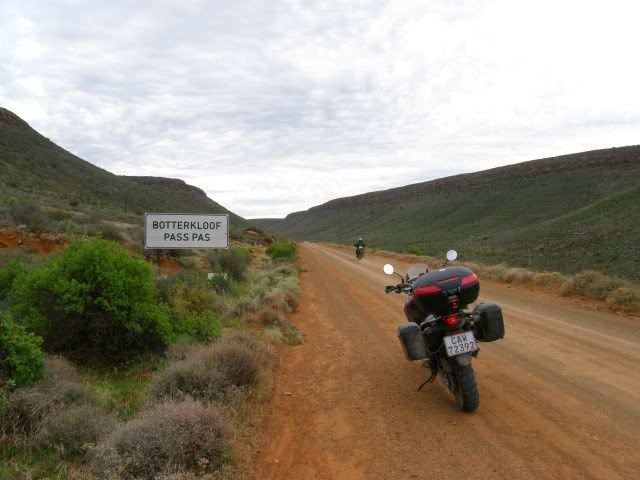 Now, on the way to Calvinia we found ourselves in the proper Karoo type setting with long straight Karoo Highways. We certainly have ridden contrasting routes today.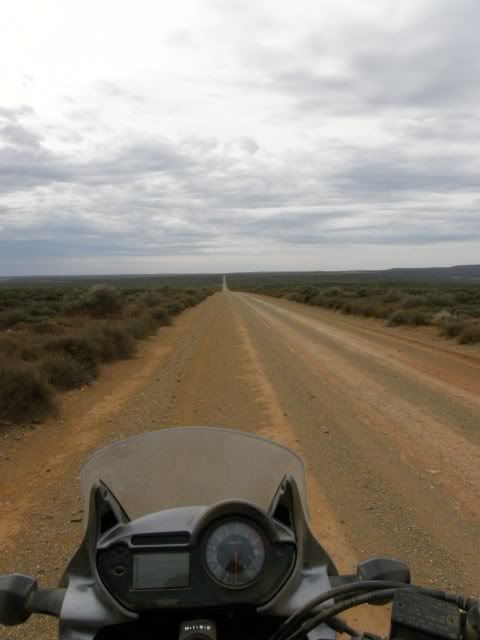 Then tragedy struck - my camera's batteries died!
And this with one of the most scenic sections ahead.
We filled up in Calvinia and took a round about gravel route to Middelpos where we were booked in for the night. Much to my surprise this section turned out to be one of the highlights of my day. This is a very scenic route indeed. The rest of the pics in this report was taken by Rovrat (Thanks mate!
)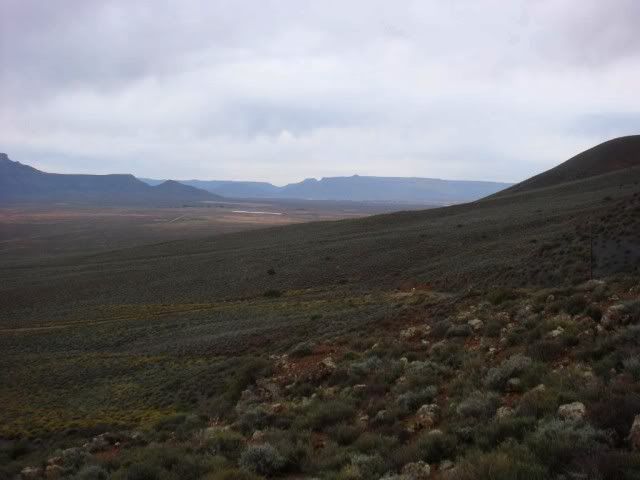 Karoo scenery: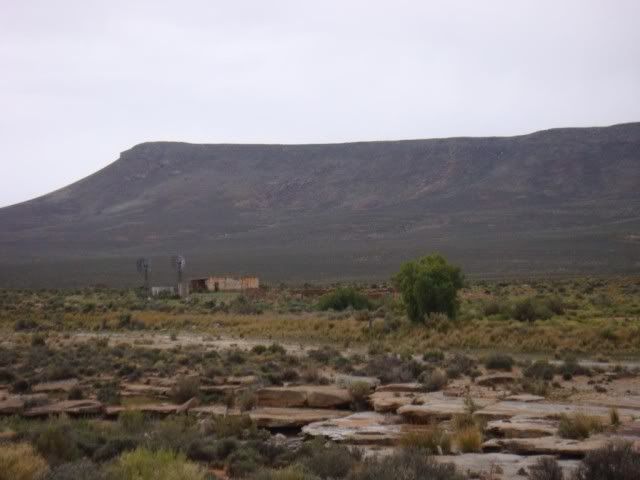 What was clear that this road would be VERY slippery when wet. The dried tracks on the road showed cars slipping and sliding all over the road - a straight and level road! We had menacing clouds overhead and I remembered the weather forecast: 30% chance of thunder showers...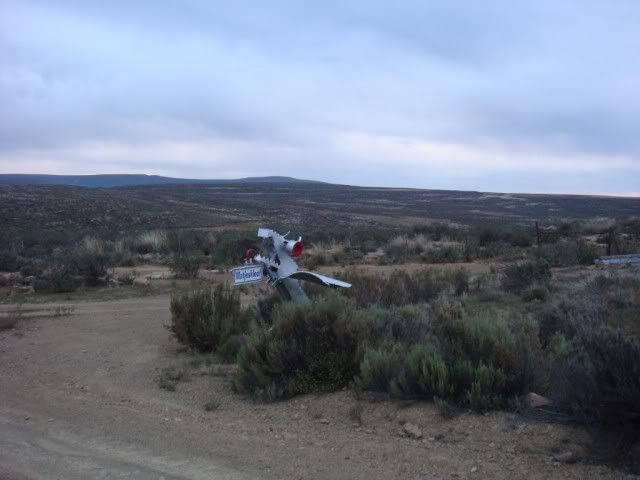 Here and there I felt a raindrop or two but luckily it wasn't really raining. I had another problem though. The sun was setting and I could not see through my black tinted visor. Riding with the visor open had it's own problems. Then we found some sections that proved my theory of just how slippery this road can be.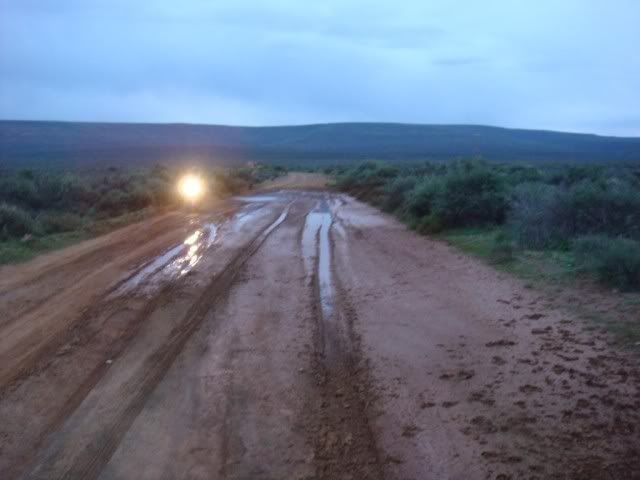 A last regroup 5km from Middelpos just as the last slithers of light fell behind the horizon.
We made it. It was a long but satisfying day. I'd like to come ride this last section again some day and maybe stealth camp in the veld somewhere. We certainly life in a beautiful country.
Tomorrow - Ouberg Pass!


.