From the moment I saw her I knew...
What I have is comfortable, dependable and reliable, but this one, she stirred something in me. Slender with long legs, an arched back, raven-black hair. It promised something different, forbidden, exciting! Different emotions wrapped in one. Passionate bikes elicit passionate responses I guess.
We had a hell of a time, the Dark Lady and I, but she never was going to stay. She's a gypsy. She needs to ride free. So one Monday morning I grabbed a toothbrush and a change of underwear and as we rode into town we just kept going... we were on the run!
We crossed the Outeniqua Mountains and headed inland...
The first signs... Notice the "R62".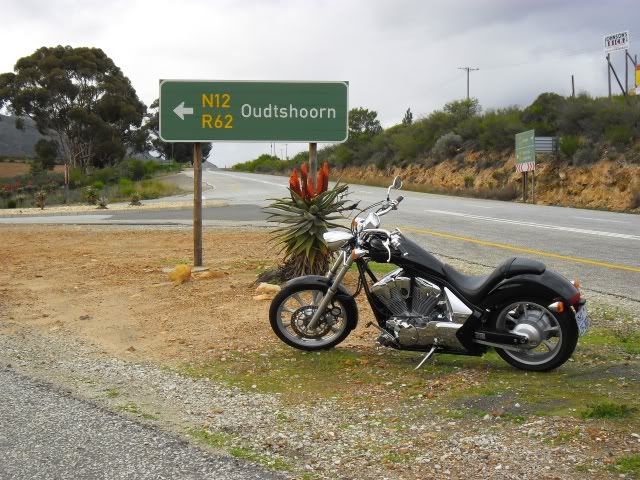 For a full year I have dreamt of this. Riding
this
route on
this
bike. Riding solo through the hamlets and towns as we meander back to Cape Town.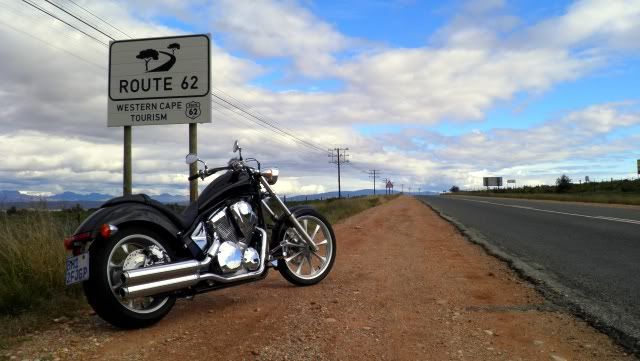 In Calitzdorp I stop at Neverbetter, a well known biker bar on the Route 62.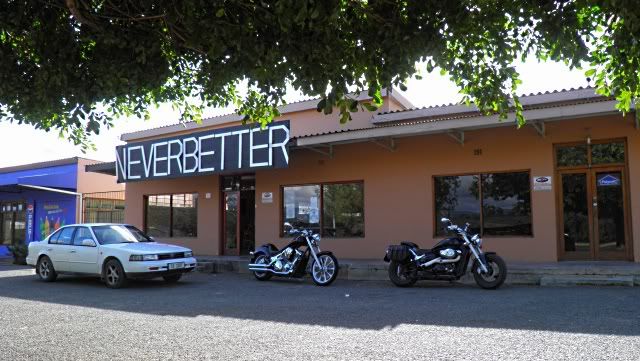 This is we're
Kermit's ride to Hell
started.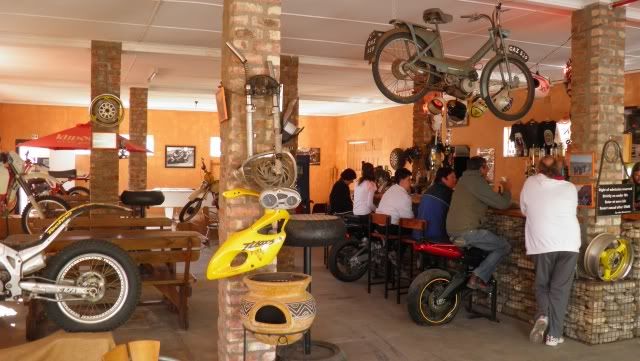 This is a bar by bikers for bikers and with the leathers I fitted right in.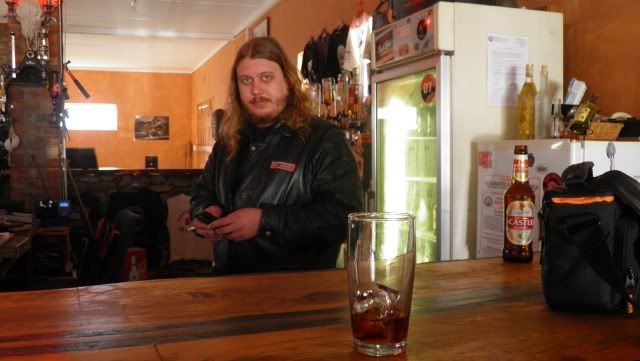 In my camera bag I had a pair of clean socks, a change of underwear and a toothbrush: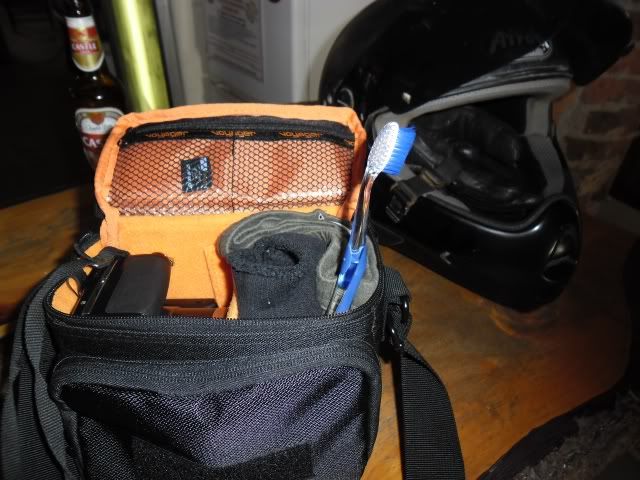 This arrangement did not work well though because every time I took the camera out the toothbrush wanted to go on a walkabout. There was only one solution - I had to travel even lighter. So I did what needed to be done: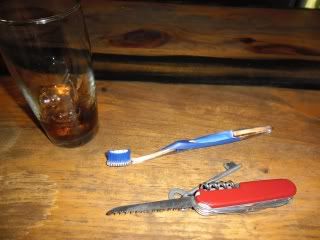 Now I'm travelling light!
Huisrivier Pass: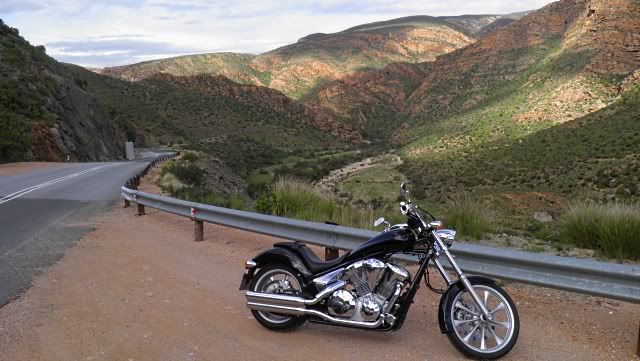 A quick stop at the Lutheran Church in Amalienstein: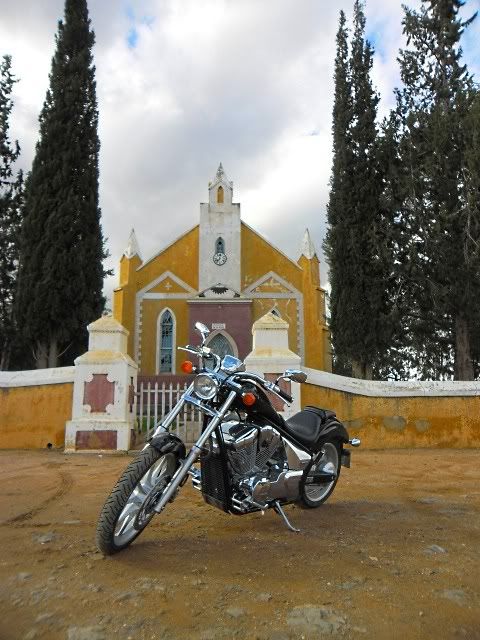 When I was here last I visited Maans Fourie in my
search for the Watermeid
. I really need to bring that project to conclusion.
The church was built in 1853 and has been restored to former glory a couple of years back, but unfortunately the paint is peeling again and sadly little maintenance seem to be happening here.
My next stop was at the one place you can not pass by when you travel on Route 62:
The famous Ronnie's Sex Shop has become a world famous biker stop, but unfortunately the prices at this establishment also experienced a meteoric rise. Paying more than double for the same thing I bought at Neverbetter is a bit rich for a biker meandering about on a Monday and soon I was on my way again.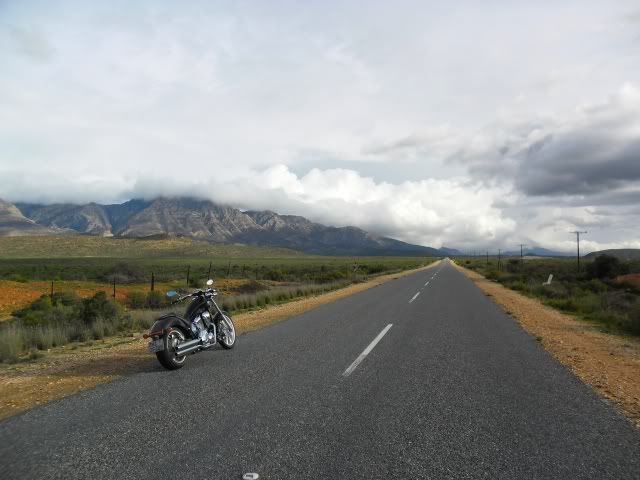 At the Country Pumpkin in Barrydale I received a warm welcome.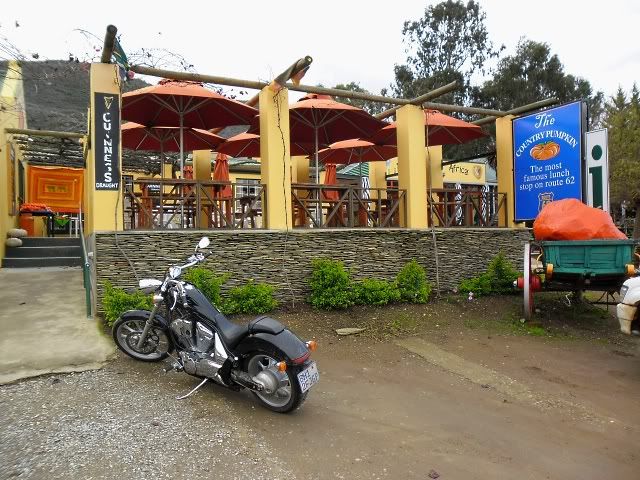 Anybody stopping here on a bike gets a Muscadel on the house. This sure drives away the cold!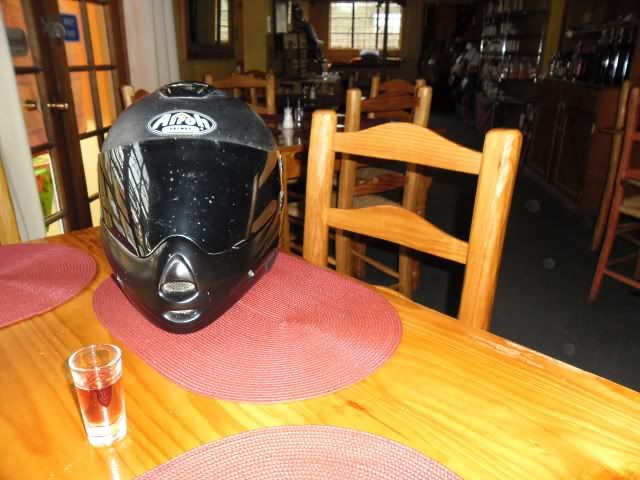 The Country Pumpkin
is the real deal as far as bike friendly establishments go. The owner is an avid biker himself and they take special care of bikers. All bikers get 10% off their bills in addition to the free muscadel and they even have a Bikestop B&B just behind the Restaurant that offer extremely affordable accommodation to bikers wanting to overnight. The restaurant prices are very good and the portions are huge. When here you have to try one of their home made pies!
With a full tummy I hit the road again, riding straight into an approaching storm. I could see the rain up ahead and hoped I could reach the Karoo Saloon before the rain does. I'll just have to wait it out.
And as it turns out, today, the day I needed them to be open the most, they were closed!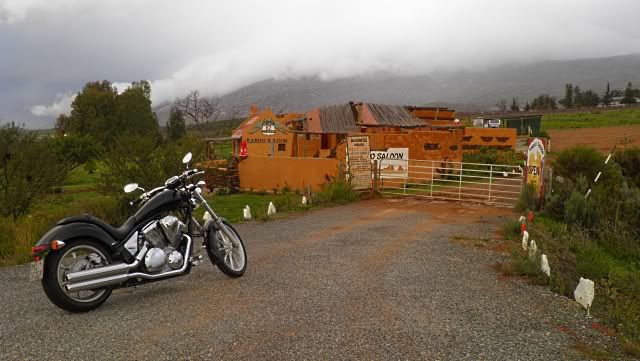 I continued but soon realized that I was going to get very
very
wet and I don't have a change of clothes.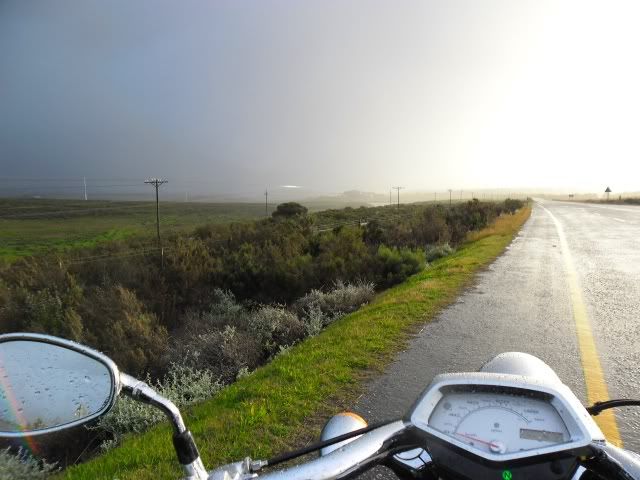 The road back to Barrydale looked like the better option: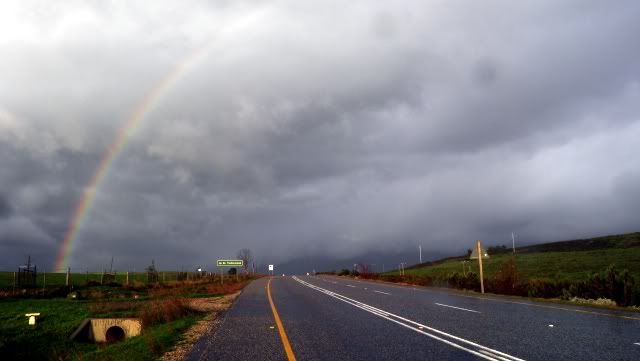 I was going to call it a day and spent my time at the Bikestop B&B with some more Muscadel.
But it was not to be. I couldn't outrun the rain and got well and truly drenched! A mere 2 km from Barrydale I decided that since I am wet now anyway I might as well continue on my ride, so I turned around again and hit the road to Montagu in pouring rain.
A short respite in the rain gave me a chance to take this picture at
Cogmanskloof
: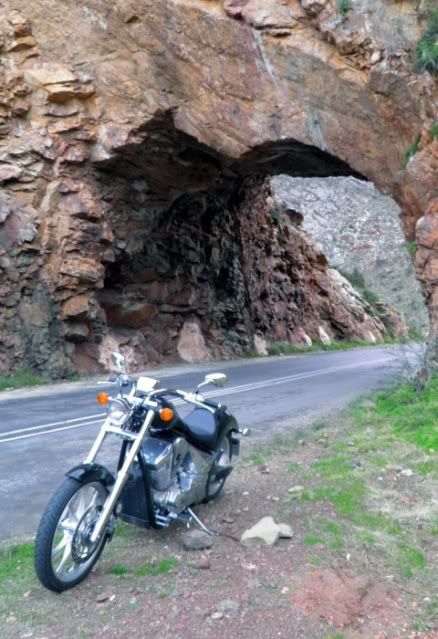 Cogmanskloof, sometimes also spelt Kogmanskloof, is the pass through which one drives between the towns of Montagu and Ashton in the Western Cape. It is the same pass of the famous tunnel, of the same name. Actually it is more like a hole through the mountain just as one passes over the river outside Montagu.
The famous tunnel was 'dug' using a little dynamite. It is 16 metres long and has a 5 metre high roof.
If you glance up at the top of the tunnel before entering and you see an old fort balanced on the top, constructed from the very same rocks as its surrounds. Not many people notice it. It was built in 1899 by the English, during the Anglo Boer War.
The sun was setting now and with the thick clouds, dark visor, pounding rain and near freezing temperatures I remember thinking to myself: "These are the rides you remember!"